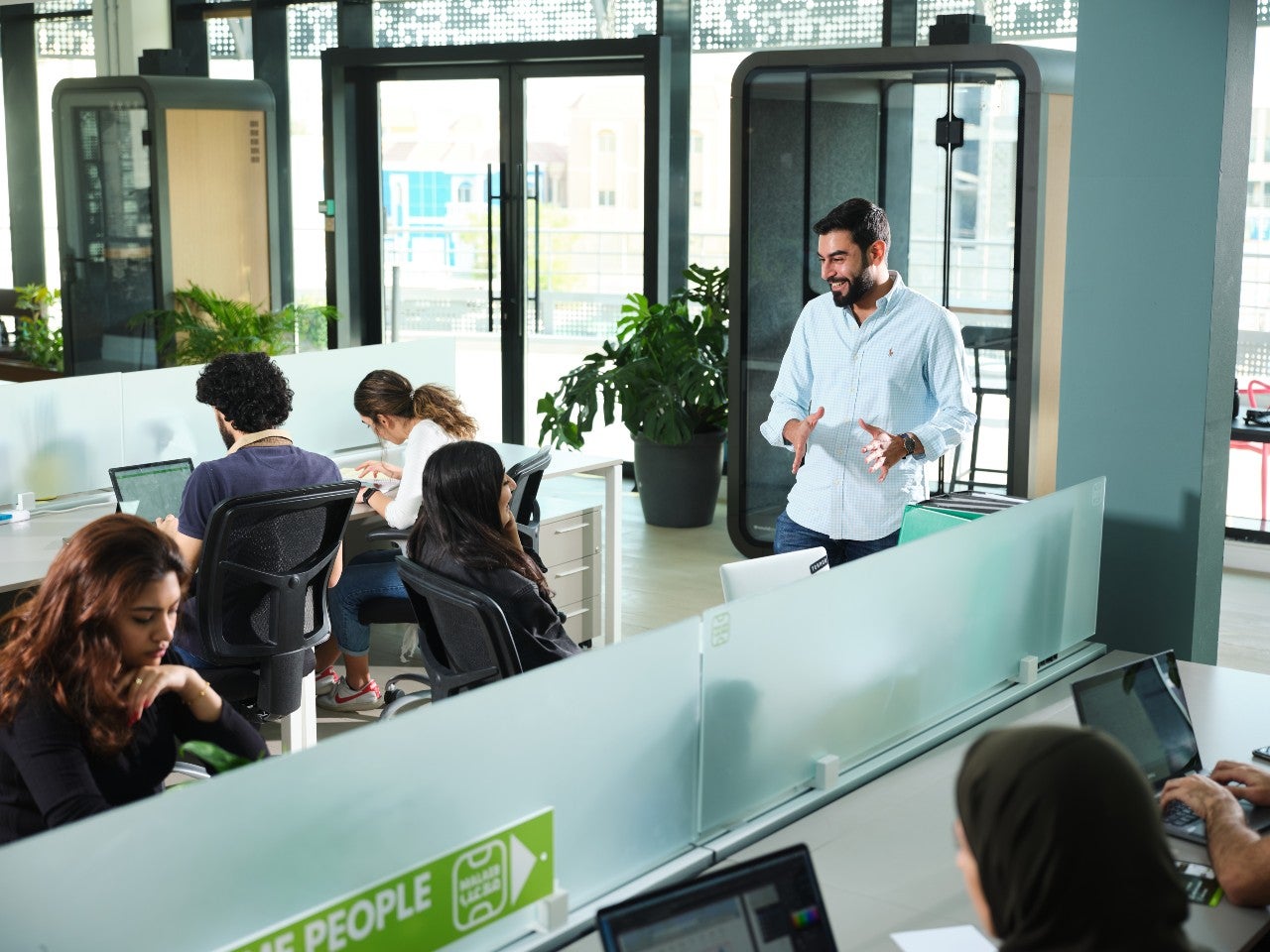 In January 2022, Bahrain's labour fund, Tamkeen, announced a new strategic direction designed to drive diversification and dynamism in the economy. Acting chief executive Maha Mofeez explains how its new programmes and partnerships will create more exciting employment opportunities for Bahrainis well as empowering local and international companies in Bahrain to achieve their maximum potential for growth.
Since it was founded more than 15 years ago, the labour fund Tamkeen has been empowering Bahrainis to drive the country's economic growth by enabling the local talent to become the employee of choice locally and internationally, and ensuring that enterprises are the engine of economic growth in the kingdom.  

Now, in line with the country's National Economic Recovery Program, which is designed to shore up its economy, Tamkeen has launched a slew of new programmes focused on technology and digital transformation targeting all sectors, while also incentivising high-potential sectors within the economy. The aim of the support programmes is to encourage the creation of quality employment opportunities and drive diversification and dynamism in the economy.
We spoke to Maha Mofeez, acting chief executive of Tamkeen, to find out how the agency's new incentive-based approach could help boost the economy and how its partnership with Citi Group showcases the talent and opportunities available to leading global companies in Bahrain.
In January 2022, Tamkeen announced the launch of 15 new programmes. Why did you decide to change your strategic direction?
Considering our new economic reality, we adjusted our strategy to ensure that our objectives for creating market impact are met, and we launched a new set of programmes that complement our strategic direction, further supporting us in achieving Tamkeen's two main objectives: making Bahrainis the employees of choice and enabling the private sector to become the main driver of economic growth in the kingdom.
With these objectives in mind and taking into consideration the rapidly changing economic climate, we designed our new programmes to empower our customers to achieve their maximum potential for growth, leading to a multiplier effect across the economy and further diversifying our non-oil sectors.
How does this new trajectory fit in with Bahrain's recently announced National Economic Recovery Plan?
Our strategy is aligned with the government's Economic Recovery Plan and supports national economic growth efforts. We are targeting high-potential sectors that have the ability to transform our market and showcase export potential, can offer quality employment opportunities, and drive diversification and dynamism in the economy. We want to encourage Bahraini companies and talents to think global and grow beyond borders, so we developed specific programmes that help them reach new markets and gain global experience.
Overall, the new programmes are more objective based and impact driven and were developed based on a series of consultation sessions we held with the private sector across various industries in order to reflect the market requirements. We also made sure to tailor programmes that focus on technology and digital transformation due to the vital role they play in the growth and expansion of companies.
As key members of the Team Bahrain ecosystem we are committed to driving growth and creating impact. We are seeking committed enterprises and individuals to partner with and support to enable their growth and development, therefore helping boost the economy. For that purpose, we developed an incentive-based approach that ensures our partners have access to increased support when they achieve their key performance indicators.
Tamkeen recently teamed up with global banking player Citi to launch a new technology hub in Bahrain. Tell us more about this partnership and how this aligns with your new strategy?
We are committed to enabling quality job creation for Bahrainis and ensuring that national talents are the employees of choice for the private sector. For that purpose, we established a long-term strategic partnership with Citi Bank, in cooperation with the Bahrain Economic Development Board, to support the inauguration of the global technology hub in the kingdom.
The hub is set to become one of the most advanced in the region and create 1,000 coding jobs in Bahrain over the next ten years, some of which have already been filled with talented Bahrainis under Tamkeen's support programme.
I am proud to say that over the years Tamkeen supported more than 100,000 Bahraini individuals, and partnerships such as this drive us towards achieving more impact for Bahraini talents. Furthermore, supporting leading international companies as they establish and expand their operations in Bahrain stimulates capital mobility and brings innovative technology into the kingdom, therefore contributing to economic development.
This is hopefully one of many similar initiatives to come. To what extent do you hope this project will provide an example to other global players of the opportunities available to them in Bahrain?
The readiness and competitiveness of the national workforce in Bahrain provided a major attracting factor for Citi to establish their Technology Hub in the kingdom. That, alongside transparent regulations and government support, made Bahrain an ideal location to serve their clients across the region.
Inaugurated in September 2021, the Technology Hub began recruiting Bahraini technologists, tapping into the pool of skilled talents to drive Citi's efforts to create technology that can benefit their clients globally and meet the increasing client demand for innovative electronic solutions.
We are keen to support leading international companies that are looking to expand in the region. Bahrain is the ideal location from which to access the US$1.67trn Gulf Cooperation Council market, and with our specifically tailored FDI Support programme we can help them establish their operations in the kingdom.
The programme offers grants and access to financing solutions that incentivise foreign businesses and enable them to set up in Bahrain. We work within Team Bahrain in collaboration with various leading government stakeholders and can establish strategic partnerships that offer companies looking to expand into Bahrain comprehensive solutions and support, enabling them to successfully set up here and achieve their business objectives.
This success drives impact for our objectives as well by injecting capital in the local economy, creating high-quality jobs for Bahrainis and presenting opportunities for technological innovation.
What are Tamkeen's future plans?
Launching the new programmes was the first phase of our plan and we will continue to monitor the market and take feedback from our partners in the private sector to ensure that we are offering the most impactful services.
A key future priority for us is thinking global, which manifests across multiple facets such as working closely with our companies to help them expand into other markets, and we developed programmes that cater to this and boost their expansion and export potential.
Furthermore, we will focus on attracting leading global companies to expand and establish their presence in Bahrain, which can drive economic growth and create high-quality jobs for Bahrainis. We will also work to import knowledge and expertise from international markets to boost the competitiveness of our people and bring new skills to the local market.