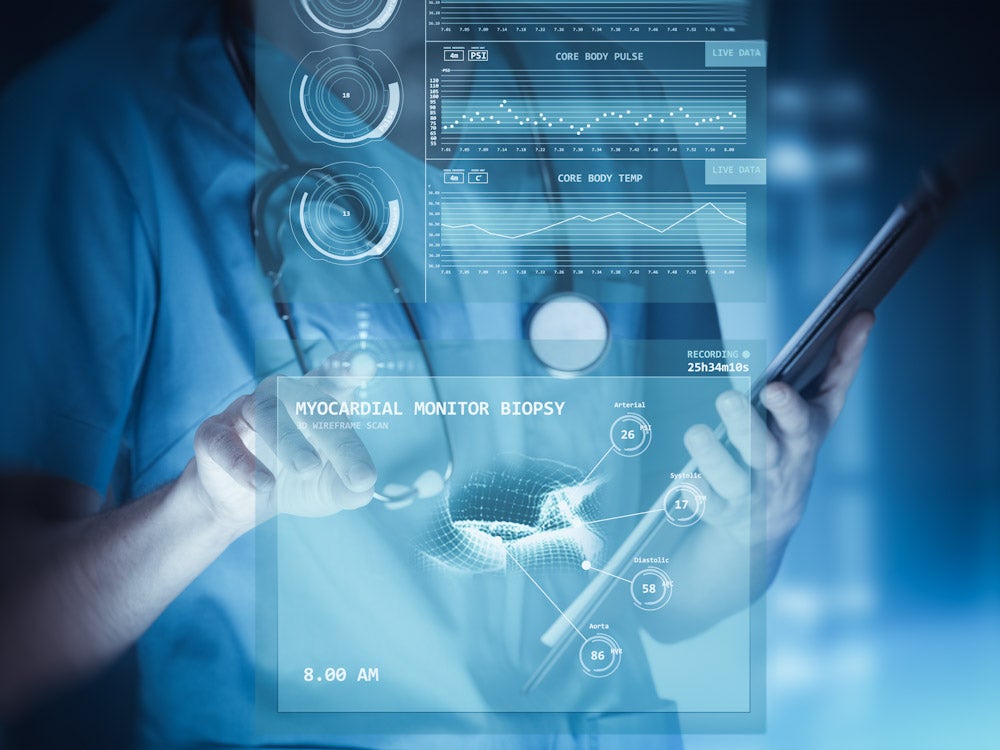 Technology is advancing the possibilities of healthcare treatments, from the development of innovative new drugs to freeing up time for doctors thanks to monitoring devices for patients with conditions such as diabetes and high blood pressure.
As health services around the world seek to recover from Covid-19, many are turning to healthtech to expand treatment options and increase efficiencies. In line with these advances, investment in healthtech is rising worldwide.
"Healthtech is becoming ubiquitous in day-to-day service delivery, from video technologies supporting consultations, decision support tools aiding assessment and diagnosis, state-of-the-art imaging and associated technology innovations aiding rapid diagnosis and treatment planning," explains Professor George Crooks, chief executive of Scotland's Digital Health & Care Innovation Centre. "Through to advances in personalised treatment options delivered and monitored at home, medical technologies are supporting the transformation of how we interact with people and deliver their care.
"The level of patient satisfaction clearly demonstrates that patients like this way of delivering healthcare and want more of it. This creates a demand-pull that we need to exploit. Moreover, it creates an environment for ongoing innovation and evolution of tools and services."
Rapid global growth in healthtech
Data shows that growth in healthtech is accelerating faster than any other sector within healthcare, with a noticeable upward trajectory post-pandemic. Since the third quarter of 2020, there has been a dramatic surge in deal values, with the third quarter of 2022 seeing a significant spike.
Globally, the number of healthtech mergers and acquisitions (M&A) deals grew at a compound annual growth rate (CAGR) of 11.4% between 2017 and 2021, peaking at 453 deals in 2020, according to GlobalData figures. European healthtech M&A was on par, with a CAGR of 10.5% during the same period.
It is Western Europe that is securing the majority of healthtech projects, steadily increasing between 2019 and 2021 amid declines in other regions, ahead of the world's two biggest economies in China in Asia-Pacific and the US in North America. Western Europe had 28 healthtech projects in 2019, followed by 32 in 2020 despite the pandemic, and then 40 in 2021.
Asia-Pacific has consistently been in second place. Yet this region has seen a notable decline in healthtech projects over the three years, from 22 projects in 2019 to 19 in 2020, and falling further in 2021 with 13 projects.
A major driver of Western Europe's success in healthtech investments is that many countries in the region have the Triple Helix mode of collaboration between industry, universities and government. Such partnerships are effective at securing research funding and accelerating the development of technologies and medical treatments.
How the UK is positioned for healthtech growth
The UK's growth has been similar to global trends, with a CAGR of 11.6% in healthtech, while UK deals accounted for more than one-third of Europe's healthtech M&A in 2021 and 7.5% of the global figure.
In 2021, the UK was the second most popular destination for healthtech M&A deals globally, tying with Canada. In terms of deal value, the UK posted $7.4bn (£6.5bn), the second most globally behind the US. The UK figure was nearly double the deal value of third-placed Ireland, and far outpaced Canada, India and Finland.
There are various factors at work behind this rise in M&A. On the one side, some investors are capitalising on the recovery from Covid by acquiring companies at cheaper prices. However, this is not typically the case in the UK health and pharma segments. More commonly in life sciences, for example, acquisitions are used to access new markets more easily.
Healthtech patents have also increased year-on-year between 2017 and 2021, jumping from around 103,200 patents to 153,900. The UK is the fourth most popular destination for European healthtech patents behind Russia, Spain and Germany. In 2021, the UK accounted for 14.9% of all healthtech patents in Europe.
Russia led in terms of the total of healthtech patents filed in 2021. However, due to the ongoing war in Ukraine, it remains to be seen what impact this will have on Russia's 2022 figures. The combination of international sanctions and corporations pulling out of the country could well lead to a drop in healthtech patents filed as the Russian economy falters.
Overall, the number of global job postings grew by 17% between the second quarter of 2021 and the same period this year. Healthtech jobs listed in the UK saw a 33.3% increase over that same period. The UK is the top location for European healthtech job listings, and third globally behind the US and Canada.
This positive growth post-pandemic is a strong rebound from the downturn caused by Covid-19 disruption.
Healthtech investments in the UK and Scotland
Amid the instability caused by the pandemic, the whole of the UK saw a notable fall in overall healthtech investment in 2020, according to GlobalData figures.
There was a decline of 187 investments in the UK from 1,014 in January 2019 to 827 in January 2020. A year later, in 2021, total UK healthtech investments rebounded solidly to reach 1,216.
While over the same period from 2019–20 in Scotland, the line was flatter in terms of the total decline, dropping from 95 investments to 64. A year later, in January 2021, the total climbed back up to 82, and 2022 may well surpass this.
So far, the UK healthtech market has recovered and remained fairly resilient to disruption caused by Covid-19 and Brexit. Yet it remains to be seen just how much of an impact the financial strategy of new British Prime Minister Liz Truss will have on the UK economy in 2022 and 2023. After the first major fiscal announcement by the Truss government caused a major drop in the value of the pound against the dollar, there could be uncertainty ahead for UK businesses.
However, Scotland is pursuing a different fiscal strategy that could secure a greater share of UK investments in healthtech, as well as other industries.
Scotland's health investments and leading start-ups
In Scotland, foreign direct investment (FDI) projects saw a 28.1% increase between 2020 and 2021, and life sciences accounts for 2.4% of FDI in the country. From 2019–21, there have been 16 life sciences FDI projects in Scotland. There is much overlap between life sciences and healthtech as technologies such as AI and machine learning enhance capabilities.
In addition, the Scottish start-up and spin-out scene is flourishing when it comes to healthtech.
At the top is Glasgow-based Amphista Therapeutics, which raised $50m in 2022. The biotech company is a spin-out of the University of Dundee and develops targeted protein degradation medicines, which have the potential to treat serious diseases that currently have limited treatments. Potential treatment areas for the company's small molecule degrading therapeutics include immunology, oncology and central nervous system disorders. In oncology, Amphista's therapies have shown evidence of being able to slow or stop tumour growth.
Just behind in second place with a value of $44m raised in 2022 is Resolution Therapeutics, which specialises in developing macrophage cell therapies to treat chronic liver disease. Resolution Therapeutics is a spin-out of the University of Edinburgh. The company is an example of how Scotland's healthtech ecosystem and support network enable collaborations in projects, which can develop into start-ups or spin-outs that turn potential medical treatments into a reality. Resolution Therapeutics is the result of a partnership between Edinburgh's Centre for Regenerative Medicine and the Scottish National Blood Transfusion Service, with backing from Syncona Investment Management. The startup is based at Edinburgh Royal Infirmary Campus in the Centre for Regenerative Medicine.
The majority of the top ten start-ups and spin-outs are based in and around Edinburgh and Glasgow. Yet outside of Scotland's two biggest cities, Inverness-based ODx manufactures innovative urine testing solutions that rapidly identify antibiotic susceptibility. The company raised $10m in 2022. ODx is based at a purpose-built life sciences facility at the Inverness Campus, which is an enterprise area established by the Scottish Government and shared with other start-ups and spin-outs in the pharma and healthcare sector that could well break into this top ten list in future.
Another start-up that may appear on the list is Glasgow-based Changingday, which is using virtual reality technology to help autistic people become more confident in everyday situations. In May 2021, the company raised £670,000 to further development of its software and hire more staff.
The strengths of Scotland's universities for healthtech
Many of Scotland's healthtech start-ups or spin-outs are further examples of how Scottish universities are both a driving force of innovation but also provide a more sheltered environment to develop new technologies and refine techniques.
Partnerships with universities are also leading to a number of international healthtech organisations setting up operations in Scotland. One example is EnMovi, a developer of advanced wearable orthopaedic sensors and analytics. The company set up a base in Glasgow after securing a £2.5m research and development grant from Scottish Enterprise in early 2020. EnMovi's parent company OrthoSensor – now owned by Stryker – has a long history of partnering with the University of Strathclyde, which helped facilitate EnMovi's move to Scotland alongside Scottish Enterprise.
The University of Edinburgh, ranked as the 15thbest university in the world on the 2023 QS World University Rankings, also ranks in the top 20 schools for pharmaceuticals in the Shanghai 2021 Academic Ranking of World Universities. The University of Glasgow and the University of St Andrews also rank in the top 100 universities globally.
"Bringing together academia, industry and the health and care providers as equal partners with the people of Scotland is now creating a health and care ecosystem, which is increasingly attractive to global companies wishing to carry out research and development," adds Crooks. "We can better exploit this if we continue to invest in our underlying enabling ICT infrastructure. So, we can not only serve the needs of the NHS and social care, but also, in a fully consent-driven and governed way, make data available to academics and industry to design, build and validate the next generation of technologies."
Crooks adds that the perception of healthcare spending needs to change to view it more as an investment than a cost, which is already happening in Scotland.
"Recognising that healthcare spending is not a cost but an investment cannot only secure a better future for our own health and care services," says Crooks. "We can use Scotland's rich assets built up over many years in the NHS and social care system to support Scottish and UK businesses to develop next-generation products and services that not only benefit Scotland but can also be sold internationally."
To learn more about Scotland's growing healthtech sector, download the file on this page.