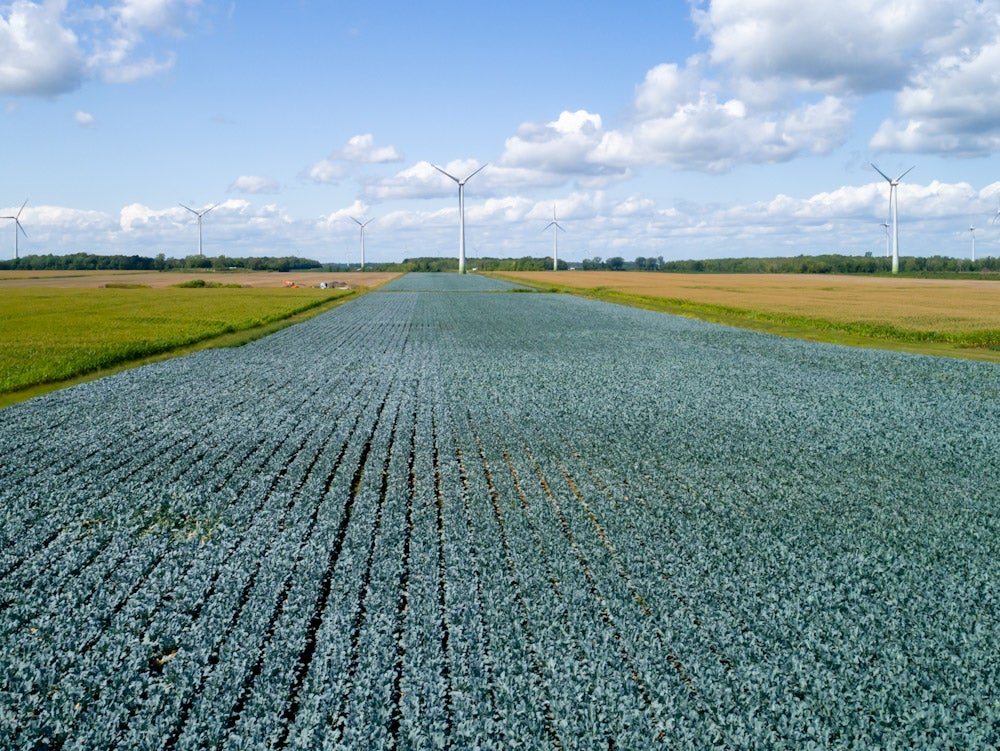 Québec's northern climate has historically been a challenge for the local agri-food sector as crops could only grow for half of the year. Yet, in recent times, the industry has made giant strides in greenhouse production to the extent that the province now produces C$200m ($148.53m) worth of fruit, vegetables and leafy greens annually. Fresh produce includes cucumbers, eggplants, lettuces, peppers, raspberries, strawberries, tomatoes and more, according to official government data.
Greater Montréal is at the forefront of this type of controlled-environment agriculture with key players such as large-scale tomato producer Savoura, and rooftop farming pioneer Lufa Farms, while Canadian vertical farming leader GoodLeaf Farms recently opened a 100,000ft2 indoor microgreen farm in the region.
Such food production is gaining momentum with consumers who are increasingly aware of the issues related to food imports. Governments are also on board, with Québec on a mission to reduce its greenhouse gas (GHG) emissions by 37.5% by 2030 compared with 1990s levels and become carbon neutral by 2050. Achieving this target will require substantial efforts in many sectors of the economy, including transport, construction and agri-food.
Alongside such goals as the optimisation of nitrogenous fertilisation, the reduction of methane emissions from livestock and energy efficiency at the farm, the government aims to increase the local food production capacity. This would offer the double advantage of reducing GHG emissions linked to the transport of foodstuffs while increasing the province's food autonomy.
The rapid growth of agtech in Montréal
Québec is also leveraging innovation and recent technologies to make its agriculture greener and more sustainable – and the province has many assets to achieve success. As a leader in Canada's organic agriculture sector with 50% of the national production, the province is also one of the country's main agtech hubs with over 220 organisations.
Furthermore, Greater Montréal is the epicentre of this thriving community dedicated to the development and marketing of innovative technologies in agriculture, from precision agriculture to vertical farming, smart farming, agrobiotechnology, automation, new agricultural techniques and more.
The region is home to an important innovation campus in agtech with more than 250 members and partners including 13 universities and research centres. With more than C$400m in funding, the Zone Agtech based in L'Assomption in Greater Montréal supports the development and deployment of technologies and companies that can help reduce the environmental footprint of the agri-food sector. Other areas of focus include promoting the need to adapt to climate change, and increasing bio-food security and self-reliance. Set in an area covering some 15km2, the zone provides access to an innovative business environment, greenhouses and experimental plots, demonstration areas, consulting services and incubation spaces, as well as laboratories.
"The land where the Zone Agtech is located used to be a manufacturing plant," recalls Alexandre Lagarde, vice-president of foreign investments at Montréal International. "When it became vacant, the community, along with various government partnerships, looked at sustainable uses of the space and came up with the Zone Agtech. This transformation shows how Greater Montréal's economy is moving forward with sustainability as a priority."
Montréal's agtech sector also benefits from extensive incentives, venture capital funds, and the city's strong information technology and artificial intelligence (AI) ecosystems.
"The city's expertise in AI is a real plus as it helps propel several high-value industries forward, agtech being one of them," says Lagarde. "The presence of Mila, a world-renowned AI hub with more than 1,100 researchers, and IVADO, a unique centre of excellence in AI with more than 150 partners and 1,400 scientists working together with key industry players to foster responsible AI technology, makes the city the perfect place to develop solutions for the environmental challenges we are facing, such as climate change."
Currently, some 130 agtech businesses in the province have started integrating AI into their operations, such as Montréal-based Sollum. The company's "sun-as-a-service" AI-powered platform allows greenhouse growers to programme light fixtures that replicate the full spectrum of the sun's natural rays, with this technology reducing electricity consumption by up to 40%. In addition, Montréal's ChrysaLabs has developed a solution that uses state-of-the-art photonics and AI technology to measure soil nutrients in real time, providing farmers and agronomists with fast, laboratory-grade data that can be used as needed to better manage soil health and fertility.
And with many government initiatives geared at fostering innovation to help lower the province's GHG emissions, Greater Montréal's agtech sector is successfully helping to build tomorrow's agriculture.