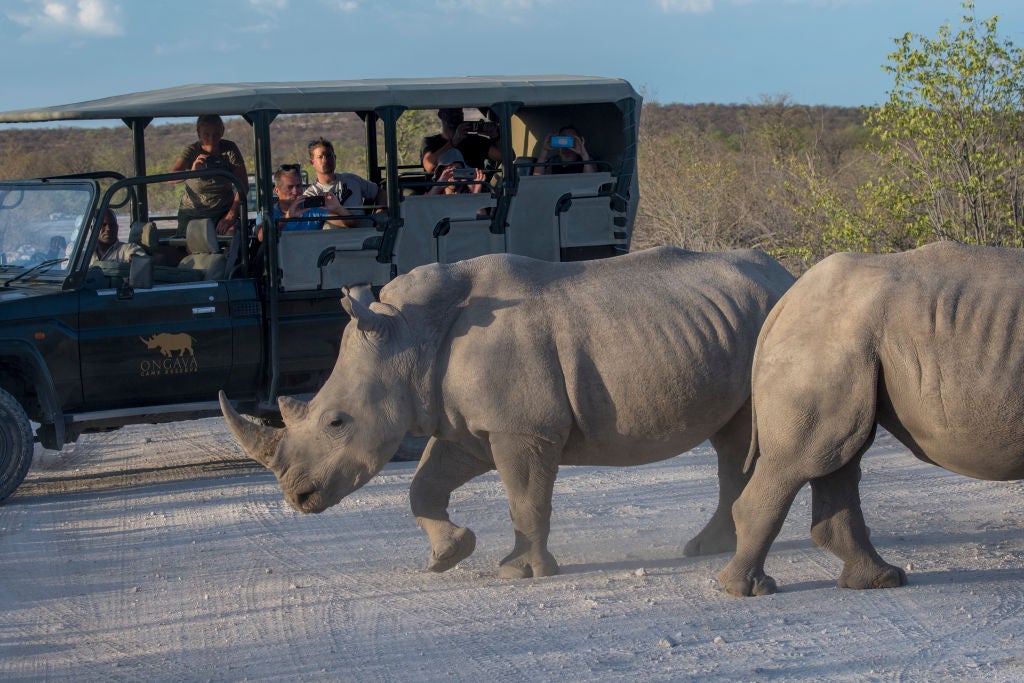 Africa's beaches and safari parks are again bustling with Western tourists, much to the relief of many countries. However, there is widespread concern that business travellers from Europe and North America are lost for good.
During the past two decades, the hospitality industry has become vital to many African economies. In 2019 it accounted for approximately 7% of Africa's overall GDP and contributed $169bn to its economy – about the size of Ethiopia's and Ghana's GDP combined – according to the International Finance Corporation (IFC), part of the World Bank. The World Travel and Tourism Council (WTTC) reports a smaller figure: in 2018 the travel and tourism sector contributed roughly $42.1bn to sub-Saharan Africa's GDP, with 37.4 million tourist arrivals in the previous year. This constituted about 1.6% and 3% of global totals, respectively. Africa's safari industry is estimated to have $12.4bn in annual revenues.
The region's travel and tourism sector employed more than 24 million people in 2019, according to the WTTC. In that year, domestic tourism accounted for 55% of the region's tourism and travel spending, compared with 74% in the Asia-Pacific region and 83% in North America. International tourism inbound receipts in Africa amounted to a total of $24.7bn in 2019 and the average visitor spent $660.70. Western and southern Africa accounted for 35% each of the sub-Saharan region's total travel and tourism GDP while eastern Africa made up the remaining 30%. Southern Africa accounted for 49% of international travel arrivals while eastern Africa made up 28% and western Africa 23%.
Ahead of the Covid-19 pandemic, Africa's tourism sector was making slow but steady gains despite lagging other regions in terms of its tourism potential and economic contribution, according to banking group Absa. The region was realising substantial growth from a relatively low base and was on track to have the second-highest growth rate globally for travel and tourism GDP in the decade from 2019 to 2029. International tourist arrival statistics showed the region growing at approximately 6% a year, compared with the global average of 4%. Mauritius, South Africa and Seychelles all shone on global tourism indices.
However, the Covid-19 pandemic unleashed an unprecedented crisis for Africa's hospitality industry, in particular pummelling the supporting food, service and manufacturing sectors that depend on tourism for employment and income. In July 2020, the African Union estimated that the region lost almost $55bn in travel and tourism revenues and about two million jobs in the first three months of the pandemic. The International Monetary Fund estimated that the real GDP among African countries dependent on tourism shrank by 12% in 2020. African airlines lost an estimated $10.21bn in passenger revenue last year and are expected to lose $8.35bn this year, according to the African Airlines Association.
Africa's tourism sector weathered the storm largely without the financial relief provided by governments in wealthier, more developed regions, and the industry's smaller businesses – many in the informal economy – were impacted the most. In December 2020, a survey by the IFC and consulting company Dalberg Advisors of selected tourism companies in Tanzania, Uganda and Zambia showed that the companies expected to lose two-thirds of their revenue from international tourism receipts in the 2020–21 holiday season.
In July 2021, Safaribookings.com, an African safari tour company, surveyed 306 safari operators and found that more than 90% had seen a 75% or more nosedive in both booking requests and actual bookings owing to the Covid-19 situation.
The crisis has also exposed Africa's dependence on foreign travellers. This is particularly true for countries in eastern and southern Africa – including Kenya, Tanzania, Botswana and South Africa – that have developed important leisure and safari-oriented facilities that attract European, American and Asian visitors.
Nonetheless, tourism and hotel operators are reporting that hotel vacancy rates have started to pick up and they expect the 2021–22 holiday season to be a lot better than the previous year's. Revenue per available room – a measurement calculated by multiplying a hotel's average daily room rate by its occupancy rate – was only 4% down in Abuja, the Nigerian capital, for the year to September compared with the same period in 2019, according to W Hospitality Group, a tourism and hotel consultancy based in Lagos. Meanwhile, the equivalent figure in Lagos was down only 10%.
Egypt has Africa's biggest tourism market
Egypt – with a population of about 102 million people – is Africa's biggest tourism market. Approximately two million people work in its travel and tourism industry, which accounted for about 12% of the country's GDP pre-Covid. The sector's contribution to the economy fell to $14.4bn in 2020 from $32bn in 2019, according to the WTCC. In 2019 the country had about 13 million tourist arrivals, up from 11.3 million in 2018 and 5.4 million in 2016. In 2020, however, it received only 3.6 million visitors.
Covid-19-related travel restrictions and lockdowns wiped out $17.6bn from Egypt's economy in 2020, including 844,000 travel and tourism jobs, according to the WTTC. Yet occupancy rates have started to climb steadily since May 2020 – when hotels opened at 25% capacity – up to October 2021, when they could return to full capacity. The recovery was helped by the resumption in August of Russian flights to Red Sea resort cities after a six-year hiatus, Egypt's removal from the UK's red travel list in September and the increased vaccination of tourism workers and tourists.
South Africa – which has the region's second-largest tourism industry – relies on the tourism industry to indirectly contribute up to 9.1% of the country's total employment – 1.5 million people – and 7% of its GDP. In October its government eased domestic lockdown restrictions and international air travel started to normalise. British Airways, Virgin Atlantic, Lufthansa, Air France and Switzerland-based Edelweiss Air have all resumed flights to Cape Town, the country's leading tourist destination.
During September, more than 93,000 international visitors arrived at Johannesburg's international airport, representing a jump of almost 50% over the number recorded in July. Although the September figure is still a far cry from the 400,000 international visitors arriving monthly in 2019, it represents a recovery rate of close to 25%. Furthermore, many hotels in Cape Town that had been mothballed since April 2020 have started to reopen.
"Africa has so much potential, it can just be difficult to fulfil it," says Trevor Ward, owner of Lagos-based W Hospitality Group. "In terms of international visitor numbers, South Africa, Egypt, Morocco, Kenya, Tanzania, Ethiopia and Nigeria are the most significant markets in the region. Most visitors to East Africa are coming for leisure purposes. In West Africa – including Nigeria – it is mainly for business. However, Gambia is an important seasonal market for leisure tourists from Europe, and Cabo Verde is an emerging seasonal market as well. South Africa is a mix – it is important for leisure tourism, but its conference centres also attract business travellers. Kenya and Tanzania are mostly 'beach and beast' attractions. Visitors often combine a beach holiday with going on a safari.
"I think leisure tourism to Africa will rebound more quickly in the wake of the pandemic. Long-haul business travel to Africa is way down and could be lost for good. I am not sure if we will see many business travellers from Europe or the US coming to Africa soon. Low vaccination rates in Africa are having an impact on the decision-making of corporations in Europe and North America. They do not want to take responsibility for sending their staff to Africa at this time."
Ward believes Africa will see a lot more intra-regional business travel in the future. The African Continental Free Trade Area (AfCFTA) started trading on 1 January 2021. It is the world's biggest free-trade area measured by the number of countries participating (54 countries have signed the agreement out of 55 on the continent, the exception being Eritrea). Only 18% of all Africa's commerce in late 2021 was intra-African trade, while the equivalent figure in East Asia was between 35% and 40%. Africans trade a great deal more with people from outside the region than they do among themselves. The AfCFTA has the potential to double intra-African trade by 2035 and could generate a lot more business travel within the region.
Ward also expects Africa to witness a great deal more domestic tourism in the future, as the region's middle class expands. The continent's middle class is expected to grow from 355 million people in 2011 to 1.1 billion in 2050, according to the African Development Bank.
David Frost, the chief executive officer of the Southern Africa Tourism Services Association, says: "Our members are reporting that they are seeing a massive uptick in enquiries for travel to South Africa with a very short lead time, some even just a few weeks. We are seeing increased interest from our existing long-haul inbound source markets such as the US, UK, Germany and France.
"South Africa's major competitors will be those regions that have a similar value proposition; in other words nature-based destinations – for example, East Africa and Australia. Our cultural and conservation value proposition is what most attracts travellers to the region. The affordability of the destination and the diversity of experience in South Africa is also compelling for travellers. You can see the 'big five' animals in the morning in Kruger one day and enjoy a fine red in the Cape winelands the next. Our climate is also very mild."
Westerners are put off by Africa's low vaccination rate
Africa has tremendous tourism potential, but two factors are weighing on the market at the moment: low Covid vaccination rates and the international perception of Africa as a violent place. About 50 countries worldwide are not on track to meet a UN global target of vaccinating 40% of their populations with at least one dose by the end of 2021 – and most are located in Africa. Fewer than 6% of people in Africa overall are vaccinated, rising to 23% in South Africa. By 22 November 2021, there had been at least 8.66 million reported infections and 222,000 reported deaths from Covid-19 in Africa. It is estimated to have killed more than 89,500 people in South Africa alone, by far the most deaths by any single country on the continent.
However, African authorities – while acknowledging that there could be gaps – are not reporting huge numbers of unexpected fatalities that could be Covid-related. World Health Organisation data shows that deaths in Africa make up just 3% of the global total. In comparison, deaths in the Americas and Europe account for 46% and 29%, respectively. By the end of November 2021, Nigeria – Africa's most populous country with 206 million inhabitants – had recorded almost 3,000 deaths in total.
Nonetheless, the low vaccination rate is putting visitors off coming to the region, in particular for business. For example, at the end of November 2021, Egypt had fully vaccinated only about 8% of its population while a further 8% had been partially vaccinated.
South Africa's tourism promise is also being damaged by the high level of violence there. Between July and September, it recorded 5,876 murders, prompting the country's police minister to declare: "The stats show once again that South Africa is a very violent country." South Africa's murder rate is about 35 people per 100,000 population, higher than Mexico's at 29 per 100,000 or Brazil's at 21 people per 100,000.
Throughout 2021 Africa has been receiving negative headlines in newspapers around the world, which can only discourage foreign visitors from coming.
In October, there was a military coup in Sudan before Prime Minister Abdulla Hamdok was reinstated at the end of November. Niger declared two days of mourning in November after 69 people, including a mayor, were killed in an attack by gunmen. It was the latest assault in Niger's 'tri-border' zone with Burkina Faso and Mali, a volatile area that has been the epicentre of a long conflict between state forces in the western portion of Africa's Sahel region and armed groups linked to ISIL and al-Qaeda.
Over the past year, coup d'états have occurred in Mali, Guinea and Sudan and a military takeover has happened in Chad. However, the crisis receiving the most damaging newspaper headlines is the conflict in the Tigray region of northern Ethiopia, Africa's second most populous country with 110 million people. It has now been going on for more than a year. Major fighting has been occurring between the Tigray People's Liberation Front (TPLF) and Ethiopian government forces, and armed groups from neighbouring Eritrea have now become involved. Concern has recently turned to the risk of starvation for hundreds of thousands of people in Tigray cut off from supplies.
At the end of November, the TPLF continued to press towards Addis Ababa – the Ethiopian capital with 4.5 million inhabitants –­ claiming control of the town of Shewa Robit, just 220km north-east of the city by road. There is a risk of a full-blown civil war in the country, which is now under a state of emergency.
The US has warned pilots that aircraft operating at Addis Ababa Bole International Airport – one of Africa's busiest airports – could be directly or indirectly exposed to ground weapons fire and surface-to-air fire. At the end of November, the US urged its citizens in Ethiopia to "leave now", saying there should be no expectation of an Afghanistan-style evacuation.
The British government is also now advising against all travel to Ethiopia, apart from the airport for departures and transfers, acknowledging Bole airport's importance for onward travel for the African continent and beyond.
The airport is the hub for the state-owned Ethiopian Airlines, a symbol of Ethiopia's former status as one of the world's most rapidly growing economies before the war. In recent years, the airline has become Africa's largest and best-managed carrier, turning Addis Ababa into the gateway to the continent. According to the African Airlines Association, the airline carried 500,000 tonnes of freight and 5.5 million passengers through Bole International Airport in 2020. Addis Ababa is also the continent's diplomatic capital as home of the African Union.
Africa's image problem
"Africa has had an image problem since the Ethiopian famine of the 1980s, but people must be careful not to generalise," says Ward. "The continent is made up of 55 countries and geographically is huge. Many parts of the region are safe.
"Bole is a very important hub airport. Its traffic is hugely transient. It has more international connections than any other hub airport in Africa; for example, it connects with four cities in Nigeria. The Ethiopian leisure industry was just beginning to flourish – the country has a wonderful history and is full of churches, for example. It is a real shame what is happening there."
In January 2020, Ethiopian Airlines announced plans to build a new $5bn mega-airport in Addis Ababa, located 39km south-east of the city. With four runways, it would be bigger than London Heathrow and serve as many as 120 million passengers a year.
Other countries are also planning major new airports. According to the CAPA Airport Construction Database, in November there were 37 new airport projects under construction or planned in Africa, with an estimated value of $16.6bn.
About 40% of the first phase of the Kigali Bugesera International Airport in Rwanda had been completed by May 2021. Expected to be finished by the end of 2022, the $400m airport will feature a 30,000m2 passenger terminal with capacity for 1.7 million passengers a year (the plan is to raise that throughput successively to ten million passengers a year, with investment rising to $1.3bn). Qatar Airways has a 60% stake in the project.
There are also plans for a new airport at Ouagadougou – the capital of Burkina Faso, one of Africa's poorest countries – partially financed and managed by two French organisations, the Meridiam fund and Marseille Provence Airport. Up to $250m will be invested in the project.
The World Economic Forum (WEF) says the region's air transport infrastructure – defined by a weak domestic airline industry and a lack of airport density – greatly undermines the ability of local economies to facilitate tourist and business travel, which are already hampered by the vast size and geographical barriers of Africa.
Furthermore, the WEF says the region is characterised by a pronounced lack of information and communications technology (ICT) adoption – a key requirement to attract visitors, as travellers and industry players increasingly rely on technology. Visitors could also be put off by health and hygiene concerns ­– sub-Saharan Africa's most substantial gap with global averages – it adds.
"The resuscitation of the travel and tourism sector will reignite growth and sub-Saharan Africa's economic prospects," says Liza Eustace, sector head of healthcare, construction and hospitality at Absa Corporate and Investment Banking. "As Africa's overall development continues, the long-term hope is that infrastructure spend and construction related to transport, airports, ICT infrastructure and health facilities will be key spurs for economic growth. Combining competitive pricing with unique historical, cultural and natural experiences will serve as catalysts for Africa's tourism potential to be fully realised.
"Ultimately, though, the tourism industry in Africa will have to undergo a re-make and a re-imaging to adapt to ever-changing global circumstances and cannot ultimately rely on cash-strapped African governments to provide the support that is required to sustain itself. Operational costs will have to be measured carefully to ensure greater resilience in an environment marked by tremendous instability and fluidity. The industry has – and will need to continue – to cater to a greater degree to domestic tourists who can help make up the international void."
She adds that there are other factors which mean that – from a structural perspective – the tourism sector in Africa is unlikely to be the same as before. African governments were significant contributors to hotel and conference bookings before the lockdowns. Remote working and video conferencing – combined with government coffers emptying owing to declining revenue and Covid-19 support spending – mean that this vital source of business-driven income will likely be considerably less in future. The same can be said about corporate travel and the realisation that much of this travel can now be replaced by a lower-cost online alternative.
Africa requires 1,030 more planes
More positive news comes from the fact that aircraft manufacturers are gambling on a brighter future for the continent. In its 2021 commercial market outlook, Boeing forecasts that African airlines will require 1,030 new aircraft by 2040 valued at $160bn, with aftermarket services such as manufacturing and repair valued at $235bn. The region's airlines will expand their fleets by 3.6% per year to accommodate passenger traffic growth of 5.4% annually, the third-highest growth rate in the world, according to Boeing.
Single-aisle jets are expected to account for more than 70% of commercial deliveries, with 740 new planes mainly supporting domestic and inter-regional demand. In addition, African carriers are estimated to need 250 new widebodies, including passenger and cargo models, to support long-haul routes and air freight growth. About 80% of African jet deliveries are expected to serve fleet growth with more sustainable, fuel-efficient models – such as the 737, 777X and 787 Dreamliner – with 20% of deliveries replacing older aircraft.
Estimated demand for aviation personnel will jump to 63,000 new professionals by the year 2040, including 19,000 pilots, 20,000 technicians and 24,000 cabin crew members.
Experts believe that the region must also get better at promoting itself internationally. The African Tourism Board is pushing for regional tourism blocs and is working with the International Tourism Investment Conference (ITIC) for a continental investment drive to mobilise the region's tourism development. The East African Community held its first Regional Tourism Expo in Arusha in Tanzania between 9 and 16 October this year. The regional tourism exhibitions will place greater emphasis on domestic and regional tourism to reduce the dependence on US and European tourists.
"The outbreak of the Covid-19 pandemic had taught a lesson that Africa should be self-dependent in tourism," Cuthbert Neube, chairperson of the African Tourism Board, said in a recent interview with the East African newspaper.
"Lockdowns and travel restrictions imposed in Europe, the US, Asia and other potential tourist markets had greatly affected African tourism. Africa receives about 62 million tourists out of more than one billion global tourists recorded each year."
Africa's plans for new hotels
New hotels are being planned throughout Africa despite the impact of Covid-19. For example, through the ITIC, investors from Bulgaria – in partnership with other investors – plan to invest $72m in four hotel projects in northern Tanzania, within the Tarangire, Lake Manyara, Serengeti and Ngorongoro wildlife parks.
Some 441 hotels belonging to hotel chains – with a total of 81,999 rooms – are being developed in Africa in 2021, according to W Hospitality Group. The hotel chain development pipeline included 135 hotels with 31,747 rooms in North Africa and 312 hotels with 50,252 rooms in sub-Saharan Africa. Growth of almost one-quarter (22%) in the total pipeline rooms has taken place since 2017, with growth in North Africa – in particular in Egypt – especially strong at 34% compared with 17% in sub-Saharan Africa.
North Africa accounted for 47% of the African pipeline total, while West Africa made up 30%, East Africa 18%, Southern Africa 11% and Central Africa 2%. West Africa is the largest sub-region in sub-Saharan Africa with 49% of the sub-Saharan African pipeline, up from 47% in 2020.
The pipeline total shows a jump in rooms on 2020 (77,896 rooms) and is more than 9% ahead of 2019. Some 71 deals with 10,011 rooms were signed in 2020 and early 2021, according to W Hospitality Group.
Egypt has the most chain hotels being developed in Africa (67 hotels with 19,272 rooms), followed by Nigeria (62 hotels with 9,032 rooms), Morocco (38 hotels with 6,084 rooms) and Ethiopia (33 hotels with 5,886 rooms).
Africa's travel and tourism industry has been battered since the pandemic struck at the start of 2020. However, leisure operators are looking forward to robust holiday seasons in 2021 and 2022, and are continuing to open new hotels and resorts. Unfortunately, it will take a lot longer for business travel from Europe and the US to return. Africa's hospitality industry must learn to be less dependent on international travellers and develop its domestic and intra-regional markets.