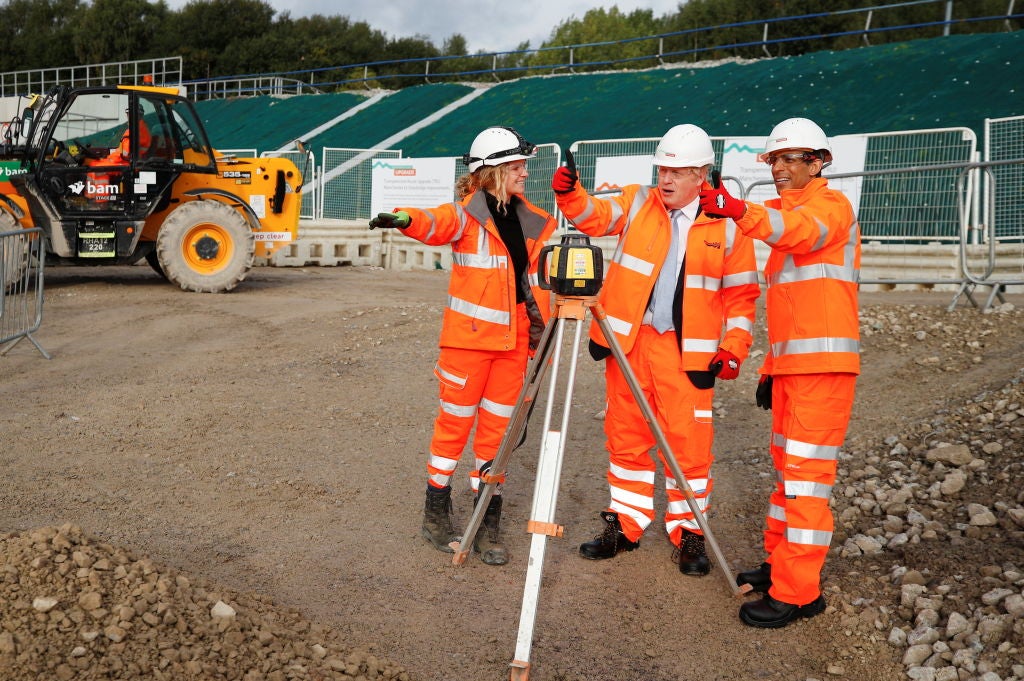 Warm spring sunshine bathed the thousands of conference attendees in Leeds. Workers for public sector bodies, property developers, construction companies and investors, as well as politicians, had descended on the Royal Docks area of the city to discuss ways to transform the UK's built environment. Yet while the they shielded their eyes from the sun, it was impossible for attendees to ignore the heavy clouds on the horizon.
With so many regional investment promotion agencies in attendance at UKREiiF, it was not difficult to find those willing to provide a positive forecast on the future of the country's towns and cities.
The UK remains one of the most attractive countries for investors in the world, and the levelling up policy of central government has mobilised an army of highly skilled and knowledgeable individuals to plan transformations of towns and cities across all regions of the country.
Yet every single session I sat in or conversation I had either mentioned or alluded to the harsh economic winds buffeting the UK economy.
New housing starts in England were down by 9.3% between 2018 and 2019, and a further 15.2% between 2019 and 2020, according to the Office for National Statistics (ONS). Levelling Up Minister Michael Gove surprised no one when seeming to admit in early May 2022 that the government's target of building 300,000 new homes this year would not be met.
Construction output is struggling to rise above pre-Covid levels, with new work on private commercial projects in February 2022 at just 72.2% of what it was in February 2020 before lockdowns were imposed.
Added to all of this is growing inflationary pressure that is making development more expensive and exacerbating the housing crisis as people struggle to pay their rent. UK raw material costs will treble in 2022, according to the ONS, with the war in Ukraine adding to the pressure created by the Covid pandemic.
Large schemes announced at UKREiiF
Against this backdrop, some very large property deals were announced at the conference, and most major cities were presenting plans for major regeneration.
Perhaps the most eye-catching was Legal & General agreeing to invest £4bn across the West Midlands for regeneration, housing and levelling up.
Belfast unveiled a new £1bn city deal, while a host of metro mayors, including Andy Burnham of Greater Manchester and Andy Street of the West Midlands Combined Authority, were in attendance, and there was a large delegation from central government.
Yet some of the opportunities unveiled at the event highlighted how challenged town and city centres are. Sheffield is looking for a development partner for a large, five-storey site on the city's historic Barkers Pool. The lot is vacant because the John Lewis store, which had been there since the 1940s, closed down in 2021.
The core theme of the event was levelling up, the UK government policy for reducing regional inequality. It had an incredible 39 mentions on the three-day agenda (not including job titles or references to the stage named after the initiative).
Yet research published by Bloomberg just before the conference suggests that, based on the government's own metrics, levelling up is going backwards. Nine out of ten constituencies have seen a widening of the salary gap since 2019, home affordability is getting worse almost everywhere in the country and public spending per head has fallen behind London in every region of England.
The government has provided various funding pools for towns and cities to apply for to help regenerate areas, such as the Levelling up Fund, Future High Streets Fund and Towns Fund. Yet as Angela Brockband, director at Thirteen Housing Group, pointed out during one of the UKREiiF sessions, funds already awarded were based on cost calculations before the latest spike in inflation.
How to tackle the UK housing crisis
Another major theme of the event was the housing crisis facing the UK. There have been decades of undersupply of new housing, and in this time private rents have risen sharply.
On top of the significant inflation in construction costs, the industry is also having to deal with the legacy of the Grenfell Tower fire, which will require cladding across the country to be replaced.
The costs of net zero will also be significant for the housing sector. Peter Denton, CEO of Homes England, highlighted how it will simply be too expensive to retrofit some old housing stock across the country, which is effectively redundant and should be replaced.
Dr Charlotte Carpenter of Karbon Homes explained the houses her company builds are at the energy efficiency rating of EPC-B rather than the top EPC-A because there is no return on investment at the highest grade due to the fact that people are unwilling to pay the higher price required.
Both the demolition of old housing and the construction of new homes produces heavy emissions. It is an insolvable problem, according to Denton, and in many areas of the country fuel poverty is likely to trump net zero as a priority over the next few years.
Paul Dennett, Mayor of the City of Salford, was not the only person at the event to call for the scrapping of the right-to-buy scheme, given how much it has reduced affordable housing stock. Councils have just not been able to replace homes moved into the private market fast enough.
A way forward for the UK?
Jamie Kerr, co-founder of Urban Development Partnerships, said during one session that the current situation in the UK reminded him of the early 1990s, a time when development was very difficult but not impossible. He added that plans and processes need to be simplified.
"In the private sector, a lot of people are scared off spending million of pounds just to go forward [with a development]," said Kerr. "Let's make procurement simpler, quicker and cheaper. That would help because we don't have the time to go through [current processes]."
He added that Urban Development Partnerships is close to lending its first money to local authorities. "It has taken three years, when it should have taken three weeks," said Kerr.
Andrew Percival, executive chair of Brick by Brick, highlighted another challenge: that public sector partners are often "learning on the job and are happy to let the process take its time while they get up to speed with understanding the issues".
Greater consensus on what 'sustainable' means in the building sector would also help developers. The impression from the conference was that everyone in the industry wants to move in the same direction, but there remains too little standardisation on sustainability certification.
When it comes to urban planning, there is also little certainty on the future of the car and how much it should be accommodated in towns and cities.
Jenny Hartley, director at Invest Newcastle, said in one session: "We speak to investors that are creating hundreds if not thousands of jobs, and top of their wish list is often a car-free city centre. Yet when it comes to the crunch, they cannot give up their car parking spaces."
Yet more uncertainty is created by how complete the return to offices we will be. Central government is clearly pushing for a return to a pre-pandemic economy, yet some indicators highlight how much things have changed. Figures from the ONS show that, in 2022, vacancies surpassed unemployment in the UK for the first time since records began, as people moved out of traditional office careers.
This level of uncertainty makes long-term planning very difficult and starves investors of the certainty they require. It struck me that what was really missing from discussions at the conference was a unified vision from central government.
The creation of metro mayors and the levelling up policy in the UK has energised all regions to really focus on long-term planning, but often these regions are competing against each other for small pots of money rather than working in coordination.
Not every city in the UK is going to be a hub for tech start-ups, and not every region will be home to a gigafactory. Can every part of the UK be a good place to live, with its own economic specialisms all contributing to UK Plc in different ways? The Levelling Up White Paper set a number of socio-economic goals for UK regions. The country could now benefit from a much more detailed plan of how to achieve these targets.