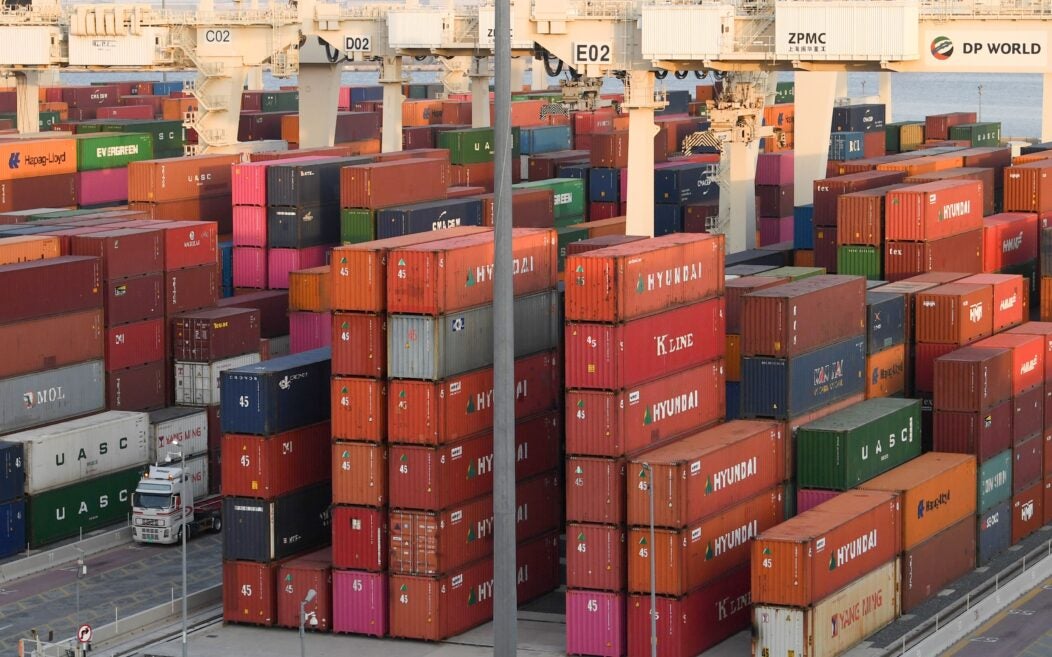 Containers are stacked at the port of Jebel Ali, operated by the Dubai-based logistics company DP World, in June 2020. (Photo by KARIM SAHIB / AFP) (Photo by KARIM SAHIB/AFP via Getty Images)
Lebanon is amid its worst economic crisis in decades, with public services at breaking point. This might not seem like the ideal backdrop for attracting major foreign investment, yet several global companies are fiercely competing to win the contract to redevelop the Port of Beirut, devastated by an explosion in 2020.
The port redevelopment has attracted bidders from France, Germany and Turkey, as well as China, whose companies already operate major ports across the Eastern Mediterranean.
Ports in the Middle East have attracted huge amounts of investment over recent decades and the high level of investor interest in the Port of Beirut, as well as other ongoing port projects in Israel, Oman and Jordan, underlines how attractive these assets continue to be.
While ports were until recently mostly state-owned assets, private investment is increasingly common, driven in particular by China's Belt and Road programme.
While China and other countries see political gain from controlling ports along major trade routes, how attractive are the region's ports from a business perspective? There were already signs of overcapacity and low productivity at container terminals across the region before the pandemic and the shipping sector has only become more unpredictable since then.
The role of shipping in the Middle East
Container shipping is vitally important to the Middle East region. Geographically located as a bridge between Europe and Asia, the region's ports handle a significant amount of globally traded goods.
According to a report by Boston Consulting Group (BCG), in 2018 the Middle East handled 20% of the world's seabourne trade while accounting for just 3% of global GDP.
Ports on the Eastern Mediterranean, the Persian Gulf and the Red Sea have seen significant investment over the past decade, with many ports aggressively adding capacity. According to BCG, container capacity in the region grew by 16 million 20ft equivalent units (TEUs) between 2010 and 2016, an annualised growth rate of around 7%.
Much of this growth has been achieved through developing new terminals and associated infrastructure, rather than just expanding existing facilities. According to the World Bank's PPI database, almost double the investment went into new port and terminal construction in the region during the 20 years to 2020 ($3.8bn) than in the expansion of existing port facilities ($2bn).
That investor interest has been sustained throughout the pandemic, with a number of ongoing projects, is perhaps unsurprising. Mark Assaf, chief of the TrainForTrade programme at the UN Conference on Trade and Development (UNCTAD), says investment in ports rarely diminishes, even in times of turmoil.
"When airports, TV companies and radio stations are all closed down, the port still operates," he explains. "Even financial investors that are not port related like to invest in them because they find it a secure investment."
Productivity of Middle Eastern ports
Dubai's Jebel Ali is the only port in the region that is among the top 20 ports in the world for throughput traffic. Yet DHL's ocean freight market update in October 2021 noted that an increase in local competition is seeing Jebel Ali's port ranking fall.
Despite a flood of investment between 2010 and 2016, BCG says container throughput increased just 4% annually during that period and utilisation rates fell from 75% to 66%.
As the ports in the region were seemingly becoming more unproductive, global trade was hit by the effects of the pandemic, which are still disrupting global trade routes. Although travel restrictions have eased in many parts of the world, and demand for restocking is surging, this has caused backlogs and delays at many ports globally.
DHL's market update highlighted that dedicated services between Asia and the Middle East have been the worst hit by a global shift to the busiest east-west routes for which spot freight rates are at historic highs. Container ships travelling between Central China and the Middle East are only at 40% capacity, yet additional vessels have been needed on the route because port congestion is making the round trip no longer possible in seven weeks.
A clear and persistent global economic recovery has not yet arrived. Even when it does, it may be accompanied by nearshoring and protectionism, which could further disrupt global shipping.
Middle East ports up for sale
These challenges have not cooled investor interest in a wide range of port projects across the region, particularly from China.
A new port terminal in Haifa Bay in Israel was inaugurated in September 2021. It has been developed by Chinese state-owned company Shanghai International Port Group, which will operate the 18,000-capacity container terminal under a 25-year concession.
The existing Haifa port is being privatised, with Dubai's DP World and India's Adani Ports among the reported bidders. The new operator of the port will be in direct competition with the new Chinese-run terminal located nearby.
If the Chinese bid for the Port of Beirut is successful, it will add to its existing port operations in nearby Tripoli and Ashdod in Israel, as well as terminals in Egypt including Alexandria and El Dekheila. These ports create a chain of operations along the Eastern Mediterranean for Chinese companies, and provide a gateway into Syria, where China sees investment opportunities in the reconstruction of the country.
Investments are not just coming from China, however, with French shipping giant CMA CGM and Germany's Hamburg Port Consulting also leading bids for the Port of Beirut. Hamburg Port Consulting's plan is the most ambitious, involving a relocation of the port and a major urban regeneration at a cost of $7.2bn.
It is not just container ports that are attracting interest. In Jordan, an agreement was signed in September 2021 for Abu Dhabi Ports Group to develop the country's first cruise terminal, as part of a $10bn redevelopment of the Port of Aqaba backed by the United Arab Emirates.
Sohar Port in Oman, which is operated under a joint venture between the Omani government and Port of Rotterdam of the Netherlands, announced in 2021 that it is expanding ship-fuelling services as it tries to compete with Jebel Ali, the regional leader of this service.
Modernisation of port operations
While investment in recent years has been primarily focused on adding capacity to compete with other ports in the region, the changing nature of shipping also requires ever greater investment in technology.
A report from consultancy Strategy& in 2020 stated that "the region's capacity is on track to more than double, from the equivalent of about 45 million standard containers in 2021 to about 100 million by 2022. Yet utilization rates remain low, averaging under 50%".
Among the recommendations Strategy& makes to port operators in the region is to invest heavily in digital technologies such as blockchain, autonomous vehicles, drones, smart sensors, 3D printing and cloud platforms.
UNCTAD's Assaf says that this growing investment in technology will change the workforce skills needed. "The classical function of port workers will have to change," he notes. "They will have to be far more conversant with technology."
The speed at which the world transitions away from fossil fuels will also have a major impact on the operation of ports in the region, which handle a large share of the world's fossil fuel-derived goods.
At least for now, none of these potential headwinds is slowing investor appetite for port operations across the Middle East.