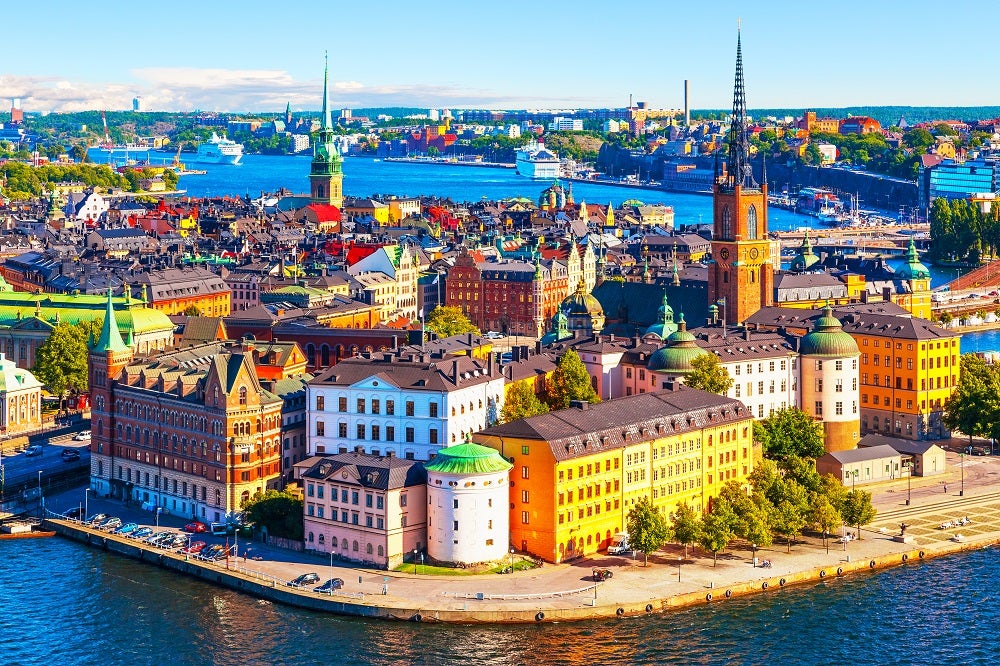 Stockholm is Sweden's largest municipality, home to nearly one million people, and one of the fastest-growing regions in Europe, experiencing a lot of new construction and redevelopment of urban areas.
The city's understanding of the seriousness of climate change and the immediate need for action has led to the development of its Climate Action Plan. Emerging from the Paris Agreement, the plan includes clear and concrete measures, setting out how the municipality takes the lead and inspires others to reduce its carbon footprint.
Going greener
Stockholm was one of the first cities in the world to integrate environment-conserving strategies into its public policy, and features a well-connected transport system, where 75% of its citizens commute to work on public transport, by bike or on foot. The city is working towards a zero-emission zone for traffic.
These measures have helped Stockholm to halve its emissions since 1996, putting it on target to become fossil-free by 2040 and climate-positive by 2030.
A huge part of this net-zero future rests on the shoulders of the city's many start-ups and 'impact entrepreneurs', who are dedicated to creating novel solutions for Stockholm and the wider world. Sweden is already Europe's premier destination for tech start-ups, with inward investment more than doubling since 2020.
In September, Norrsken and Invest Stockholm, a part of the City of Stockholm, will hold their annual Impact Week, a summit aimed at addressing critical environmental issues. It brings together leading thinkers on energy, sustainability and resilience, as well as the city's innovative impact entrepreneurs, to explore pathways towards an economy aligned with ecology.
Ahead of the summit, Erica Eneqvist, climate strategist at the Executive Office in the City of Stockholm, tells Investment Monitor about the city's new decarbonisation goals and some of the plans in place to achieve them.
The main challenges in fighting climate change
"I work towards the goal of a climate-neutral Stockholm," says Eneqvist. "Our main work relates very much to how we transport ourselves and our goods."
"About 40–55% of our emissions are related to transport systems, so electrification and transport efficiency is important. It is going quite fast with electric vehicles, but the main challenge relates to construction vehicles like excavators, and heavy vehicles for longer-duration transport such as shipping and air freight."
Eneqvist points out that "the other main challenge is related to fossil fuel-based plastics".
Stockholm uses waste incineration, which is also used to create heat for district heating, reaching 80% of the buildings in Stockholm. It is important to reduce all fossil fuel-based plastic in this waste.
"It is also about how we build," she says. "Lots of plastic in the building sector, for example – it is about changing the industry and that is a huge job.
"And then we have the third part, which is emissions from consumption. That is a new political goal for us. We want to reduce emissions by 50% by 2030. This relates to industry but also behaviour. How can we change the way we consume as citizens but also the products that are on the market?"
Progress through partnerships
One way that Stockholm is moving towards its goals is through innovative procurement for reducing emissions within the construction sector.
An area of Stockholm known as the Meatpacking District was to be redeveloped from old industrial units into an urban district, with housing, commerce and services alongside new parks and squares.
The city organisation wanted to develop the work for fossil-free construction sites. Since there are few electrified excavators or heavy construction machines on the market, they are uncommon in the contracting.
For the Meatpacking District area, the city instigated a pilot project of fossil fuel-free contracting by setting requirements within the tender contracts. These requirements were developed in collaboration with the entrepreneurs, which resulted in even higher ambitions than the city initially imagined. One of the conditions was that 10% of working machine hours must be powered by electricity, saving more than 2,000 tonnes (t) of CO₂ emissions in the course of the project.
Developing new ideas through dialogue
This dialogue process was introduced as an option in the procurement process in Sweden in 2010. The idea is that dialogue between the business actor and procuring government can help to develop ideas, creating the conditions to deal with unknown factors. In this instance, the dialogue resulted in new requirements and ideas that the business partners wanted to add.
The winning entrepreneur project featured a collaboration with Volvo CE, which resulted in Sweden's first battery electric 23t excavator in Stockholm. Through the dialogue, the companies also presented solutions for lowering environmental impact, which included reusing materials such as kerbstones and reducing the use of plastic.
Other environmentally friendly actions in the Stockholm Meatpacking District project included the use of heavy plant machines that ran on hydrogenated vegetable oil.
"It is a great example of how procurements change and inviting the entrepreneurs into a dialogue," says Eneqvist. "The entrepreneurs said these are important requirements for construction sites… but they wanted to have more recycling at the site, and so on, so the heavy excavator electrification was just one part of it."
A model city for sustainability
Such successful 'green' collaborations have caught the attention of other European cities, and Eneqvist says exchange study visits examining Stockholm's projects are now common.
"We need to continue to work on our carbon reductions, but we also need to present it and work with others," she says. "For example, we are part of the NetZeroCities ambition."
This EU-wide mission has objectives that include achieving 100 climate-neutral and smart European cities by 2030, ensuring they act as experimentation and innovation hubs to enable all European cities to follow suit by 2050.
"We were among the first to contribute to that mission," says Eneqvist. "We need to be part of this mission working together with others on environmental issues, but we also need to involve others, like eastern Europe and the rest of the world, to achieve large-scale change.
"We need to break down those ideas of competition, because we need to learn from each other and develop this together."
Net-zero projects in action
Several large-scale projects are ongoing in Stockholm with net zero in mind.
A bio energy carbon-capture storage project in the city aims to collect around 800,000t of CO₂, starting in a couple of years. One of the first CCS facilities to be built in the world, it received a substantial contribution from the EU, says Eneqvist.
"We also need to work on non-technical solutions as well," she adds. "We are working on reducing plastics in our own organisations, in the municipality, [and] in elderly care, for example, where we have seen an increase in the use of plastic smocks, gloves and plastic cups. These are expensive and create CO₂ emissions," she adds.
The problems associated with single-use plastics were exacerbated during the pandemic, says Eneqvist, but the city is now developing new guidelines.
Impact Week
At Stockholm Impact Week 2023, which runs from 11to 14 September, visitors will have the chance to meet sustainability trailblazers from the most promising impact start-ups as Stockholm recognises those who are paving the way for a better future.
"I am really looking forward to it," says Eneqvist. "I think it is a nice combination of bringing people together… like how can we develop a company and also contribute to climate change, for example, or health? It is even better if it is a combination of health and climate."
What does the future hold?
It can be close to impossible to really know what is around the corner, Eneqvist points out.
"It is typical to think that the normal way of travelling or the normal way to be living today is the way we will be doing it in 20 years from now, but maybe it is not," she says. "I am not sure that we are always thinking about the right solutions.
"It is important for us to bring in entrepreneurs and people with new thoughts. Sometimes we need to create a new way of doing things, like using new ways to transport ourselves or our goods – and it is so much easier to think about how it is right now and then just tweak it a little bit. I guess we could be more radical [by] pushing at the boundaries when it comes to some areas.
"We need to work and collaborate together," she concludes. "This is something that is necessary and also challenging."
To learn more about Stockholm's start–up ecosystem download the whitepaper here, or contact Josh Ponce, business development manager at Invest Stockholm, to know more: josh.ponce@stockholm.se.