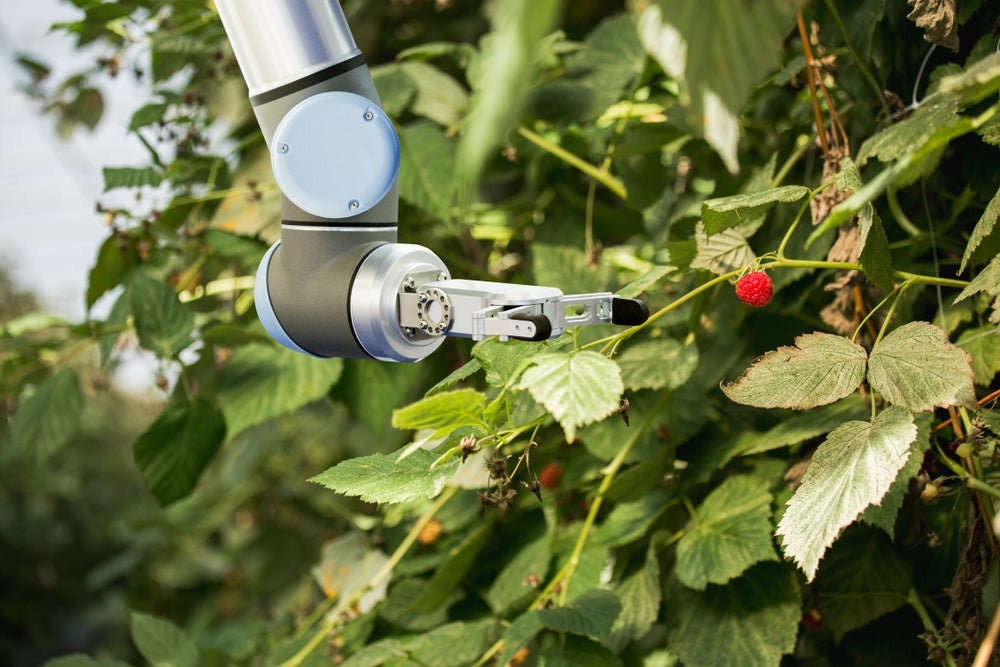 Agritech is continuing to transform the way in which the world's food is grown, harvested, packaged, transported and sold.
. The arrival and harnessing of artificial intelligence, robotics and machine learning has seen the sector grow exponentially in the past two decades.  
Though the US and countries across Europe, including industry leaders the Netherlands and Germany, are currently driving global agritech growth, the Caribbean continues to emerge as a place to invest in the sector.   
In figures made available in early 2023, secured trade agreements show that there has been a significant increase in investments across the Caribbean agribusiness market.
Rising to $38,419 billion with around 941 million customers, investment opportunities in agritech and food products is an attractive prospect.
As a region known for producing the world's finest cocoa and much more, a high-value agricultural export opportunity, the future looks propitious for the agritech sector.
Agritech industry growth in Caribbean driven by private development programmes
Since 2012, industries across the Caribbean, including the agritech sector, have been supported by the Compete Caribbean Partnership Facility (CCPF).
When looking for the best place to set up an agritech company, Caribbean islands can call upon the incentives provided by this private sector development programme.
Working across some 13 islands in the region, the CCPF is designed to help businesses deliver innovative and practical solutions that stimulate economic growth, increase productivity and expand the agritech sector (among others).
Up to 2020, 26 agribusiness projects with an FDI volume of $919.1m were put in place across the Caribbean, delivering significant economic opportunities with the application of technology in high-growth, high-value agro-industries.
With strong local demand for agricultural products, this represents a major opportunity for investors.
Benefits of starting an agritech company in the Caribbean
As the global agritech sector continues to grow, Caribbean islands are looking to gain from it.
With an excellent climate, and high demand for supplies from the local market as well as tourists, the reasons to start an agritech firm in the region are numerous.
In addition to the reasons mentioned above, the availability of public and private land for agricultural use in the Caribbean is substantial.
For investors, the chance to benefit from local and global programmes designed to invest in food security and production initiatives across the region is also a key reason that when it comes to the best place to set up an agritech company, Caribbean islands are staking their claim.
The Turks and Caicos Islands
Boasting a strong and growing economy, a pro-business environment and government-backed tax incentives, investing in the Turks and Caicos Islands is an attractive proposition.
When scouting for the best place to set up an agritech company, Caribbean islands including Turks and Cacicos provide not just an ideal climate for agricultural production, but an innovative technological environment too.
As the agritech industry is advancing to create and adapt innovative products and services based on cutting-edge technologies, the Turks and Caicos Islands is a place of interest in terms of the sector and overall tech investment.
Though the islands are known primarily for tourism and as an offshore financial centre, their investment strengths make them an agritech hub with huge potential.
Jamaica
As the largest island in the English-speaking Caribbean, and the most populated, Jamaica is often considered to be an advantageous place to start an agritech company.
As well as offering a climate that lends itself to the agricultural industry, those in the sector are now harnessing agritech advances to drive improvements in processes, helping companies scale their business models in ways that contribute to improvements in agricultural productivity.
With the recent investment of $11bn that has created a state-of-the-art agricultural development on 160 hectares in the Lakes Pen area of the Bernard Lodge lands in St Catherine, Jamaica can lay claim to being the best place to start an agritech company in the Caribbean.
Businessman Gassan Azan believes that there is vast potential for agritech companies in Jamaica thanks to a collaborative approach between producers and agritech companies.
"When I started looking into it deeper, I realised that I wanted to go further than just linkages with the farmers," he says. "So instead of being our own middleman, we decided to actually engage in farming, but farming at a different level – much more high-tech than has ever been done in Jamaica".
With all this investment and a positive fiscal forecast, when it comes to the best place to set up an agritech company, Caribbean countries are emerging as strong global contenders.
Information, Data and Statistics from Caribbean Chambers of Commerce, Statista, Invest in Turks and Caicos, Our World in Data and Turks and Caicos Government Statistics, Jamaica Tourism.