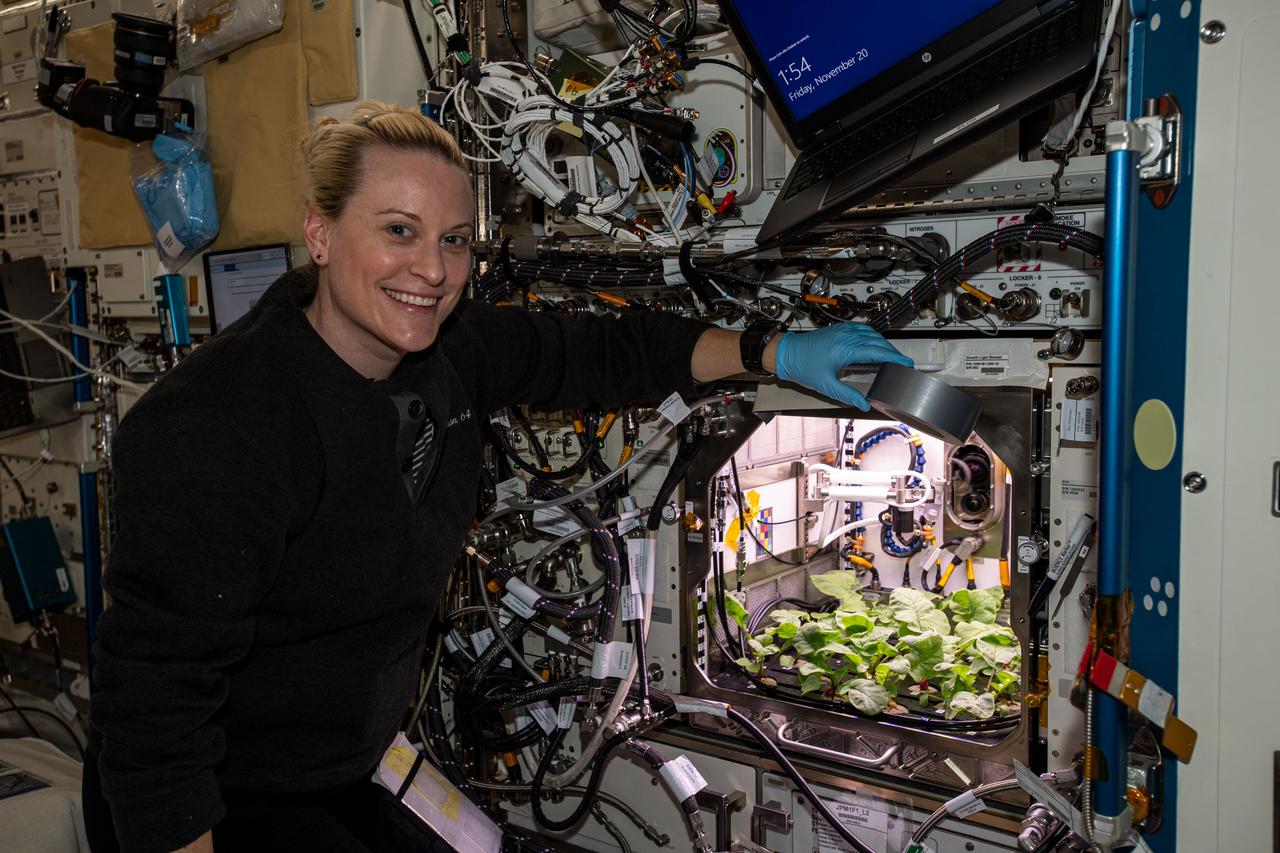 "We are funded by the US government, we are funded by taxpayers. So we want our work to really be available to everybody who funds this and to be something that can then go on to have more benefits throughout society."
These are the words of Dr Gioia Massa, a project scientist at the Nasa Kennedy Space Center in Florida, describing work on the 'Veggie' growing system, a space garden that sits within the International Space Station (ISS).
The Vegetable Production System, to give Veggie its full name, was first installed on the ISS on 7 May 2014, to test how food could be grown in space, an environment where things like water delivery to plants or harvesting, which seem simple enough in terrestrial agriculture, become much more complicated.
However, the progress and discoveries made when growing food in space can also benefit agriculture down on Earth, according to Massa. "LED lighting for crop rows was something that was originally funded by Nasa for many, many years," she says. "A lot of the early research in this area was performed by Nasa, and now there's this industry that has developed and it has been used worldwide in both greenhouse and warehouse agriculture."
Developed in space, used on Earth
Nasa actually has a technology transfer programme, and Massa explains that through that programme the information and technology the administration discovers can help advancements on Earth and go on to benefit the taxpayers that are, after all, behind the funding.
"There are people who are building and developing lighting or sensors and control systems, ways to measure chemicals in the environment," she says. "We have a lot of discussions, information exchanges, and even Nasa funding for some of these different groups to help advance these technologies because we know that we need them for the future, and they also have benefits for terrestrial agriculture, especially now that indoor agriculture and factory farming are so big."
At the moment, Nasa is working closely with a company that has developed a "controlled-release fertiliser", says Massa, which aims to keep "run-off from agriculture out of rivers and lakes".
"It wanted something that would only release the nutrients where the plant roots were growing at a rate that the plants would use it, so it wouldn't just be running off with rain into the estuaries and the lakes," she adds.
Nasa is also helping with polymers science, and working towards developing the "type of polymers that are used for releasing these nutrients", but Massa explains that this research went "full circle" and both parties soon realised that this fertiliser approach could work for Nasa too.
"[We have worked together] on developing customised blends that will meet the needs of our crops," she adds. "These blends are now being used by people in aggregate and controlled environment agriculture, in greenhouses, and in things to grow crops for food on Earth."
From microgreens in the vomit comet to space tacos
Ironically, the space that can be used in space is limited, so introducing the most nutrient-dense crops in the smallest amount of space is paramount. That is why the Veggie team is now working on microgreens.
Similar to sprouts but much more potent, "they have between four and ten times the nutritional density of a mature plant", says Massa. "So you can grow broccoli as a microgreen or kale as whatever and it is so nutritious, and they are also very, very flavourful." Nasa is currently working alongside the US Department of Agriculture on research on these crops.
Their size and the number of seeds required – as they are lots of tiny little plants – are also a challenge, especially in a gravity-free environment.
Testing this involves experiments on parabolic flights, where the planes go up and down doing parabolas to get 15 to 20 seconds of microgravity, also known as "the vomit comet", jokes Massa.
At the moment, Nasa is focusing "a lot" on such "pick and eat" crops, explains Massa, as a way of supplementing the packaged diet that astronauts consume, as in long missions components such as vitamin C can degrade in the packaged diet.
Growing food in space is not just done to supplement the diets of astronauts, however. The process of taking care of the plants and having access to fresh food can also have psychological benefits for them. In 2021, astronauts at the ISS grew chilli peppers that had a "much longer growth duration than we had done for other crops", says Massa. The astronauts first harvested them at the end of October 2021 and were able to eat them in a taco made using fajita beef, rehydrated tomatoes and artichoke.
The network behind space agriculture
The consumption of a taco might seem like a small step for agriculture on Earth, but it represents a big step for growing food in space, and there is much more to come. This progress is not just being made by the scientists at Nasa either, explains Massa. They engage and collaborate with students across the US in a programme called Growing Beyond Earth.
She explains that while the scientists are a "small but mighty group" within Nasa, they have a network of other scientists, citizen scientists and students from middle schools to universities helping them to solve problems and choose plants to grow in space.
"[There are] tremendous challenges, but a lot of really great opportunities for the future," says Massa, who is excited about the possibilities to come in food growing in space – and its applications in terrestrial agriculture.
It might still be a long time before astronauts get to have their own cooking shows while on a space station, but the research and the discoveries from growing food in space are already being enjoyed back down on Earth, and it will be exciting to see what there is to come.