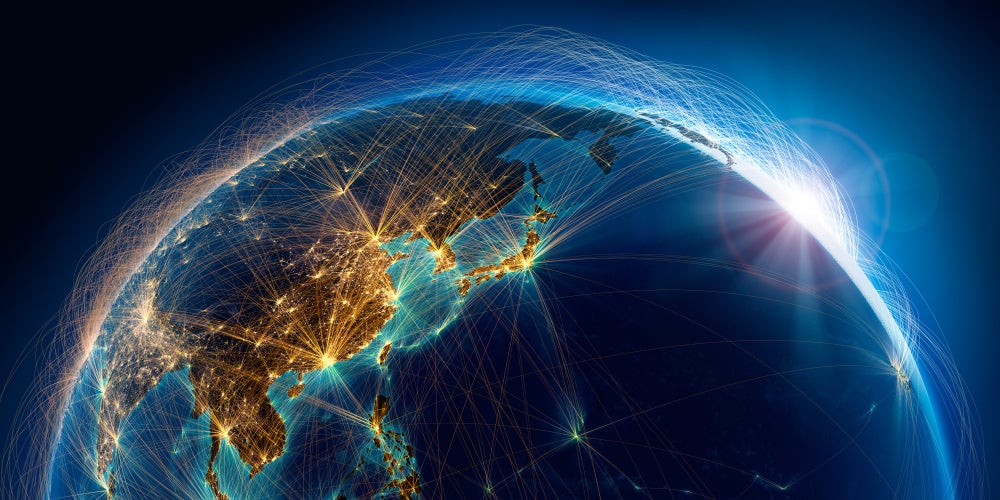 East Asia – consisting of China, Hong Kong, Japan, Macau, Mongolia, South Korea and Taiwan – has experienced robust economic growth since the 1960s. Investment Monitor's regional investor guide examines which countries are leading in terms of economic development, foreign investment, business friendliness, quality of life and environmental performance.
Although North Korea is part of the east Asia region, it has been removed from our analysis. The country, which does not publish economic data, has been economically isolated from most of the world for decades due to its nuclear weapons programme and human rights violations.
China accounts for 18% of the global economy
China is by far the largest economy in east Asia with a GDP of $18.3trn in 2022. In 2010, China overtook Japan to become the second-largest economy in the world. In 2021, its GDP surpassed that of the EU for the first time.
Since the late 1970s, when China began to open and reform its economy, its GDP has experienced unprecedented growth. The Chinese economy grew year on year during the time analysed (2001–22), increasing at a compound annual growth rate (CAGR) of 13.3%. Despite periods of worldwide financial crisis, such as the 2007–09 global recession and the Covid-19 outbreak, China's GDP remained resilient.
However, experts have warned that the government's continued zero-Covid strategy, its policies to curb real-estate speculation and high debt levels have dampened economic growth. The country was previously forecast to overtake the US in 2028 but this slowdown has caused UK-based think tank the Centre for Economics and Business Research to push back its estimate to 2030, while the Japan Centre for Economic Research has stated that it will happen in 2033.
Despite this, China is still one of the fastest-growing east Asian economies. According to estimates from the International Monetary Fund (IMF), GDP at constant prices will grow by 4.3% in 2023, 4.4% in 2024 and 4.6% in 2025, through to 2027.
Japan is the second-largest east Asian economy. At $4.3trn, it has the third-largest GDP in the world and the third-largest consumer market.
Japan is considered one of the world's most innovative countries with an economy that prioritises spending on research and development and the manufacture of high-tech and precision goods such as hybrid vehicles and robotics. In the 2022 edition of the World Intellectual Property Organisation's Global Innovation Index, the Tokyo-Yokohama area ranked as the world's top science and technology cluster.
The volatile nature of the Japanese yen's exchange rate with other currencies often causes GDP in US dollars to fluctuate sharply. The Japanese economy shrank by 16.9% between 2012 and 2013 due to a dispute with China, which led to a drop in exports. Japanese GDP continued to falter in 2014 and 2015.
Following two years of economic growth in 2018 and 2019, Covid-19 sparked three years of decline. Japanese GDP dropped by 1.7% in 2020 compared with the previous year, by 2% in 2021 and by 12.8% in 2022. The IMF predicts modest economic growth of 1.6% in 2023 and 1.3% in 2024, but this is still the slowest rate of all east Asian countries analysed.
South Korea is the third-largest east Asian nation by GDP and considered one of the fastest-growing developed countries in the world. It is the seventh-largest exporter globally with a focus on electronics, machinery, vehicles and plastics.
Following a decline in South Korea's GDP in 2019 and 2020 driven by a slowdown in the global chip industry and the Covid-19 outbreak, the economy grew by 10.1% in 2021 due to record exports. However, GDP is set to shrink by around 4.2% in 2022 as a result of reduced trade and increasing interest rates. The IMF forecasts GDP growth of 2% in 2023 and 2.7% in 2024.
Mongolia is the smallest of the east Asian economies analysed, with a GDP of $15.7bn in 2022. The country has recorded strong economic growth in recent years and boasts vast agricultural, livestock and mineral resources. According to the IMF, Mongolia is forecast to experience a 5% growth in GDP at constant prices in 2027 – the biggest increase of all countries examined.
However, Mongolia also has the highest inflation rate in east Asia at 14.8% in 2022. This can be attributed to Covid-19 and the subsequent slowdown in foreign investment as well as China's frequent border closures and Russia's invasion of Ukraine escalating import prices.
Taiwan's GDP is forecast to grow by 3.3% in 2022 – the highest rate in east Asia – due to domestic demand. The Taiwanese economy has grown consistently since 2016 driven by strong global demand for semiconductor products.
Macau's economy is expected to shrink by 22% in 2022 compared with the previous year – the biggest decline in east Asia. Macau, which relies heavily on gambling-related tourism, was one of the first locations outside of mainland China to introduce Covid-19 lockdown measures in January 2020. As a result, Macau's GDP fell by 53.7% between 2019 and 2020 and remains less than half of its size pre-pandemic. As of October 2022, Covid-19 lockdown restrictions continue to be upheld. The IMF forecasts a 56.7% increase in GDP in 2023.
Hong Kong has the highest GDP per capita of the east Asian economies at $49,700 in 2022. It is considered one of the world's most competitive economies. The International Institute for Management Development placed Hong Kong fifth out of 63 economies in the 2022 edition of its World Competitiveness ranking.
Hong Kong is east Asia's top FDI destination per capita
Foreign direct investment (FDI) across east Asia was dramatically impacted by Covid-19. Overall, FDI project numbers declined by 40.8% between 2019 and 2020. Regional FDI grew by 22.2% in 2021 but remained 27.7% below pre-pandemic levels.
China is the largest FDI recipient in east Asia. It received 481 FDI projects in 2021, representing 45.5% of regional FDI that year. This is a 20% increase compared with 2020 but still 44% below pre-Covid-19 investment levels.
Key FDI sectors include tourism, electronics, business and professional services, and software and IT services. Recent major projects include Saudi chemical manufacturing company SABIC's planned $6.2bn petrochemical complex in Zhangzhou in partnership with Fujian Petrochemical Industrial Group, and South Korea-based electronics giant LG's upcoming $2.1bn expansion of its Chinese automotive battery factory.
However, experts have warned that China's historically high levels of FDI are starting to wane due to the growing prominence of domestic companies, increasing competition and rising tensions with the US.
China is also one of many countries that have tightened their FDI screening measures in recent years. The Foreign Investment Law came into effect at the beginning of 2020, which expanded the scope of China's national security review to include transactions between two foreign entities if there is a Chinese company or Chinese interests involved.
In addition, the 2022 edition of the country's Market Access Negative List outlined 117 industries that are either restricted or prohibited from foreign and domestic investment. Although this is down from 123 sectors featured on the 2021 list, investors in industries such as agriculture, manufacturing and construction still face restrictive measures.
Japan received the second-largest number of FDI projects in east Asia, with 321 projects in 2021. It is also the only east Asian country that attracted a larger number of projects post-pandemic, with a 28% increase in FDI between 2019 and 2021.
Software and IT services is a key sector for inward investment and accounted for more than one-quarter of FDI recorded between 2019 and 2021. Recent investors include Twitter, Duolingo and SAP.
Japan traditionally punches below its weight when it comes to inbound FDI. The world's third-largest economy is a major source country for FDI – it ranked ninth globally for outbound investment in 2021. Japan is considered a leader in innovation and advanced technology but struggles to attract inward investment for a variety of reasons, including excessive red tape and an insular business environment.
South Korea attracted 108 projects in 2021, making it the third most popular FDI destination in the region. The US is by far South Korea's leading source market for investment, with US-based companies accounting for approximately 40% of inbound FDI between 2019 and 2021. Major projects include US-based pharmaceutical and biotechnology giant Moderna's planned $200m vaccine factory in Seoul.
Hong Kong is east Asia's leading FDI destination per capita with 11.5 projects per one million people in 2021. Hong Kong's strategic location, free port status, simple and competitive tax system, and multicultural talent pool make it an attractive option for foreign companies.
However, FDI has decreased year on year since 2019 amid political unrest. In early 2019, a series of pro-democracy protests began in response to a controversial bill that would have allowed extradition from Hong Kong to mainland China. Clashes between police and activists became increasingly violent and saw the arrest of more than 10,000 people.
In June 2020, China passed a new national security law, which makes it easier to punish protesters in Hong Kong and reduces the city-state's independence. The law has been heavily criticized by Western governments including the UK, Canada and the US, as well as Japan. Amnesty International has referred to the law as "dangerously vague and broad".
Macau has east Asia's lowest corporate tax rate
Macau has the lowest corporation tax rate of all countries analysed at 12%. It also has an open economic policy and operates as a free port with no foreign exchange controls. In addition, investment approval measures are the same for foreign companies as they are for local businesses. China, Mongolia and South Korea tie for the highest corporate tax rate in the region at 25%.
South Korea had the highest share of its population using the internet in 2020 at 96.5%. The country is a global centre for innovation and its well-developed digital infrastructure makes it an attractive destination for investors. South Korea commercialised the world's first 5G network in April 2019 and has the fastest 5G download speed in the Asia-Pacific region.
Conversely, Mongolia had the lowest share of internet users at 62.5%. According to GSMA's 2021 Mobile Connectivity Index – which assesses 170 countries worldwide in terms of mobile internet connectivity – Mongolia is the lowest-ranking east Asian nation with a score of 65.1 out of 100. However, the country has outlined plans to fast-track its digital development. The government unveiled a five-year strategy to boost its digital infrastructure in 2020 with the aim of delivering up to 90% digital transformation by 2024 and diversifying Mongolia's mining-reliant economy.
Hong Kong and Japan were the highest-scoring east Asian countries included on the Mobile Connectivity Index with scores of 86.5 and 86.4, respectively. Hong Kong scored particularly well within the consumer readiness category while Japan excelled for its content and services.
Hong Kong is the least corrupt country in the region, according to Transparency International's Corruption Perception Index, with a score of 76 out of 100 in 2021, ranking 12th out of 180 countries and territories. Mongolia was the most corrupt of the east Asian countries analysed with a score of 35, placing 110th.
Taiwan ranks sixth in the Heritage Foundation's 2022 Index of Economic Freedom, the highest of all east Asian countries. The country's score has improved by 3.6 points since 2017, driven by continuous economic growth and increases in judicial effectiveness and labour freedom.
Which east Asian nations lead for liveability?
Japan has the lowest unemployment rate in east Asia at 2.6% in 2022. The IMF forecasts that unemployment will continue to drop to 2.4% in 2023. However, experts warn that this is indicative of the country's chronic labour shortage. National statistics show that there are 1.3 positions open for each job seeker in Japan. The country's ever-shrinking working-age population also presents economic challenges. Japan has the highest age dependency ratio – the ratio of dependents to working age population – of all countries analysed at 69.5%.
Mongolia has the highest unemployment rate in the region at 7.3% in 2022, although this figure is forecast to decline to 6.6% in 2023, 5.9% in 2024 and 5.3% in 2025.
Macau has the lowest age dependency ratio with 37.7%, although this figure has been on the rise since 2010. According to figures from Macau's Statistics and Census Bureau, the elderly population has more than doubled in the past decade. Residents aged 65 and over accounted for 12.1% of the total population in 2021, up by 4.9 percentage points from 2011.
Hong Kong had the highest life expectancy of all countries analysed in 2020 at 85.4 years.
Japan is east Asia's greenest economy
China is a major polluter and was responsible for the most carbon emissions globally in 2019. According to research by Rhodium Group, China emits more greenhouse gas (GHG) than the entire developed world combined and accounted for 27% of global GHG in 2019. President Xi Jinping has pledged that China will become carbon neutral by 2060 with a peak in emissions no later than 2030.
China was also the lowest score of the east Asian countries analysed on the Yale Centre for Environmental Law & Policy's 2022 Environmental Performance Index (EPI), which assesses 180 countries on their climate change performance, environmental health and ecosystem vitality. It scored 28.4 out of 100, ranking joint 160th with Morocco. Despite its low score, China was the most improved country in the region, gaining 11.4 points over a ten-year period.
Japan recorded the highest EPI score among the east Asian nations, ranking 25th overall. In October 2020, the government unveiled its Green Growth Strategy, which aims to achieve net-zero carbon emissions by 2050. As part of the plans, the government is also aiming to reduce emissions by 46% by 2030 compared with its 2013 levels.
Mongolia had the highest indexed growth in renewable electricity production between 2010 and 2020, with wind, solar and hydropower among the main sources. As part of the country's 2030 climate targets, Mongolia vowed to supply 30% of its energy through renewable sources.