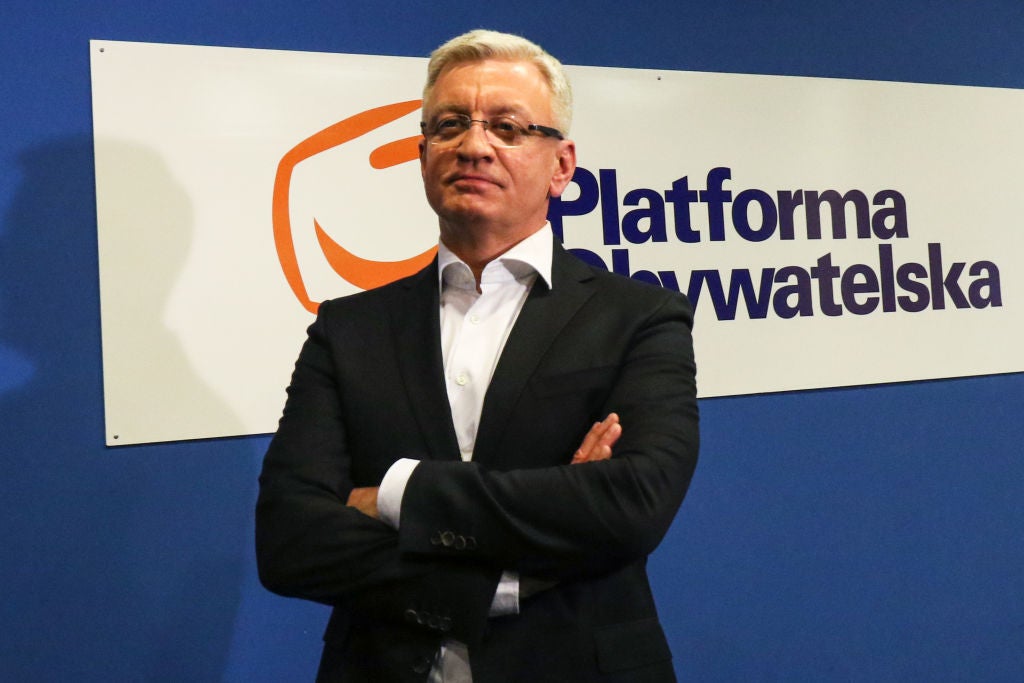 How has Poznań been helping refugees displaced by the war in Ukraine?
Our twin city is Kharkiv, so we have been sending them aid trucks that provide all the things that their mayor tells me they need, such as medical supplies, baby food, hygiene products. I am in close contact with Boris Filatov, the mayor of Dnipro, and Kyiv mayor Vitaly Klitschko is a close colleague of mine.
We offer Ukrainians a place to work and live, we have thousands of refugees and have managed to send hundreds of children to school. From one side it is a huge tragedy for Ukraine, but 8% of society in Poznań was already Ukrainian. They work here and our economics are strong – we have the second-highest GDP in Poland after Warsaw. So, without Ukrainian workers, our economy will collapse.
We view all of these new people as kind of opportunity too because we need people who like to work, and there are lots of young people coming to us. Poznań is able to take up to 30,000 or 40,000 refugees alone, including 12,000 places for children at our schools. It helps that we understand each other quite well. Even if the refugees don't speak English or Polish, we can understand Ukrainian or Russian, so it is also some kind of investment in our relationship to Ukraine. Because for us, a free, democratic Ukraine is very important not only for the safety of Poland, it is very important for the safety of Europe.
Could you see Ukrainian refugees staying in Poznań for many years?
Yes. I could, but I hope Europe and the US don't make the mistake to not help Ukraine to survive. The situation now is like before the Second World War. If we don't stop Vladimir Putin now, then we may have to relearn lessons from the past. Remember [then UK Prime Minister] Neville Chamberlain and Czechoslovakia [and his advised policy of appeasement when it came to dealing with Adolf Hitler], which led to the invasion of Poland? So, the sooner we take action, the smaller the costs.
Do you think Nato should get involved in Ukraine militarily?
Yes. I know the risks of nuclear war and escalation, but this is a poker game, and in my opinion it is our duty, and the duty of Nato, not to sacrifice Ukraine. If we don't do it, it is only a matter of time before we have the same problem with Estonia or Lithuania. It is also a matter of rules, values and justice. If you accept this war, you accept Putin's way of doing politics. If you leave a bully, a bully will become stronger.
I know a little bit about the mentality of Russian people. Probably they will try to assassinate Putin in a few months, not because they don't accept the violence, but because they don't accept his military defeat and failure. This is why we need military intervention. Look at Germany after the Second World War – it was necessary to take some action to change the society. Look at what people in Russia are saying now, how they support this war. It is necessary to change the mentality of the Russian people, to show them that it is not acceptable to interfere in the freedom of other countries. Not as many Russians are against the war as people think.
[When it comes to the nuclear threat], it is not Putin's decision to press the button of a nuclear weapon, and if you compare the power of Hitler with the power of Putin, it is Putin who depends on the oligarchs and generals. And some of them are upset.
I know my views on military intervention are not mainstream in Poland. My hobby is boxing, and I am not afraid of doing something, and being afraid of doing something very often costs you much more… I know if we don't stop Putin and Russia, we will have the same story in maybe one year, two years' time with different countries. Now is the time to stop Russians and tell them. Now they are weak. There are some myths about how the Russian army is the second strongest in the world, but they are not making progress. The Ukrainian army has been able to stop them. They have to pay for their actions, and for the reconstruction of Ukraine.
Did Nato make a mistake going eastward after the end of the Cold War?
Nato made a mistake in believing it could do normal business with Russia. This was naive. Now the mood has changed. Now Nato is investing in weapons. We should not have thought that Putin would ever want to join Nato. His thinking is from the Soviet Union. He believes Russia has the right to act as it did during the Soviet era. He thinks this is patriotic. He doesn't understand [the changes that have happened since then]. Luckily, the economy of Russia is 1.2% of global GDP. Putin, because of this war, has united Europe. He has made European leaders such as Emmanuel Macron and Olaf Scholtz from Germany understand the risk. They understand now.
Do you think the war is going to make investors pause and retreat from countries that are close to Russia, such as Poland?
If we stop Russia now and end the war, then there is less risk of war in Poland, and especially Latvia, Estonia and Lithuania. That will be good for investment.
Is there anything you would like to say to conclude?
The war has been Putin's biggest mistake, but the more important thing is to change Russia – and that is difficult. It is more difficult [to deal with] than Putin. They could kill Putin and replace him with another Putin. We have to change Russia, but if they lose in Ukraine it will be a shock for them. They need it to understand that they aren't as strong as they were, like the UK accepting it is no longer Pax Britannia.
Golda Meir, the former prime minister of Israel, once said: you don't negotiate with people who want to kill you. You don't sit at the table with a murderer.