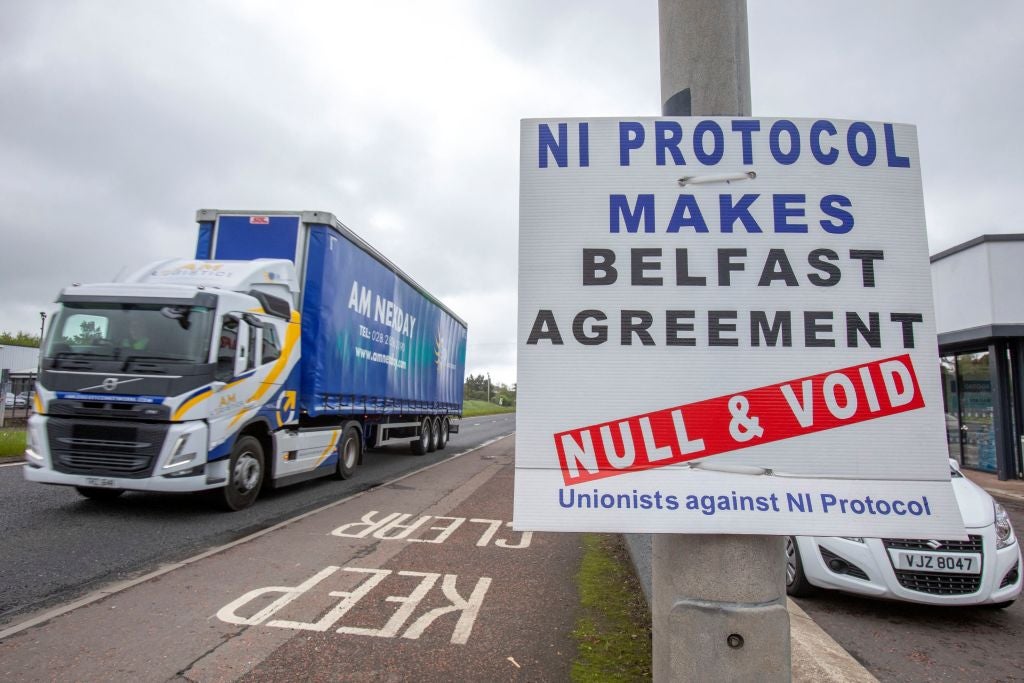 In the run up to the June 2016 Brexit vote, the potential impact that a leave result would have on Northern Ireland was rarely mentioned by campaigners on either side. However, in the fallout from the referendum, Northern Ireland dominated negotiations and continues to be a sticking point years after the UK's formal exit from the EU.
Given Northern Ireland's land border with the Republic of Ireland – an EU member country and its largest trade partner after Great Britain (England, Scotland and Wales) – special trading arrangements were needed to continue transporting goods between the two locations. The UK and EU also agreed that it was crucial to avoid a hard border to protect Northern Ireland's peace deal – the Good Friday Agreement.
After the UK's official withdrawal from the EU on 31 January 2020, the country entered a transition period where it remained a part of the Single Market and Customs Union while negotiating additional arrangements until the end of the year. While England, Scotland and Wales left the single market in January 2021, Northern Ireland was granted dual market access.
The Northern Ireland Protocol, which came into effect at the start of 2021, ensures that there are no new checks on goods crossing the border between Northern Ireland and the Republic of Ireland, therefore preventing a two-way customs and sanitary border between the two. Instead, the protocol requires one-way EU checks on goods moving from Great British to Northern Irish ports as an arguably less disruptive and more manageable option.
As a result, the protocol has made Northern Ireland the only region in the UK where businesses can operate free from customs declarations, rules of origin certificates and non-tariff barriers on the sale of goods to both Great Britain and the EU.
Supporters of the protocol argue that maintained EU access is aiding economic growth while its opponents claim that the agreement is hurting the local economy by driving a wedge between Northern Ireland and the rest of the UK. Investment Monitor has analysed a range of economic indicators to assess how the Northern Irish economy has fared since Brexit and the protocol came into effect.
Northern Irish GDP is growing but below UK average
According to figures from the Office for National Statistics (ONS), Northern Ireland's GDP grew by 5.8% in the final quarter of 2021 compared with the same period in 2020. However, this still lagged the UK average of 6.6%. Meanwhile Wales, Scotland and England were above the national rate at 8.2%, 7.7% and 6.7%, respectively.
This slightly slower rate of recovery in Northern Ireland can be attributed in part to the fact that the regional economy did not contract as much as the rest of the UK in the fallout from Covid-19. In the second quarter of 2020, Northern Ireland GDP fell by 14.8% compared with the first quarter, while Wales, England and Scotland dropped by 19%, 19.1% and 19.9%, respectively. As a result, the growth rate required to return to normal is lower than in other parts of the country.
In terms of quarterly growth, Northern Ireland's economy grew by 1% between the third and fourth quarters of 2021 and fell slightly short of the UK's average growth rate of 1.3%. By comparison, GDP in Wales and Scotland increased by 1.6% each during the same period, while England's economy grew by 1.4%.
However, it is important to note that regional data is more volatile than national estimates. The ONS recommends that these figures should be carefully considered alongside other economic trends.
Northern Ireland's economic output increases by 2.4%
The Northern Ireland Composite Economic Index (NICEI) is an alternative measurement of the local economy produced by the Northern Ireland Statistics and Research Agency (Nisra). Based on official statistics, it offers a short-term quarterly measure of the NI economy.
According to its most recent findings, Northern Ireland's economic output decreased by 0.1% between the first and second quarters of 2022 – the same rate that UK GDP fell. Despite this minor drop, and the fact that the NICEI has effectively remained at the 15-year high it reached in the second quarter of 2022, experts have warned that economic downturn is imminent amid rising inflation and plunging retail sales. Similarly to the wider UK, this is expected to be the first of two successive quarterly declines – which would mean the economy is in a technical recession.
On an annual basis, Northern Ireland's output increased by 2.4% over the year to June 2022. This was a lower rate than the UK (2.9%), Scotland (3.5%) and Ireland (10.8%). However, on a triennial basis, Northern Irish output increased at a faster rate than UK GDP (4.6% versus 1.1%).
This increase was largely driven by growth in the services sector (up two percentage points) and the public sector (1.2). Production and construction also experienced an increase of 0.7 and 0.2 percentage points, respectively.
According to Nisra's Index of Services, Northern Irish service output is 4.4% above pre-Covid-19 levels, while UK service output is 1.2% above its Q4 2019 rate.
Northern Ireland second only to London for FDI per capita
In terms of foreign direct investment (FDI), Northern Ireland attracted 38 greenfield FDI projects in 2021 – a 31% increase compared with 2020 and an 8.6% increase compared with pre-Covid-19 levels. On a nominal basis, Northern Ireland received the second-lowest number of FDI projects of the UK regions in 2021, ahead of only Wales (32).
However, in terms of per capita investment, Northern Ireland excels. The region attracted 2.03 FDI projects per 100,000 people in 2021, an increase of 0.5 projects compared with the previous year. Northern Ireland was behind only the Greater London region in the whole of the UK by this measure, and has consistently ranked second for investment per capita since 2019.
The region's top FDI sectors – software and IT services, business and professional services and communications and media – all experienced growth in 2021 and have each exceeded pre-pandemic levels of investment.
In addition, Belfast was the joint third most popular destination city for UK FDI alongside Manchester. The cities attracted 23 projects each in 2021, ranking behind London and Glasgow and ahead of Birmingham, Bristol and Edinburgh.
Invest NI – Northern Ireland's economic development agency – commented that the region's dual market access has generated a great deal of interest from large foreign companies and boosted its investment proposition. Northern Ireland already boasts a skilled labour pool, relatively low operating costs and an investor-friendly environment.
The protocol has seen political tensions rise
Worries abound that heightened political tensions following the implementation of the protocol may dampen Northern Ireland's attractiveness to investors.
Glenn Barklie, chief economist at Investment Monitor, says: "The Northern Ireland Protocol has caused shockwaves across the Northern Ireland political scene. The Democratic Unionist Party [DUP], formerly Northern Ireland's largest political party, has huge issues with the protocol. It is seen by the party as divisive to Northern Ireland's membership of the union of the UK. The unionist party has not taken its seats in government in protest over the arrangement. Not only did this impact the DUP's performance in the local elections, but it is also causing economic impacts. Many local government decisions are being held up, stalling economic growth.
"Additionally, investors may be weary of the divisive nature of Northern Irish politics rearing its head once more. Although, so far, we are yet to see that. Investors seem to have a more positive view of the protocol, yet many seem to agree that Northern Ireland prospers more when the power-sharing government is in place."
Production output hits ten-year high in Northern Ireland
According to Nisra's most recent Index of Production (IOP), Northern Irish production output increased by 0.5% between the first and second quarters of 2022 to reach a ten-year high. This equated to a 3.9% rise over the year, driven by increases in manufacturing, and water supply, sewerage and waste management. In comparison, the UK IOP grew by 0.5% over the quarter and 2% over the year.
In addition, Northern Irish production output is 6.5% above the pre-Covid-19 levels recorded in the final quarter of 2019, while the UK remains 1.2% below the final-quarter 2019 level.
Manufacturing output increased by 0.6% from the previous quarter with growth in four of the six main subsectors – food products, beverages and tobacco; textiles, leather and related products; engineering and allied industries; and total other manufacturing.
Northern Irish food products, beverages and tobacco production grew by 6.2% over the quarter and 13.9% over the year. In comparison, UK activity in the subsector saw a quarterly increase of 0.8% and an annual increase of 3.1%. Experts have cited the Northern Ireland Protocol facilitating increased sales with the Republic of Ireland as the reason behind the surge in food and drinks production.
Northern Irish ports record busiest year in 2021
The total tonnage through Northern Irish ports in 2021 was 29.5 million, up 9% compared with the previous year. In comparison, the freight traffic through UK ports was 445.5 million tonnes, an increase of 1.5% from 2020. This growth suggest that traders are diverting more goods through Northern Ireland's ports to benefit from fewer post-Brexit checks.
During 2021, the total tonnage of inward traffic in Northern Ireland grew by 5.7% to 17.2 million, and outward traffic by 14% to 12.3 million. The UK's overall volume of inward traffic for 2021 increased by 4.5% to 291.2 million tonnes and outward traffic fell by 3.8% to 153.4 million tonnes.
Official data from Ireland's Central Statistics Office show a significant increase in trade between Ireland and Northern Ireland in 2021. Irish imports from Northern Ireland increased by 65% compared with 2020 and exports grew by 54%. During the same period, Irish imports from Great Britain decreased by 13% and exports increased by 17%.
This increase in trade between Northern Ireland the Republic of Ireland looks set to continue in 2022. Irish imports from Northern Ireland for January to July 2022 increased by 24% compared with the same period in 2021 while exports grew by 36%.
Northern Ireland's unique position could help during tough times ahead
The economic impact of Covid-19 and the cost of living crisis exacerbated by Russia's invasion of Ukraine has left the UK in a critical condition. With the highest inflation rate in the G7 and employee earnings struggling to keep up, the UK could face recession by the end of 2022.
The Northern Ireland Protocol has been in place for a relatively short period – since the beginning of 2021 – and it can be difficult to pinpoint if economic growth stems from the agreement or a post-Covid surge in activity. It should also be noted that there are areas of the Northern Irish economy that continue to struggle compared with the rest of the UK, such as a historic productivity gap between the other regions and high rates of economic inactivity.
However, increased trade levels, production and services output above the UK average, and raised interest from foreign investors, are encouraging signs. Amid looming recession, Northern Ireland's unique dual market access may help soften the blow on the local economy.