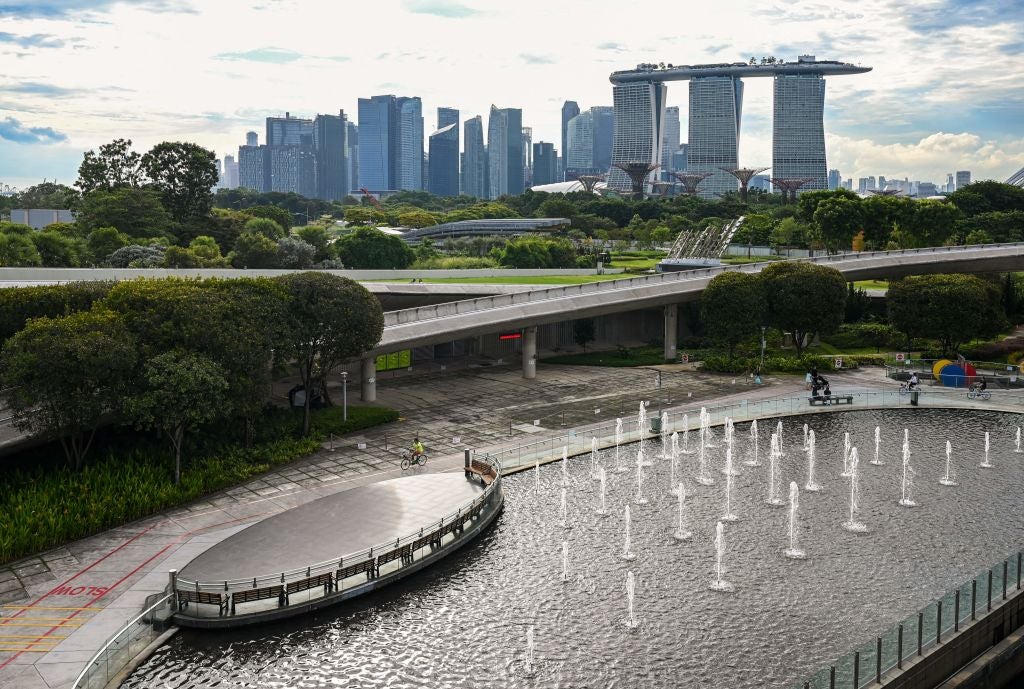 Singapore performs particularly impressively in Investment Monitor's 2022 Inward FDI Performance Index, which measures a country's inward investment levels against its gross domestic product (GDP) using GlobalData's FDI Projects Database, which tracks greenfield projects.
This means that Singapore, with a score of 5.01, received more than five times its fair share of inward greenfield foreign direct investment (FDI) compared with what could be expected given its level of GDP. In that regard, the city-state is performing exceedingly well in FDI terms. Based on this index, Singapore ranks eighth globally for inward FDI and first in Asia-Pacific ahead of economic powerhouses India and China, which record scores of 1.2 and 0.2, respectively.
Singapore outperforms other Asian FDI hubs
FDI peaked in Singapore in 2019, with GlobalData's FDI Projects Database recording 383 projects. In terms of capital investment this represented a 15.5% increase on 2018's figures, to $92.1bn, according to the UN Conference on Trade and Development's 2020 World Investment Report. Project numbers witnessed a steep decline of 20.1% to 306 in 2020, a drop that can be attributed to the Covid-19 pandemic. Despite rebounding in 2021 and recording an additional 34 projects, Singapore still failed to hit pre-pandemic levels. Globally, FDI grew by 18.1% in 2021, yet Singapore's recovery levels remained significantly lower at 11.1%.
In both 2020 and 2021, Singapore ranked fourth in Asia-Pacific in terms of inward FDI project volumes, behind India, Australia and China. Despite witnessing an increase in project numbers between 2020 and 2021, Singapore's regional market share for FDI saw a nominal decline from 11% to 10.1%.
Software and IT services was the leading sector for FDI into Singapore in 2021, recording 90 projects, representing more than one-quarter (26.5%) of all investment into the country. Business and professional services ranked second with 57 projects and financial services placed third with 39 projects. Alongside electronics (25 projects) and communication and media (23 projects), Singapore's top five sectors accounted for 68.8% of its inward FDI.
Western Europe and North America were the top investors regionally for Singaporean FDI in 2021, attributing 112 and 110 projects, respectively. Asia-Pacific ranked third with 89 projects.
At a country level, the US was the leading country by far for investment into Singapore in 2021. The US invested in 102 projects, primarily focused on software, business and professional services, electronics and communications. The UK ranked second with 44 projects, while China placed third with 18. Of the top ten source countries for Singapore-destined FDI in 2021, five were Asia-Pacific-based (China, India, South Korea, Japan and Hong Kong). Moreover, in 2021, it was 327 unique companies that made the 340 investments in Singapore, rather than several companies making numerous investments, which often is the case.
Singapore's unique appeal
Singapore is a unique nation in many ways. From a distance its financial district skyline could be confused with that of Chicago or New York City, yet unlike many major global cities, Singapore provides nature and tranquillity. Offering an abundance of green spaces, four nature reserves and more than 350 parks mean that Singapore is able to achieve a difficult balance between the hustle of a major city and a sense of personal space. In contrast to some of its Asian counterparts, Singapore also consistently ranks as one of the safest countries to live in the world, according to the Global Peace Index. This attribute is not commonly associated with densely populated countries.
Singapore has experienced rapid growth since gaining independence in 1965, and a high cost of living aside, it has done well to support this growth. Singapore is now home to some 7,000 multinational companies and has the largest number of headquarter jobs from global Fortune 500 companies in Asia.
Due to its ethnic diversity, English is the business language of choice in Singapore, a desirable trait for international companies seeking to set up operations without any potential miscommunications. A high level of English proficiency alongside knowledge of other major Asian languages grants companies a solid base from which to start operations and provides an ideal gateway to the Asia-Pacific market.
Logistically speaking, Singapore is ideally situated in the centre of South East Asia. Its main airport, Changi, offers direct flights to a host of major business hubs and its seaport infrastructure is highly regarded. However, it is perhaps Singapore's welcoming business environment that is the most appealing quality for attracting FDI.
Surrounded by political diversity and ongoing disputes, Singapore has been able to maintain an impressive neutrality. Political stability and low corruption rates have not waivered and remain a focal point of local authorities. Business transparency also ranks high on the agenda with a corporate tax rate that is capped at a flat rate of 17% on a company's chargeable income. Singapore does not focus on one or two main industries either, and has an impressively diverse economy.
Ambitious future plans for digitalisation
The Singapore government is keen to drive development in e-commerce and hopes to turn the country into a regional and global hub in this field. In February 2021, Singapore's minister of trade announced ambitious plans to strengthen digital infrastructure by expanding Singapore's 5G network. The e-commerce industry in South East Asia is surging, with 40 million new users in the region joining the internet in 2020, according to a report by Google, Temasek and Bain & Company.
Ben King, country director at Google Singapore, explained to CNBC that "e-commerce in South East Asia is surging, but what sets Singapore apart is its policies and its initiatives that help cultivate an environment for the digital industry and the digital economy to thrive."
Singapore faces a shortage of digital talent to support its desired growth, but, aware of its challenges, it has already taken steps to rectify the problem. Partnering with Google under the Skills Ignition SG initiative, Singapore now offers suitable training for those looking to work in the digital industry.
Singapore may not offer the available land space needed for large-scale manufacturing operations or low staff costs that can secure large call centre facilities, but it plays on its advantages. It offers a safe, welcoming and transparent place to do business. It offers a diverse, skilled workforce and a favourable geographical location. Most importantly, its focus on innovation will ensure it is at the forefront of new technologies and future investment opportunities for many years to come.