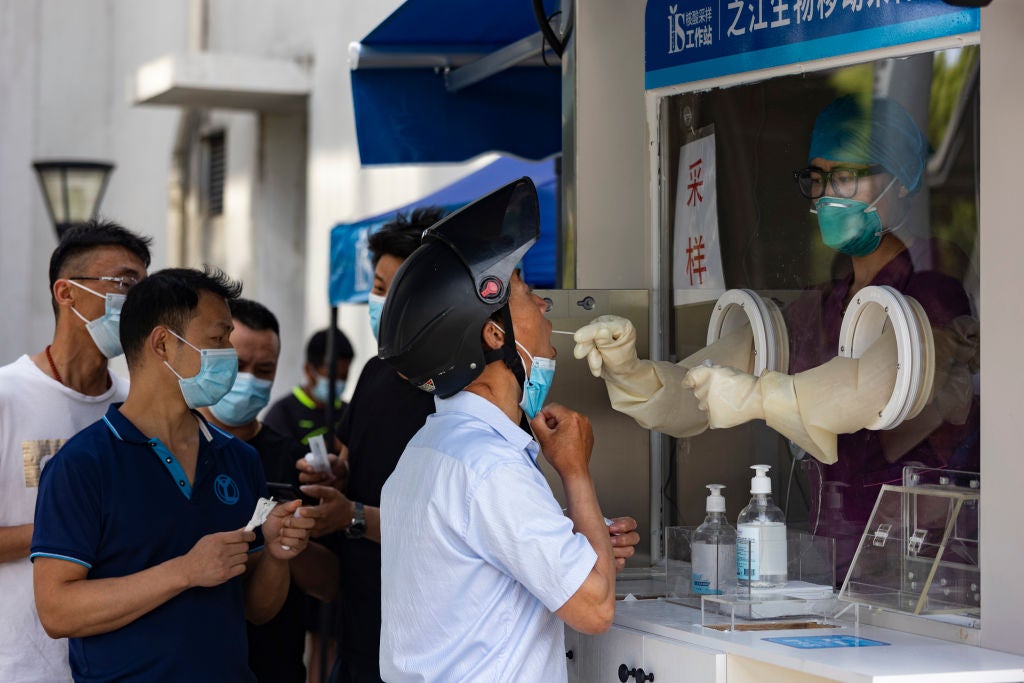 China has successfully contained its first major outbreak of Covid-19 since the virus's initial rapid spread in late-2019 and early 2020, but low vaccination rates among elderly citizens mean the country's troubles are far from over.
The outbreak could have spelt disaster for the world's most populous country, in part owing to the government's patchy vaccination programme. An academic study published in May suggested that an unmitigated outbreak in China would overwhelm hospital capacity and lead to more than 1.5 million deaths.
Faced with such prospects, the country's government has pursued a policy of stringent, localised lockdowns that have battered economic activity and led to accusations of human rights abuses. The south-eastern port city of Shanghai has been most severely affected, with its 25 million residents confined to their homes for two months. Most restrictions were lifted at the start of June, although some 650,000 residents remain under strict lockdown.
In Shanghai and elsewhere, China's ports and warehouses have seen activity grind to a halt as a result of the rolling lockdowns. The situation has contributed to global supply pressures that have sent inflation skyrocketing around the world.
Pressure on China set to ease (eventually)
With the outbreak contained, restrictions are now steadily being lifted across China. A report by US bank Goldman Sachs, published on 4 June, suggests that pressures on China's construction, transport and logistics sectors should ease within a month in the absence of further outbreaks.
However, the recovery is not expected to be as swift as it was in the spring of 2020, when buoyant demand for Chinese-made goods in Europe and North America powered an unexpectedly rapid recovery. Inflation, owing both to supply chain pressures in China and the war in Ukraine, has eroded consumers' spending power, threatening to throw the US and UK into recession. China's service sector is also not expected to recover to pre-lockdown levels any time soon.
The country has made significant progress in vaccinating its population in recent months, with the number of booster doses administered per 100 people rising from just eight in December to 54 as of early June, surpassing the US (36) and EU (53).
China has eschewed Western-made vaccines, however, in favour of local alternatives that have been widely assessed as less effective at preventing deaths.
In March, a study by researchers at the University of Hong Kong found that people aged over 60 who had received two doses of Sinovac's vaccine were three times more likely to die from Covid-19 than those who had received two doses of Pfizer/BioNTech's vaccine.
China's vaccination programme has also faced criticism for its failure to vaccinate high proportions of people in older age groups, who are significantly more at risk from death and serious illness due to Covid-19.
As of March, official data shows that less than 20% of Chinese people aged over 80 had received three doses, with 42% still entirely unvaccinated. By contrast, more than 91% of people aged over 80 in the UK have received at least three doses, with less than 6% remaining unvaccinated.
In May, the World Health Organisation criticised China's zero-Covid strategy as "not sustainable", owing to the endemicity of the virus in highly vaccinated countries and the greater transmissibility of new variants such as Omicron.
Despite publicly doubling down on the strategy, China is attempting to shore up vaccination rates among elderly residents. In an effort to counter scepticism about vaccine side effects, the government is now offering free insurance payouts of up to $75,000 for those who fall ill as a result of vaccination.
Such efforts are likely to determine whether China can move away from its zero-Covid strategy and avoid the grim dilemma it currently faces: health or prosperity.