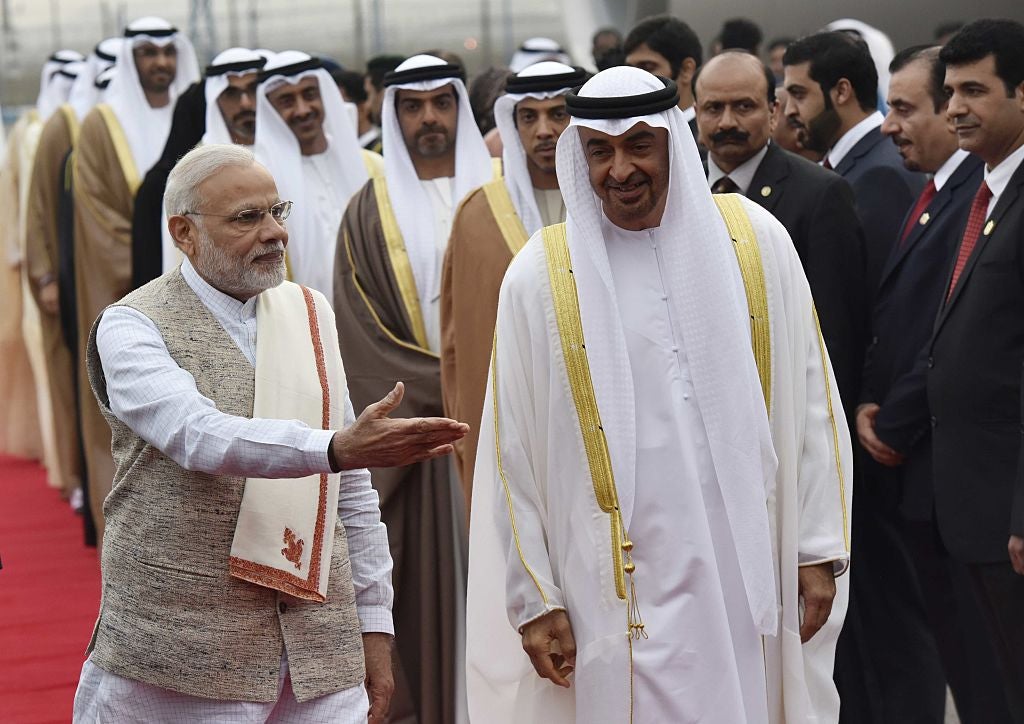 The United Arab Emirates (UAE), the Arab world's second-largest economy, is increasingly pursuing independent bilateral trade agreements, bypassing the Gulf Cooperation Council (GCC), the Saudi Arabia-led regional political and trade bloc.
These independent bilateral agreements seek to attract inward foreign direct investment (FDI) into the UAE, which is looking to maintain its status as a regional financial and trade hub, as well as diversify its economy. The UAE has principally been competing with Saudi Arabia when it comes to attracting both FDI and tourism to the Gulf, while the GCC has been negotiating many free-trade agreements (FTAs) with major global economies such as China.
UAE goes solo for trade agreements
Since late 2021, the UAE has aggressively pursued its own bilateral trade agreements. Termed comprehensive economic partnership agreements (CEPAs), these treaties seek to strengthen the UAE's international strategic relations as well as improve its position as a global trade and logistics hub. The CEPAs are a key part of the UAE's global economic partnerships strategy, which aims to increase the size of the national economy from Dh1.4trn ($380bn) to Dh3trn over the next decade.
The UAE signed its first CEPA with India in February 2022, after launching negotiations in August 2021. The agreement enables greater access for UAE exports by reducing or removing tariffs on more than 80% of products. The pact aims to generate $100bn of bilateral trade within five years.
The UAE has signed similar CEPAs with Israel and Indonesia, and ratified its latest one with Turkey in May 2023. Under its agreement with Turkey, both sides hope to increase bilateral trade to $40bn in the next five years. More negotiations are in the pipeline with countries including Thailand and Malaysia.
These bilateral trade deals are taking place despite the UAE being a member of the GCC, the six-member bloc. The other members are Saudi Arabia, Bahrain, Qatar, Oman and Kuwait. The Riyadh-headquartered entity, which has a collective population of 56 million and a combined gross domestic product of $1.6trn, is negotiating its own FTAs with major trade partners such as China, South Korea and the UK.
Robert Mason, a non-resident fellow at the Arab Gulf States Institute in Washington, DC, says CEPAs are much quicker for the UAE to negotiate and work out than FTAs that are done through the GCC, which can take decades to conclude. "Because [CEPAs] are comprehensive, they will boost the UAE economy in a number of ways, including enhancing market access through preferential tariffs, and in some cases, such as the UAE-Israel CEPA, establishing rules for digital trade and the protection of intellectual property rights," he says.
Is there a growing rift between the UAE and Saudi Arabia?
Over the past two years, both the UAE and Saudi Arabia have introduced policies through their national visions that they hope will attract both tourists and foreign investors in growing numbers. While these policies primarily seek to improve each country's own respective business environment, both have been accused of trying to undermine the other's economic progress.
For example, in October 2021, Saudi authorities instructed all foreign companies to officially locate their regional headquarters to the country by 2024 or risk losing lucrative government contracts. This move was widely perceived to target the UAE by prompting foreign companies to move from Dubai, the Gulf's commercial and financial hub, to Saudi Arabia.
Also in 2021, Saudi Arabia amended tariffs on imports from GCC countries. It excluded goods made in free zones or those with Israeli input from having preferential tariff concessions. The amendment was largely seen as targeting the UAE, where free zones play a key economic role, and where economic ties with Israel had recently been established.
In addition to this rumbling UAE-Saudi rift, GCC economic integration has a mixed history. For example, GCC members Oman and Bahrain established their own bilateral FTAs with the US in 2006 and 2009, respectively.
Although the GCC has a customs unions and common market, deeper economic integration is remaining elusive. In 2003, members agreed to form a monetary union with a single currency by 2010. The project ultimately failed because of macroeconomic differences among members, as well as a dispute between Saudi Arabia and the UAE over the location of the union's central bank.
"The GCC as a political and bargaining unit is not very strong, especially now, as the Gulf states are more openly competing for investment and new opportunities as they diversify," says Karen Young, a senior research scholar at the Columbia University Center on Global Energy Policy.
All eyes on China
Despite initiating negotiations with several countries, the GCC has only signed a handful of FTAs to date. These trade negotiations have remained idle for years because of factors that include intra-Gulf rivalries and national economic priorities.
Since the Covid-19 pandemic, however, Gulf leaders have reignited FTA talks with key trading partners, one of which is China.
Although the bloc opened negotiations with world's second-largest economy in 2004, talks have largely remained idle. In recent years, however, GCC-China ties have improved under Saudi Crown Prince Mohammed bin Salman. In December 2022, Riyadh hosted the GCC-China Summit, which resulted in several GCC-China investment cooperation agreements. Analysts such as Nasser Saidi have suggested that a GCC-China FTA could be signed as early as 2024. He believes that an FTA with China would be a game changer for the Middle East, boosting both trade and investment.
It would seem, therefore, that larger economies prefer dealing with the GCC as a whole, rather than agreeing bilateral trade deals on a country-by-country basis. Similarly, the UK, which opened its own FTA negotiations with the GCC in June 2022, is eyeing a multibillion deal with the six-member bloc.
"The GCC is obviously a large and important market for states such as the UK and China, and so bilateral agreements are bound to undercut attempts to push ahead with more valuable deals, inclusive of Saudi Arabia, where important security and energy ties and increasingly non-oil economic opportunities are to be found," says Mason.
Can the UAE afford to go it alone on trade agreements?
The UAE will likely continue to curate its own independent trade agreements as it seeks to further attract inward FDI into new sectors as part of its economic diversification ambitions. The country's rise as an investment, commerce and tourism hub in the Middle East means that it will be an attractive proposition for almost any country or economic bloc looking to establish firmer trade links.
However, it would appear that larger economies prefer agreeing FTAs with the GCC, rather than bilaterally with the UAE, which means that Abu Dhabi will have to be mindful of its relations with Riyadh if it is to enjoy the fruits of trade deals with the likes of China.