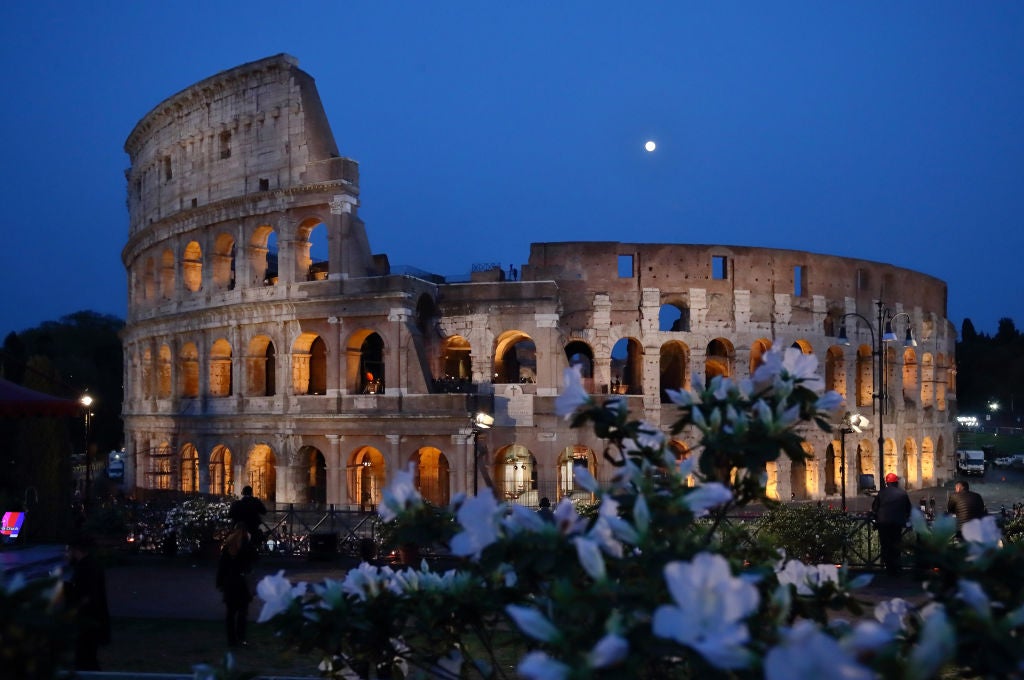 Italy's ten largest cities are Rome, Milan, Naples, Turin, Palermo, Genoa, Bologna, Florence, Bari and Catania. Here we profile each of them and look at the industrial sectors in which they excel.
---
Find more exclusive insights from GlobalData's Population of Italy (2017 – 2025,People) report.
---
1. Rome
Population: 2.8 million
Rome is one of the most visited cities in the world, attracting 8.6 million tourists in 2019, and hosting attractions such as the Colosseum, the Trevi Fountain, the Pantheon, St Peter's Basilica and the Vatican. Away from its ever-thriving tourism industry, Rome has myriad strengths that span a wide range of sectors. Notably, it is a global centre of fashion and design, although it hosts the headquarters of major global companies such as oil and gas multinationals Enel and Eni, and Telecom Italia. Elsewhere, the Italian capital's economy is mostly based around services, tech, research, construction, banking and commerce. It also has a thriving television and movie industry. Rome has numerous universities, giving employers a large and steady stream of graduates, and it also contains a high number of museums, theatres and other cultural gathering points. Its city population makes it the third largest in the EU, while its metropolitan population stands at 4.3 million.
2. Milan
Population: 1.4 million
Milan in northern Italy may host two of the most famous football teams in the world, but it is renowned across a number of areas on a global level. It hosts the Borsa Italiana, Italy's stock exchange, and the city is considered one of Europe's most prominent financial centres. It is also a hub for art, commerce, entertainment, healthcare, R&D and tourism. Milan also carries the reputation of being the industrial capital of Italy and one of the most important locations in the world for the fashion industry. Versace, PRADA, Armani and Dolce & Gabbana are headquartered in the city, and Milan Fashion Week is a major global event in the industry. Its metropolitan population is officially around 4.3 million, but by some measurements this number rises to 12.5 million.
3. Naples
Population: 963,000
Naples is found on the south-west coast of Italy, some 225km south of Rome. Its city centre is a Unesco World Heritage Site and tourists flock to the city all year round. The Port of Naples is a major cargo terminal in both an Italian and European context and a major employer in the city. Beyond tourism and cargo, Naples' economy has been moving from agriculture to services in recent decades, with the city being particularly renowned for its vast array of small and medium-sized enterprises that operate across a variety of sectors. The metropolitan population of Naples is approximately 3.1 million.
4. Turin
Population: 871,000
Turin in north-west Italy, just over 200km from the French border, is famed around the world for two things in particular: cars and Juventus football club. Regarding the former, the city is home to the headquarters of Fiat, Lancia, Maserati and Alfa Romeo. It is also a hub for aerospace and boasts numerous companies linked to the fashion, food and drink and finance industries. Despite the dominance of automotive manufacturing in the city, Turin has moved towards a service-based economy in the past few decades and has established a strong reputation for tech and innovation. Its metropolitan population is estimated to be 2.2 million.
5. Palermo
Population: 658,000
Palermo is located on the northern coast of the Mediterranean island of Sicily. The city has a rich reputation for history, culture, architecture, gastronomy and favourable weather, bringing in a constant stream of tourists. Away from tourism, Palermo's economic strengths lie in agriculture, commerce, services and shipbuilding. Indeed, its port is a major employer in the city, it is a major destination for cruise ships, and as a ferry terminal it carries some two million passengers a year. Palermo's metropolitan population is 1.3 million.
6. Genoa
Population: 574,000
Genoa on Italy's north-west coast is mostly known for its busy port, and its maritime industries (particularly shipbuilding) are crucial to the city's economy. However, beyond its water-based activities, Genoa is a key agricultural hub within Italy – mainly for flowers, wine and olive oil – while it also has strengths in high-tech products, petrochemicals, aerospace, services, commerce and tourism. Genoa is also renowned for the quality of its universities. Companies headquartered in the city include Ansaldo Energia, Edoardo Raffinerie Garrone, Piaggio Aerospace, Banca Carige and Costa Cruises. Its metropolitan population exceeds 1.5 million.
7. Bologna
Population: 391,000
Bologna is located in northern Italy, just over 50km from Florence. It holds great national importance for its agricultural, industrial, financial and transport outputs, and the city is considered one of the wealthiest in Italy, while its university is the oldest in Europe. Companies headquartered in Bologna include Maccaferri, Ducati, Lamborghini and Hera Group. It is also the home of the 'packaging valley', a cluster of companies that specialise in the manufacture of automatic packaging machines, such as IMA and Coesia. Bologna's metropolitan population is just over 1 million.
8. Florence
Population: 372,000
Florence is widely regarded as being one of the most beautiful cities in the world, hosting attractions such as its Unesco recognised centre, the Uffizi Gallery, the Palazzo Pitti and the Cathedral of Santa Maria del Fiore. However, Florence is more than just a pretty face. Other than tourism, it has strengths in manufacturing, from traditional goods such as jewellery to furniture, rubber goods, chemicals and food. Its economy is also based around services and commerce, while its wines (chianti) and automotives (Vespa) are known the world over. Florence's metropolitan population is 1.5 million.
9. Bari
Population: 322,000
Bari is located at the top of Italy's 'heel' in the country's south-east. Its metropolitan population is 1.3 million. Bari's pleasant climate, vibrant nightlife and historic buildings mean that it a rising tourism destination in Italy, while its port is an important cargo hub for south-east Europe. Its economy is based around agriculture – mainly olives and grapes – while transport/logistics and professional and business services are other key employers in the city.
10. Catania
Population: 311,000
Catania is found on Sicily's east coast, some 230km from Palermo. It is another Italian city that has a blossoming tourism sector and a metropolitan population in excess of one million. Catania is Sicily's industrial, logistical and commercial centre and it is home to the largest airport in southern Italy. Catania has many industrial strengths, however. It is known for its petrochemical industry and the extraction of sulphur. Its economy is also productive when it comes to agribusiness, high-tech sectors and logistics, with its sea port being linked with Bologna.
All figures are estimates from end-2019 from the Italian National Institute of Statistics.