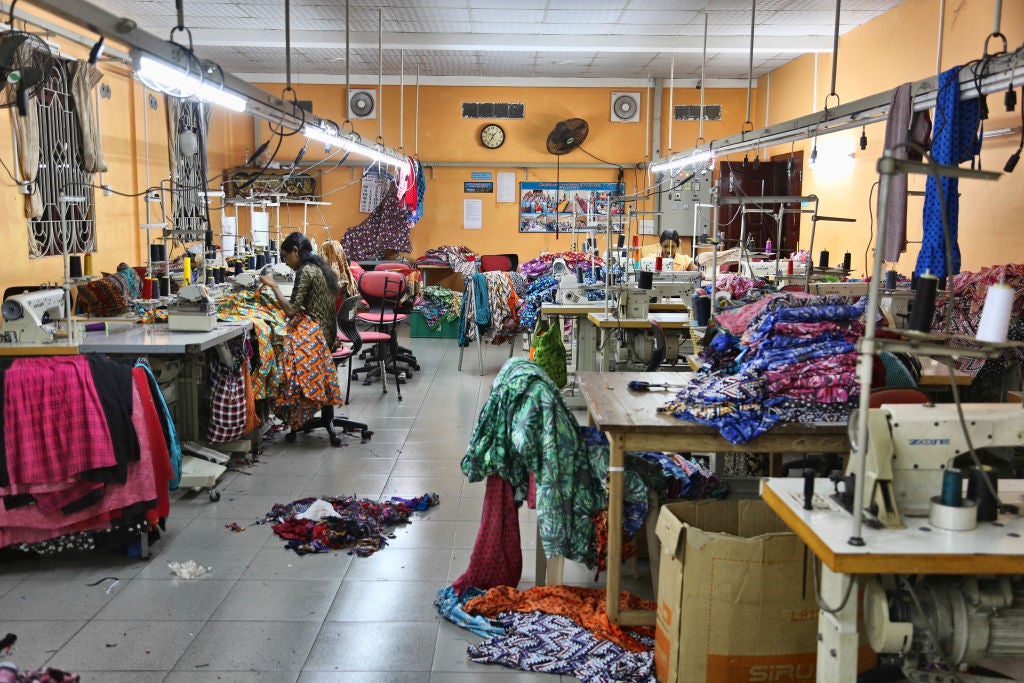 Sri Lanka's clothing export sector is facing economic and political chaos, with its president, Gotabaya Rajapaksa, imposing a state of emergency in early April as foreign currency reserves collapsed to below $50m and protests hit the streets. With annual inflation now exceeding 29% (up from 18.7% in March) and rolling daily power cuts of at least three hours amid fuel shortages, clothing manufacturers, who have thus far largely insulated themselves from the crisis, are starting to suffer.
The Sri Lankan apparel industry's $6bn export target for 2022 could certainly be revised if the political instability continues unabated, according to the country's Joint Apparel Association Forum (JAAF).
Mass protests that began in March are growing, along with demands for the resignation of President Rajapaksa over the worsening economic crisis. So far, Rajapaksa has refused to quit, with the state of emergency being used to contain protestors. This sparked an international backlash, with diplomats from the US and Canada, among others, condemning the move, while the UN High Commissioner for Human Rights accused the Sri Lankan government of a "drift towards militarisation".
On 12 May, Rajapaksa appointed senior opposition MP, Ranil Wickremesinghe, as the new prime minister of a proposed cross-party government in a bid to defuse the protests.
A crisis that was years in the making
Economists argue the crisis is the culmination of years of corruption by various governments, combined with poor policy decisions, which have generated massive debt payments, which the government has now suspended as it faces national bankruptcy.
According to the government's department of external resources, by the end of April 2021 total outstanding external debt was $51bn, generating debt service payments of about $4bn due in 2022, with a $1bn international sovereign bond maturing in July.
The government suspended foreign debt repayments on 12 April and started talks with the International Monetary Fund (IMF) for a bailout. On 23 April, the IMF said it will support Sri Lanka's efforts to "overcome the current economic crisis by working closely with the authorities on their economic programme". However, this is dependent on the government "implementing a credible and coherent strategy to restore macroeconomic stability, and the importance of stronger social safety nets to mitigate the adverse impact of the current economic crisis on the poor and vulnerable". Opposition activists at the time said this would not happen under the current government.
JAAF secretary general Yohan Lawrence welcomed the government negotiations with the IMF and insisted that a quick solution to "resolve the foreign exchange crisis" is needed. "It is imperative that the apparel industry keeps running at all costs" he says, or it will cost the country its global reputation as a reliable, high-value apparel producer.
Even amid the ongoing chaos, Sri Lankan apparel exports recorded their highest ever cumulative value for January and February in 2022, at a respective $488m and $468m, up from $398m and $420m in 2021. Apparel exports in March 2022, at $435.2m, remained stable compared with March 2021's $435.4m, according to Lawrence.
It is unclear, however, how long the industry can insulate itself from the overall chaos, with finance minister Ali Sabry warning the country currently cannot afford to import many basic commodities, which in turn has led to severe shortages of staple foods, medicine and fuel. This lack of essential goods has pushed up inflation.
Sri Lanka apparel sector goes into survival mode
Sri Lanka's apparel industry has had to pivot to stay operating under these circumstances. "Regular and inconsistent power outages meant that production schedules got interrupted [in March], and diesel shortages made it difficult to switch to generators," says Lawrence.
Worried about the country's key industry, the government then stepped in and allowed exporters to buy fuel directly from the Ceylon Petroleum Corporation and Lanka IOC (the Indian Oil subsidiary in the country) using US dollars to avoid disruption from power cuts. Apparel exporters were also given permission to pay raw material suppliers abroad using export earnings, without repatriating this money first.
Such special treatment recognises the apparel sector's importance to the Sri Lanka's economy. It employs 350,000 workers directly and 700,000 indirectly.
Lawrence says the industry was even continuing to recruit, despite the economic chaos. "Currently, as our order books are quite full, we wish to build capacity fully back to pre-Covid levels," he adds.
That said, if the current political instability continues, apparel brands will look to "mitigate their risks" by moving orders elsewhere, according to Lawrence, especially to other south Asian garment-manufacturing countries. So, the JAAF may have to revise its export earnings projections, even though "this would not happen until we have actual April data, which we won't have until mid-May", says Lawrence.
These challenges come as the industry is dealing with concerns that the Sri Lanka branch of Hong Kong shirt major Esquel may close two garment factories in the southern town of Kogalla, which employ 1,500 workers. Changi Esquel had said it is reducing production in Sri Lanka but added that this is because of the loss of US sales, which was a result of Washington's restrictions on imports of products using Xinjiang cotton (over forced labour allegations). As a result, Esquel lost many of its US-based customers, and with "operations in Sri Lanka mainly serving US customers", its production was badly hit, the company has said.
Meanwhile, 6 May saw a huge public and private sector worker strike, with 3,000 factory workers from Sri Lanka's export processing zones (including apparel and textile sector staff) joining employees from other sectors, such as transport, food and health – urging Rajapaksa to quit. The protests will continue "until he steps down", Ravi Kumudesh, co-convener of the Trade Union Coordination Centre, has declared.
Lawrence agrees that "some challenges and bottlenecks will be inevitable as the country navigates through this difficult period". However, he still manages to be upbeat, saying: "We are confident that the industry will be back on a growth trajectory, once macro-economic stability is obtained to some degree." Given its economic problems, Sri Lanka can ill afford to risk the reputation and wellbeing of its apparel industry. Everyone in the country will be hoping that Lawrence's confidence is well-founded.
This article originally appeared in Just Style.