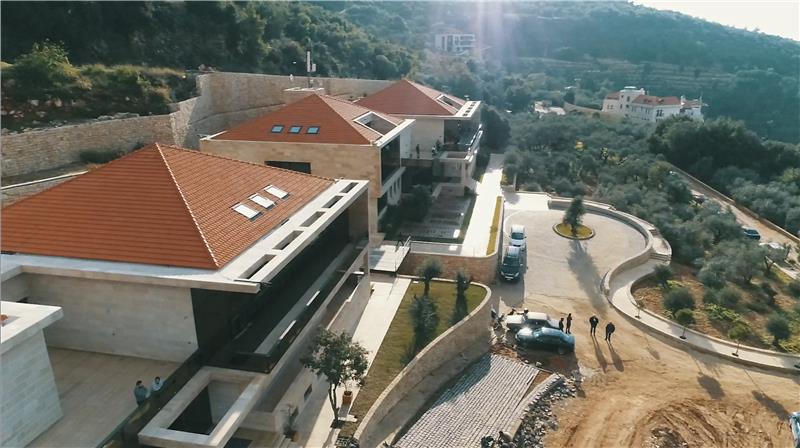 Much has been said about Lebanon's manifold crisis, more specifically the implosion of the country's economy through an ongoing financial crisis that has been exacerbated by the Beirut port explosion, Covid-19, the impact of the Ukraine war on global food prices, and the country's ongoing political paralysis. Much more can, and should, be said on this matter, not least since Lebanon is still in the midst of a humanitarian crisis, with more than 50% of the population now living in food poverty and at risk of famine.
Despite these enormous challenges, and a very justified sense of doom and gloom, several parts of the country's private sector have still managed to flourish, especially in tech and services.
In fact, the vast majority of the country's economy, more generally, lives in what could be described as a parallel universe to the public sector and government, which is why Lebanon's unofficial 'black market' exchange rate has almost completely replaced that of the central bank. Similarly, private energy providers and non-governmental organisations (NGOs) have replaced most areas of state provision, which is nearly non-existent.
Lebanon's diaspora has not lost faith
The domestic crises of recent years have made Lebanon even more dependent on international money, both through remittances and direct employment. In fact, half the country's gross domestic product is now reliant on money sent home from the millions in the Lebanese diaspora.
This level of involvement and support is evidenced by a fast-growing (and new) platform called Outerpond. Created in 2021, the company helps connect international businesses and individuals (namely among the diaspora) with Lebanon's significant talent pool, as explained to Investment Monitor by Outerpond founder Nagi Moubarak.
"I was in Lebanon when the port explosion happened and I was shocked by the magnitude of devastation and the attitude of the political class, which did absolutely nothing except lament and find excuses for their never-ending failures," he says. "But I was also impressed by the huge amount of help received through the diaspora, friendly countries, international NGOs and organisations."
As an entrepreneur, Moubarak wanted to find a practical way to help the Lebanese private sector. "So I thought of creating a platform that would allow Lebanese service providers to list their companies and find projects, partnerships and investments featured on behalf of foreign-based service-seekers," he adds.
Since launching in mid-2021, Outerpond has featured project listings in excess of $2m, has allowed for local and international entities to interact and mesh, and has helped promote Lebanon as an outsourcing option, especially among the diaspora, who understand Lebanon's idiosyncrasies, thereby seeing the country's very legitimate investment potential.
One of Outerpond's success stories comes in the form of Elias Hage, a Canadian-Lebanese businessman who has created a line of sofas, called Berytus, and who met his designer on Outerpond.
"Hagecor International is pleased to announce its investment and support in the design and manufacturing of residential sofas produced in Lebanon, under the brand name Berytus," Hage said in a press release. "This light, modular, clip-on sofa is designed and supervised by HAS Architect [a service provider from Outerpond], and produced by a furniture manufacturer in Lebanon."
Berytus sofas are intended for sale in Canada, with the first 40ft container arriving at the port of Montreal in September 2022.
"Outerpond was key in making this transaction a success by facilitating contact with reputable Lebanese service providers such as HAS Architect that otherwise Hagecor would never have discovered," adds Hage.
Lebanon supplies Apple, Meta and Space X
Given how many 'bad news' stories come out of Lebanon, it is safe to say that the country's achievements are often underrepresented.
One such success story is MultiLane, a leading producer of high-speed I/O test and measurement solutions that design and manufacture the instruments that validate the physical layer of the internet's infrastructure – from servers and switches to cables and transceivers.
Put more simply, MultiLane makes the things that make the things that make the internet work. Apple, Cisco, Juniper, Meta, Nokia and SpaceX are among the household names that use the company's equipment and expertise to build and test their networks. In short, MultiLane is spearheading Lebanon's high-tech development and manufacturing sector.
"Despite worldwide [and domestic] uncertainty [over the past three years], MultiLane has done well during this period, outperforming the global industry metrics on all fronts," says MultiLane founder and CEO Fadi Daou. "Thriving as a business in Lebanon requires expertise in crisis management, enabling us to navigate both local and global complications and remain the dynamic, first-to-market industry force we are known to be."
As most of MultiLane's business is conducted with foreign partners, it can mitigate the worst of Lebanon's financial crisis. The company saw 65% growth from 2021 to 2022, while product shipment has doubled since 2020 to reach 10,000 products shipped internationally per week.
MultiLane, like much of the Lebanese private sector, has had to create its own ecosystem beyond the constraints and neglect of the Lebanese public sector. It is worth noting that the country gets, on average, several hours of publicly provided electricity a day, ranking it among the worst national energy sectors in the world.
Lebanon's tale of two infrastructures
This aforementioned 'ecosystem' can be taken very literally. As part of its initiative to develop Lebanon's high-tech sector, MultiLane founded Houmal Technology Park (HTP), its international headquarters. HTP is a high-tech campus with office spaces, engineering labs, clean rooms and manufacturing capabilities, all housed in LEED-certified buildings and nestled among the ancient olive trees of Houmal in Mount Lebanon.
HTP is intended both as a foundation for MultiLane, but also as an incubator for Lebanon's high-tech sector more broadly, and has been built from the ground up to be significantly resistant to the challenges posed by the country.
The campus is entirely self-reliant for its power, with a generator system in place, and a 500kW solar plant being deployed – in fact, solar energy uptake is booming across the country as a DIY solution to the national energy crisis.
"We are entirely off the grid," says Fadi. Its location, in Houmal, is close enough to Beirut for easy commuting – about a 25-minute drive – but far enough away that it is insulated from the bustle and crowds of a large city. The company runs a free bus service for its employees to and from Beirut to help them manage the fuel crisis.
"We have earned a black belt in crisis management," says Fadi. "The fact that we have survived and grown, it is in our DNA, the people of Lebanon."
Designed to address the social infrastructure and fabric of the Lebanese community, MultiLane has become a primary creator of high-end technical jobs that are sorely needed in a country suffering from one of the greatest brain drains in modern times.
"Lebanon's current crises means many people have lost their jobs," says Fadi. "We see the need and feel a responsibility to fill the gaps today. Where we go others can follow."
This is why MultiLane set up a non-profit educational initiative, the HTP Academy, aimed at complementing Lebanon's strong science, technology, engineering and mathematics (STEM) education programmes, supplementing the theoretical focus of school and university with practical, hands-on courses and career guidance in one of the most advanced engineering fields in the world.
The HTP Academy also serves to boost secondary education in the country, providing a strong support platform for secondary school students, with major sponsorships, career guidance from MultiLane engineers, and hands-on experience programmes.
"Education in Lebanon is excellent at every level," says Fadi. "[It has a] strong focus on STEM fields. University-level education is excellent from a theoretical point of view. What is missing is a much-needed modernisation of university education to reflect the needs of a global tech industry."
MultiLane's success stands as a shining testament that Lebanon can still host a thriving private sector even in the midst of its current crises.