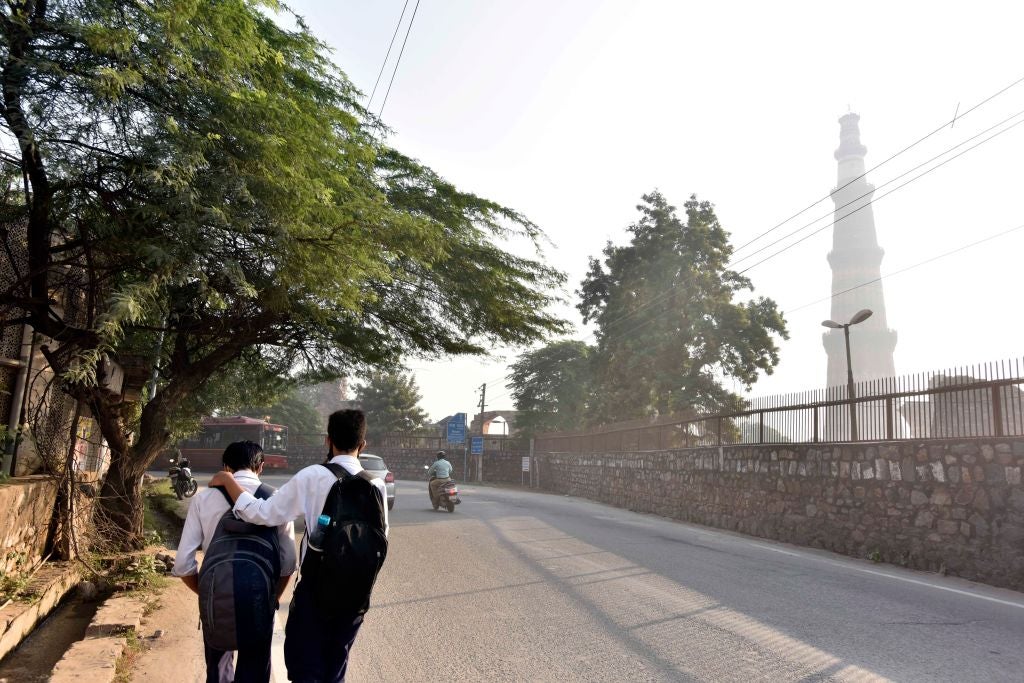 Delhi, India's national capital territory, once again made headlines in early November 2021. Sadly, they were the wrong, all too familiar, ones: 'Severe smog episode hits Delhi, could be longest in four years'. It is safe to say that killer pollution has become synonymous with the small region, host to the Indian capital New Delhi and some 20 million people.
While the flouting of environmental regulations is one of the underlying causes, mass pollution is also the outcome of Delhi's remarkable size and expansion. The region is one of India's fastest-growing by population, consistently recording a growth rate of approximately 12% in recent years (before Covid-19 hit).
Despite the pandemic, Delhi still managed to attract major foreign direct investment (FDI) in 2020, mostly in services, IT and real estate – only Gujarat, Maharashtra and Karnataka received more foreign capital on a regional level. As one of India's primary producers of goods and services, this comes as no surprise. For several decades now, Delhi has been home to a large number of international delegations and multinationals, such as DuPont, Godfrey Phillips, Oracle, PepsiCo, Samsung, Schneider Electric and Wal-Mart. In particular, the state serves as an established IT-business process management hub – a labour-intensive industry, whose workforce puts a high premium on living conditions.

The environmental degradation of Delhi's living conditions, therefore, is an enormous concern for the region's economy. Covid-19, and the political strife linked to Indian farmers, have only made the situation worse.
Is pollution putting workers off Delhi?
The scale of Delhi is a big part of the pollution problem. It is India's most urbanised region, home to a sprawling mass transit system consisting of 285 stations – India's largest metro, and the seventh busiest network in the world.
Despite this immense public transport system, congestion remains a huge issue for Delhi. The city's popularity is partially responsible. Delhi is one of India's leading tourist attractions, known for its street shopping, rich heritage and variety of cuisines. Before Covid-19 devastated international travel to India (see below chart), the city-region was seeing about 2.5 million international tourists a year, equivalent to 10% of all tourists visiting India. The capital is famous for its Mughal monuments such as Purana Qila and the Red Fort, as well as the world's tallest brick minaret, the Qutub Minar.
"Delhi is facing a very serious problem right now with air and water pollution and traffic congestion. It's a big dampener on investment," says Nitin Potdar, an mergers and acquisitions lawyer with JSA, a Mumbai-based practice, and author of the recently published book GPS Paradigm. "In recent decades, Delhi's availability of swanky, cheap offices attracted foreign companies, but the environmental challenge in Delhi is so huge now that a lot of companies are trying to relocate themselves away."
While evermore tourists were visiting Delhi (pre-pandemic), fewer and fewer foreigners are willing to actually live and work in the city.
In short, foreign investment to Delhi is not what it was, says Potdar. This is not a new issue. In late 2019, an Indian briefing from Dezan Shira & Associates starkly wrote: "Employers in the city find it increasingly difficult to retain top-level executives and highly skilled workers, who either take additional leave or migrate to less-polluted cities to avoid the health hazards of breathing in Delhi's air. Employers also incur increased overhead costs as they attempt to check pollution levels within the workplace."
For several years now, Delhi's Assocham industry body has also reported that the city's polluted environment could drive away top corporate executives and push talent to work in other cities in India or abroad.
Covid-19 means fewer people need to work in Delhi
Historically, foreign investors to New Delhi have been attracted to the city's widespread availability of office space, driven by a robust service sector across banking, fintech and IT, and other sectors that demand a lot of traditional work spaces.
"The pandemic has entirely changed working culture, globally," says Potdar. "People in professional or IT services now prefer to work from home. In the next three to four years, I am expecting 35–40% of Delhi's office space is going to get cut down. Workers are far more interested in working at home from India's tier-two cities, where they can find larger housing or offices. I am seeing this shift. Quality of life is the new rule, so Delhi is less and less attractive."
Exacerbating this is the political instability caused by ongoing protests against three farm acts, market reforms that were passed by the Parliament of India in September 2020. As India's capital, New Delhi has become the centre point for these demonstrations, something that has made the city even more congested and less attractive to foreign investment, says Potdar.
The aforementioned issues do not mean a mass exodus from Delhi, however. Population growth remains rapid. Worryingly for Delhi, it does imply a top-tier talent leak, a growing brain drain. In terms of prime office space, the city may indeed see a decrease in foreign investment, as Potdar predicts. Nonetheless, construction and real estate opportunities, especially in infrastructure and housing, remain tempting opportunities.
This is backed up by the government's impressive FDI database that shows detailed information about all investment opportunities across the country, updated daily. It currently lists 983 FDI opportunities for Delhi, valued at $47bn (Rs3.5trn). The largest number of these, almost 200, are in real estate, namely residential. Meanwhile, 169 projects relate to 'materials', mostly construction materials. Then comes manufacturing, with 108 potential projects across electronics, textiles and machinery. Finally, of the most in-demand sectors is 'social infrastructure', educational or medical facilities in particular. It is also worth mentioning that the city has huge potential for agrochemical-based products. Delhi is mainly known for its livestock and dairy production, and is home to behemoths such as Mother Dairy, Delhi Milk Scheme and Amul.
All of this is to say that Delhi's enormous market and growth trajectory will always mean a slew of FDI opportunities, but the city's environment means it is putting itself at risk of losing some of its advantages. In an era of quality of life and the climate renaissance, Delhi is increasingly out of touch. How long will Indian and foreign professionals put up with that?
This is the second article in Investment Monitor's 'Future of Indian Cities' series. We have already profiled Mumbai, and in the coming weeks we will feature Chennai, Kolkota, Hyderabad and Bangalore.