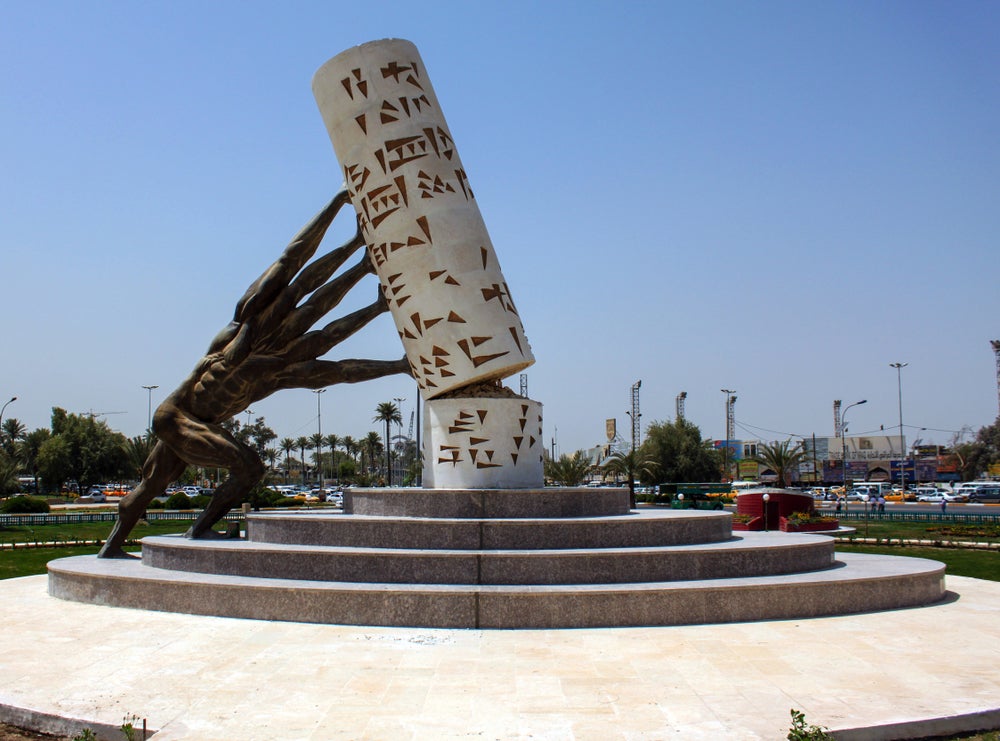 It is safe to say that Iraq has struggled to attract foreign direct investment (FDI) over the past 20 years.
Two decades of conflict, which have included the 2003 US-led invasion, intra-sectarian strife and a war against Islamic State, have weighed heavily on the country. This, coupled with a volatile domestic political environment, an oil-reliant economy, crumbling physical infrastructure, endemic corruption and a bloated public sector, have dampened the investment climate.
The World Bank estimates that FDI inflows into Iraq plunged by 24% in the first half of 2022 compared with the same period in 2021, and accounted for less than 0.4% of GDP, blaming political uncertainty and security challenges.
However, things could be starting to change. An improving political and security situation, as well as a windfall from higher global oil prices, promise to provide Baghdad with some breathing space. Iraq's economy grew by 8% in 2022 thanks to increased oil production, according to the International Monetary Fund (IMF). The economy is projected to grow further, by 4.2% in 2023 and 3.1% in 2024.
Since October 2022, Prime Minister Mohammed Shia' Al Sudani has unveiled a series of government priorities that include rebuilding destroyed infrastructure, reforming the economy and attracting foreign investors.
Iraq requires around $57bn (ID75.15trn) to meet its reconstruction needs, according to the World Bank. To meet these requirements, authorities are seeking to attract international oil companies (IOCs) as well as investment into non-oil sectors such as construction, renewables, clean energy and banking.
Baghdad also has to manage its tense relations with Iran and the US, which is further complicated by its ties with the likes of China and its Gulf Cooperation Council-member neighbours.
However, the challenges within Iraq's borders, such as political instability, insecurity, corruption, government ineffectiveness, a weak legal framework and an underdeveloped banking sector, pose a much greater obstacle to the country's chances of recovery.
Baghdad bets on oil for FDI
Iraq holds the fifth-largest proven crude oil reserves in the world and is the second largest Opec producer after Saudi Arabia. The sector contributes almost 90% of government revenue and 85% of exports.
Several IOCs from the US, China and Russia are active in Iraq. In recent years, however, major companies such as BP and Shell have either withdrawn or scaled down their activities in the country because of poor returns, disputes over contract terms or because of the widespread instability.
In April 2023, French oil giant TotalEnergies confirmed its stake in a series of energy projects along with the Iraqi Government and QatarEnergy, worth an estimated $27bn (€24.64bn). Although the deal was originally agreed in 2021, it has faced several delays amid disagreement among Iraq lawmakers over specific terms.
The deal was widely viewed as a litmus test for Baghdad's ability to attract foreign investors that are displaying some level of hesitancy.
Iraq's non-oil economy is growing slowly
Although Iraq's non-oil sector remains small, the country has a population of around 43 million, with roughly 93% under the age of 54 and 50% having access to the internet, suggesting there are opportunities for business and professional services.
Other promising sectors in Iraq are power, housing and banking, according to Harry Istepanian, an independent energy consultant and economist based in Washington, DC and Dubai.
"There is an emphasis by the Iraqi government to attract more investments in the housing market as there is a severe shortage for houses, estimated at about four million [people]," he says. "Iraq needs to add at least 200,000 new units each year to meet the increasing demand for housing."
Iraq's climate risks such as water scarcity, extreme temperatures and gas flaring (burning of natural gas associated with oil extraction) provide opportunities for FDI in renewables.
To support renewable and clean energy projects, the Central Bank has launched financing initiatives. This includes a pledge of $690m in the form of low-interest loans for water, green and renewable energy projects via local banks.
Iraq: the final frontier for foreign investment?
Iraq's political scene is susceptible to domestic and regional events. Adding to this, the threat of insecurity and weak institutions make it difficult for the country to improve its investment climate.
Corruption also remains rampant in Iraq, leaving little trust in the business environment. The country ranks 157 out of 180 in Transparency International's 2022 Corruption Perception Index.
The country's economy and public finances remain vulnerable to global oil price fluctuations. Simultaneously, a bloated public sector places a heavy burden on government coffers, leaving little left to invest in the improvements that Iraq so badly needs.
For example, the government's three-year, $153bn budget, which lawmakers passed in June 2023, is based on an oil price of $70 per barrel. The budget allocates more than one-quarter of spending on public sector salaries and pensions. Analysts argue that this hinders Iraq's ability to enact economic reforms to improve the business environment.
Furthermore, an underdeveloped banking sector also constrains financing to the private sector. State-owned lenders dominate about 80% of the banking sector and are undercapitalised, according to the IMF.
"Iraq remains a cash-based society and access to financial products remains limited," says Mohammed Khudairi, managing partner at Khudairi Group, a family-owned conglomerate and local start-up investor. "As a result, conglomerates and merchant families provide financing, especially for start-ups and smaller-scale companies. 
While Iraq has its Investment Law, and the National Investment Commission, a government body responsible for enticing and guiding foreign investors, analysts stress that the legislative framework does not go far enough.
"[The] lack of laws and legislations that would minimise the financial risks on investment in Iraq are the biggest challenge," says Istepanian. "Iraq needs to encourage investment banks to enter the country to facilitate the lending process, as most of the government-owned banks lack the experience."
Baghdad's balancing act
To attract FDI, Baghdad is attempting to balance its relations with various countries that are at loggerheads, including the US, Iran and China.
Since 2003, Iran has worked on cultivating political, economic and cultural ties with Iraq. Although bilateral trade between the two countries is $10bn, analysts note that Tehran wields significant influence within Iraq's political scene.
Iran's involvement in Iraq's economy can make it difficult for foreign companies to comply with US sanctions against Iran. This was recently emphasised when an Iranian company was set to benefit from a power plant involving a Shell-backed joint venture.
Inevitably, the US remains a major military player and has been involved in the post-reconstruction of Iraq.
China is a major buyer of Iraqi oil and has emerged as a key investor in the country's energy infrastructure. State-owned energy companies such as China National Petroleum Corporation have increased their presence in upstream, midstream and downstream activities in Iraq.
Iraq has sought to improve relations with Gulf neighbours such as Saudi Arabia and Qatar in an effort to attract investment.
In June 2023, Qatar's emir, Sheikh Tamim bin Hamad Al Thani, visited Baghdad and pledged $5bn in investments. In May 2023, Saudi Arabia's Public Investment Fund announced that it would establish a $3bn unit to invest in industries across Iraq.
A new beginning or false start?
An improving political and security environment could draw more FDI into Iraq. Positive economic growth over the next few years, combined with the country's sizeable population and financing needs, would provide foreign companies with lucrative opportunities.
However, inherent challenges continue to hamper Iraq's investment attractiveness. The political scene is fragile and can rapidly change. Corruption and a weak legislative framework also make it difficult for investors to trust the business environment.
Similarly, the economy's reliance on oil and an inflexible budget constrain Iraq's ability to focus on urgent reforms to improve the investment climate and attract FDI.
"Iraq needs to learn the lessons from the neighbouring countries such as Jordan and Saudi Arabia to attract the FDI in various industries and sectors that would help diversify its economy," says Istepanian. "Iraq has huge potential and a large market if the right investment climate is provided."