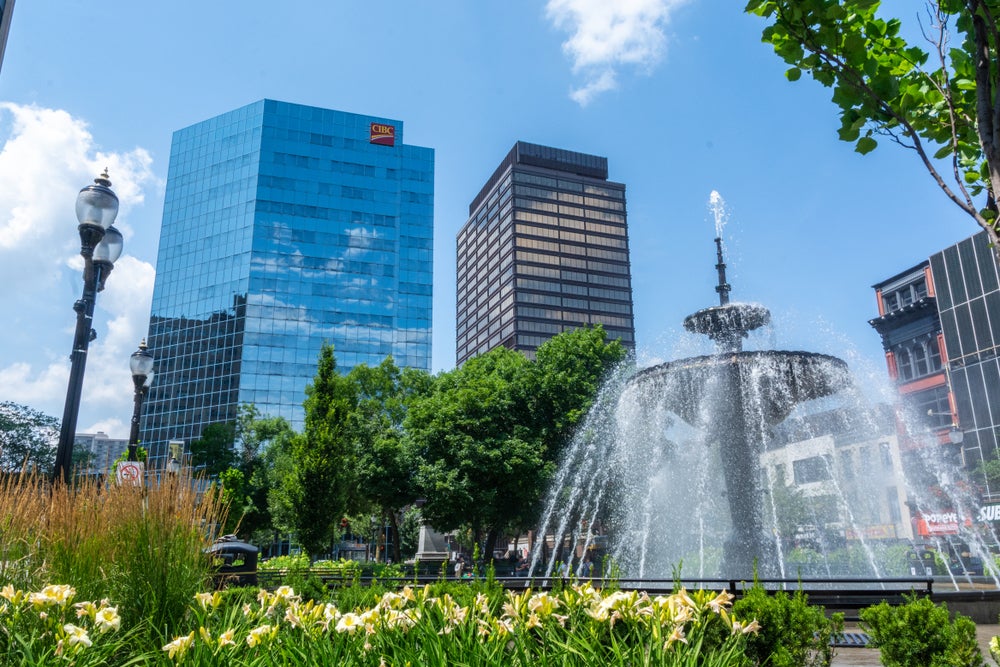 Hamilton is located in the Canadian province of Ontario. Its proximity to US border crossings and multiple major international airports contributes to its status as a good place to set up, expand, or relocate a business in Canada.
At the centre of a region known as the Golden Horseshoe, Hamilton continues to prosper, providing ample business opportunities.
With a highly skilled workforce across many sectors, expansion, relocation or start-up companies have access to a sizeable talent pool.
More than 2 million people live within a two-hour radius of the city, with multiple educational institutions continually feeding into the workforce options for businesses.
Government agencies, via tax incentives, and education and research institutions continue to encourage and support new and existing business endeavours.
Hamilton is home to world-class universities, colleges and research-intensive companies that have created an ideal environment for new product development and innovation. These include McMaster University, Columbia International College and Hamilton Institute of Technology.
As one of Canada's most business-diverse economies with a growing population, many tech companies are expanding or starting up in Hamilton, taking advantage of the tech-savvy workforce and educational centres of innovation.
Hamilton growing its diverse economic landscape
Within an hour of both Toronto and the US border, Hamilton has a diverse economy.
As an established and expanding hub for education, research, healthcare and manufacturing, the investment opportunities for start-ups and expansions are strong.
Industries that create and contribute to the investment-friendly city include steel, high tech, biotech, financial institutions, agriculture, automotive industry manufacturing, the food and beverage sector and a busy working port.
These are some of the best areas in Hamilton to invest in, with established industries and strong economic forecasts.
With so many sectors driving the local region, Hamilton represents one of Canada's most diversified economies.
With electric vehicle battery manufacturer Magna, already a significant operator in Ontario, announcing further invests worth over $470 million, the economy continues to diversify and expand.
In 2021, Hamilton was one of the fastest growing mid-sized cities in the high-tech sector, something which makes the option to invest in Hamilton a more attractive one.
Manufacturing sector investment proving profitable
Many of the companies looking to invest in Hamilton or expand their existing investment levels are involved in the sector referred to as advanced manufacturing.
One thing that makes Hamilton such a good location for advanced manufacturing investment is that it already has a strong infrastructure and ecosystem for technology and cutting-edge industries.
When considering the best places to invest in Hamilton, the range of manufacturing-reliant industries is vast.
Much of the manufacturing output in Hamilton, and significant amounts of investment, comes from industrial products, motor vehicles and parts, iron, steel and other metal products, foods and beverages, electrical goods, machinery, chemicals, petroleum and coal products and paper products.
Contributing about $12bn per annum to the Hamilton economy, manufacturing represents a major part of the local fiscal landscape, making it one of the best places to invest in Hamilton business sectors.
In addition, the manufacturing sector in Hamilton has enjoyed continuous growth since 2012, another positive sign for investors.
Innovation and manufacturing companies invest in Hamilton
When it comes to the best areas to invest in Hamilton, manufacturing continues to lead the way. In part, this is due to the strength and growth of the McMaster Innovation Park (MIP).
Designed and equipped to encourage investment for research and innovation, MIP now supports a range of industry start-ups, established business expansions and facilitates collaboration between educational establishments, research facilities and manufacturing companies.
With this commercial link between academia and industry, companies looking to invest in Hamilton have an existing infrastructure that is business friendly.
Coupled with various tax incentives offered by local and provincial governments, the landscape for investment remains positive.
With an additional 2.1 million square feet of commercial space being built on the site, with a focus on expanding life science and advanced manufacturing capabilities, the investment opportunities in Hamilton are significant.
From incubator projects to corporate research collaboration, innovation is now an integral part of Hamilton's innovation ecosystem, and a genuine showcase for the best places to invest in the area.
Companies with existing investments in Hamilton include Stelco, Orlick Industries, Canada Pipe Company, R Denninger and National Steel Car. With major multinationals investing in the region, other companies are looking at the best places to invest in Hamilton with renewed interest.
Information and data from Statistics Canada, Montreal International, City Population, Montréal Chamber of Commerce, and Invest in Canada.