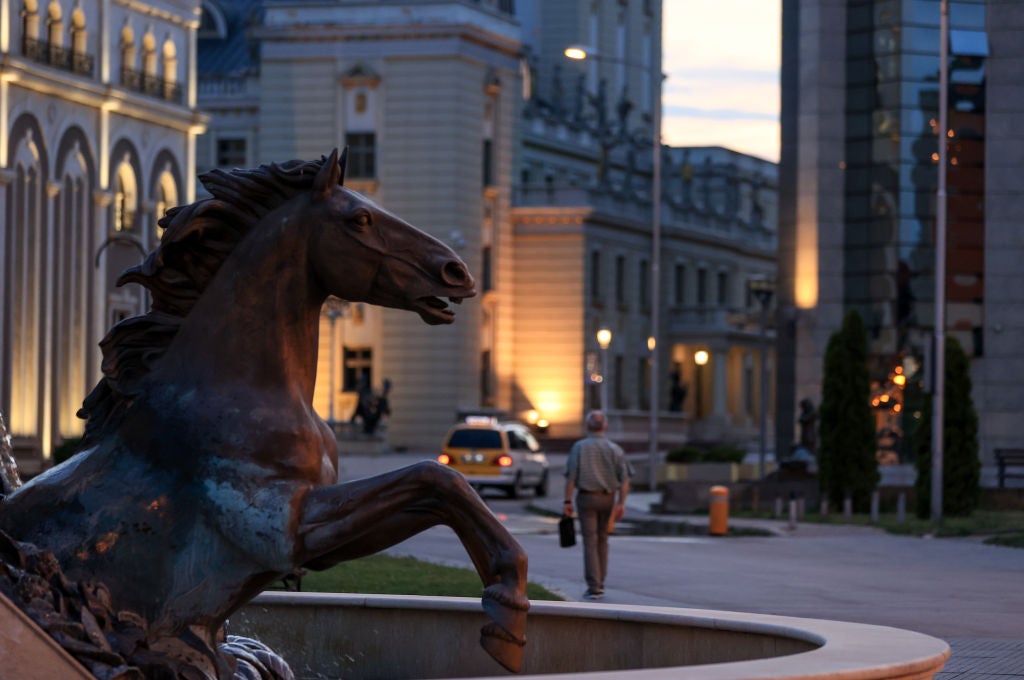 North Macedonia performs impressively in Investment Monitor's 2022 Inward FDI Performance Index, which measures a country's inward investment levels against its gross domestic product (GDP) using GlobalData's FDI Projects Database, which tracks greenfield projects.
This means that North Macedonia, with a score of 11.5, received more than 11 times its fair share of inward greenfield foreign direct investment (FDI) compared with what could be expected given its level of GDP. In that regard, North Macedonia is performing exceedingly well in FDI terms.
Inward FDI into North Macedonia experienced a small decline in 2020, with project numbers dropping from six in 2019 to four, which was largely attributed to the Covid-19 pandemic. However, the 28 projects attracted by the country in 2021 showed a spectacular return to form.
Renewable energy leading FDI sector in North Macedonia
Renewable energy was the leading sector for inward FDI for North Macedonia in 2021, recording seven projects. This represents a steep increase from the single project recorded in 2020 (and none were recorded in 2019). Of the seven renewable energy projects recorded in 2021, five were in photovoltaic solar power and the other two were onshore wind energy investments.
The automotive and software and IT services sectors ranked joint second, each recording six investments. This means that the top three sectors accounted for 68% of all inbound FDI for North Macedonia in 2021, while the remaining market share was made up of seven other sectors including plastics, logistics and electronics.
Canada-based automotive component manufacturer Magna International made the largest investment into North Macedonia in terms of capital investment in 2021, announcing plans to invest $41.5m (C$56.86m) to open a 17,000m2 wing mirror factory in Struga.
Meanwhile, US-based Lear Corporation was the largest investor in terms of job creation, announcing an $18.2m investment to build an 8,000m2 production facility in Tetovo following a joint-venture deal with Norway-based Normak Investment Group. The production facility will create 1,250 jobs and focus on the production of car seat covers and related products. Germany-based Draxmaier Group was another notable automotive investor in North Macedonia in 2021, confirming it would create 1,000 jobs across two sites in Kavadarci and Kumanovo.
Software and IT services investment into North Macedonia was focused on computer programming and software as a service, operating systems and application operations in 2021. Bulgaria-based IT solutions developer ScaleFocus was the most significant investor in the software sector. The company opened an office in capital city Skopje as part of a wider expansion plan for the Balkans and confirmed it would invest $42m (Lv84.94m) and create more than 300 jobs in North Macedonia by the end of 2023.
Most of North Macedonia's FDI comes from Europe
Germany was the leading source country for FDI into North Macedonia in 2021, investing in four projects. Three of the four FDI projects made by Germany-based companies were in the automotive sector, while the other was a renewable energy investment.
The US, Austria and Bulgaria were joint second as source FDI countries in 2021, each investing in three projects. Of the top ten source countries, eight were Europe-based, highlighting North Macedonia's reliance on its neighbours for economic growth.
North Macedonia received no FDI from countries based in Africa or the Middle East and only one investment from an Asia-Pacific-based country, namely Japan. In terms of project types, almost 90% of North Macedonia's investment came from new FDI projects while the remaining 10% was from expansion investments. Some 79% of FDI investments in North Macedonia in 2021 were new projects, showing that the country is significantly above the global average when it comes to attracting greenfield FDI.
Although North Macedonia's neighbouring countries, Serbia, Kosovo, Albania, Bulgaria and Greece, also witnessed rises in inward FDI between 2020 and 2021, their percentage growth figures remain well below that of North Macedonia.
How has North Macedonia heightened its appeal to foreign investors?
North Macedonia has been a Nato member since March 2020, which presents an air of stability that can increase a country's appeal to foreign investors. Poland, Hungary and the Czech Republic all witnessed significant increases in foreign investment after joining Nato, a beneficial consequence North Macedonia will no doubt seek to emulate.
North Macedonia also offers investors access to a large, low-cost labour pool, with 69% of its population within the working age bracket of 15-64 years. The country has 14 free zones, allowing international companies to bypass custom duties and take advantage of tax benefits, while in July 2022, the country also announced it would be opening its first high-tech zone. The new free zone, Technological Industrial Zone – Skopje III, will cover 18 hectares and represents an investment of around $146m.
Jovan Despotovski, director of the planned zone, said in a statement: "The goal is to generate investments of more than €850m ($821.69m) in the next ten years and of course to bring in or develop companies that will focus exclusively on high tech. This will generate high-paying jobs for the 4,500–5,500 young people who are expected to be hired within these facilities, and it will generate income for all North Macedonian citizens through budget payments."
The North Macedonia government has also announced ambitious initiatives to aid economic growth in a bid to maintain and encourage investment in the country. In October 2021, the government adopted the Growth Acceleration Plan for 2022–26 which, according to the Ministry of Finance, will "result in annual GDP growth of 5%, €12bn in new investments in the public and private sector, 156,000 new jobs, fiscal consolidation and a stable public debt". The plan, deemed overly optimistic by some economists, relies on access to equity financing, which is expected to accelerate economic growth. It is hoped this, alongside the planned €4bn public investment, will encourage further private sector investments.
FDI into North Macedonia has witnessed significant growth in foreign investment in recent years, and the aforementioned initiatives look set to encourage further interest from international companies.
However, this does not mean all aspects of FDI in the country are .performing highly. North Macedonia tends to score poorly on corruption indices and has a high unemployment rate – measuring 16.2% in 2021. However, this figure is trending in the right direction, and stood at 37.3% in 2005. It has continued to drop in 2022.
North Macedonia may be a small country, but it has numerous advantages to offer international investors. Should local authorities continue to promote its benefits, such as a favourable corporate tax at 10%, low costs for both land and labour, a skilled workforce and consistent GDP growth, then there is no reason why North Macedonia's FDI star shouldn't continue to shine.