Design 1st is a full-service, physical product design-engineering firm that turns ideas into professional commercialised products. With a senior, hands-on staff with diverse expertise across all stages of the product design lifecycle, Design 1st has developed over 1,000 projects that influence millions of people globally and helped secure 180+ client patents.
Design 1st has been helping mining organizations bring new mining equipment to market for over two decades. With senior-level expertise across all aspects of industrial design and mechanical & electronics engineering combined with a philosophy of incorporating human behaviour science, Design 1st has helped Mining equipment providers fuel innovation with the delivery of rugged, high-impact mining equipment that transforms the mining industry standard.
Mining equipment companies turn to Design 1st for help in developing weather-tight custom electronics and enclosures and high-precision components that meet stringent safety and regulatory requirements. We plug into your existing team, help you identify and overcome risk factors early, and leverage expertise that spans a wide range of disciplines, including:
Ruggedized product design: Our internal team of mechanical engineers, industrial designers, and electronics specialists ensure your manufacturing hardware product can withstand the world's harshest underground and outdoor environments. With our experience in navigating the tricky regulatory process, we guarantee your product meets certification requirements and gets to market fast.
Modifying existing designs: We plug into your existing engineering team and help you accelerate the transformation from your existing product to a new look, form and functions that deliver optimal performance in emerging data-driven, high-bandwidth mining environments. We design and coordinate low yearly volume product as well as higher volume builds. Some examples of clients that selected Design 1st to turn an existing design into a new commercialized product include: Instantel, GeoSight,
Mechanical Engineering support: We offer a world class experienced mechanical engineering team with deep roots in identifying strong, patentable elements that give you the competitive advantage with your next ruggedized mining equipment. You own all the IP created.
R&D Exploration with Rapid Test Iteration: We drive the transformation of your new idea into a production ready product with a proven process of design, test and build. When risks are identified, we find low-cost options to qualify risk and determine the best solution to proceed with.  A great example is how we helped our client Sky-X design, prototype and deliver the world's first production ready prototype autonomous drone landing station.
Manufacturing Services: We have an internal team of supply coordination experts who work with the design team to choose and select your part suppliers and help you choose a contract manufacturer early in the product development process. Our network of over 1,000 component suppliers and manufacturers give your team a leg-up when it comes to sourcing cost driven quality parts and building your new product. This approach helps ensure new product development stays within your budget and timeline.
Connected devices: We know that the future of mining involves connection to high-bandwidth networks allowing the transfer of data and interaction between devices and cloud networks. Our embedded electronics hardware and firmware teams are experts in modifying existing products to add processing power, sensors, interfaces and new features with wireless and wired connectivity, and updating the electronics to lower power high quality devices with redundant design.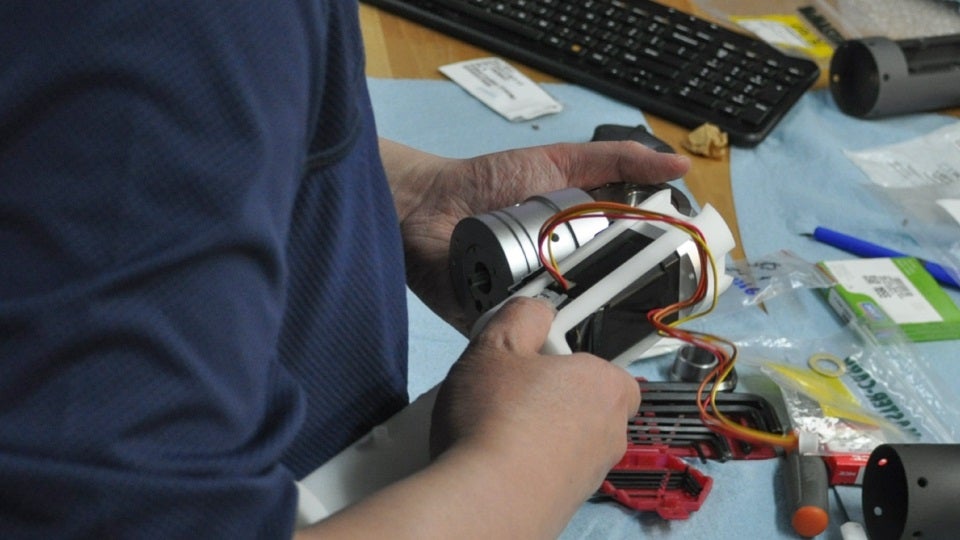 Instantel engaged Design 1st in a complete redesign of its existing seismometer.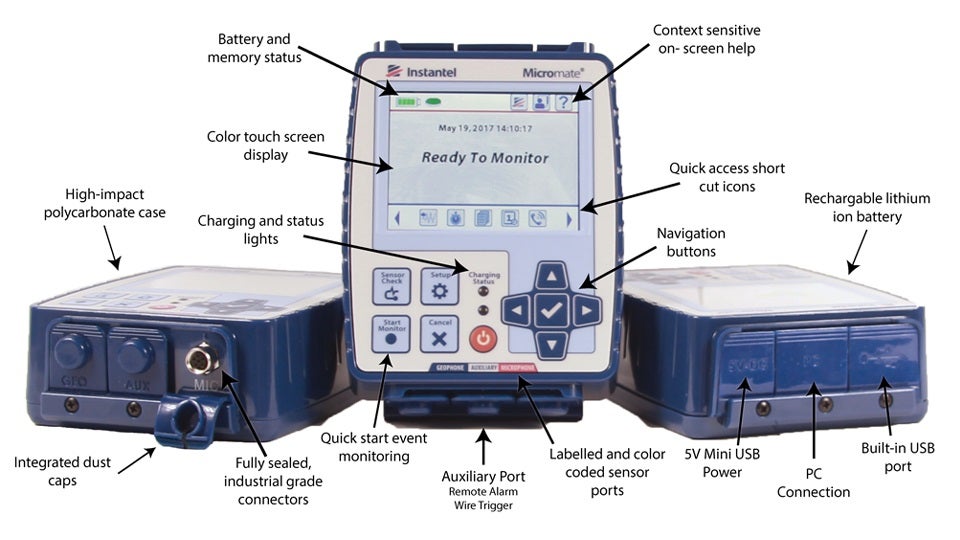 The image shows the features of Instantel's redesigned rugged seismometer for vibration blast monitoring.