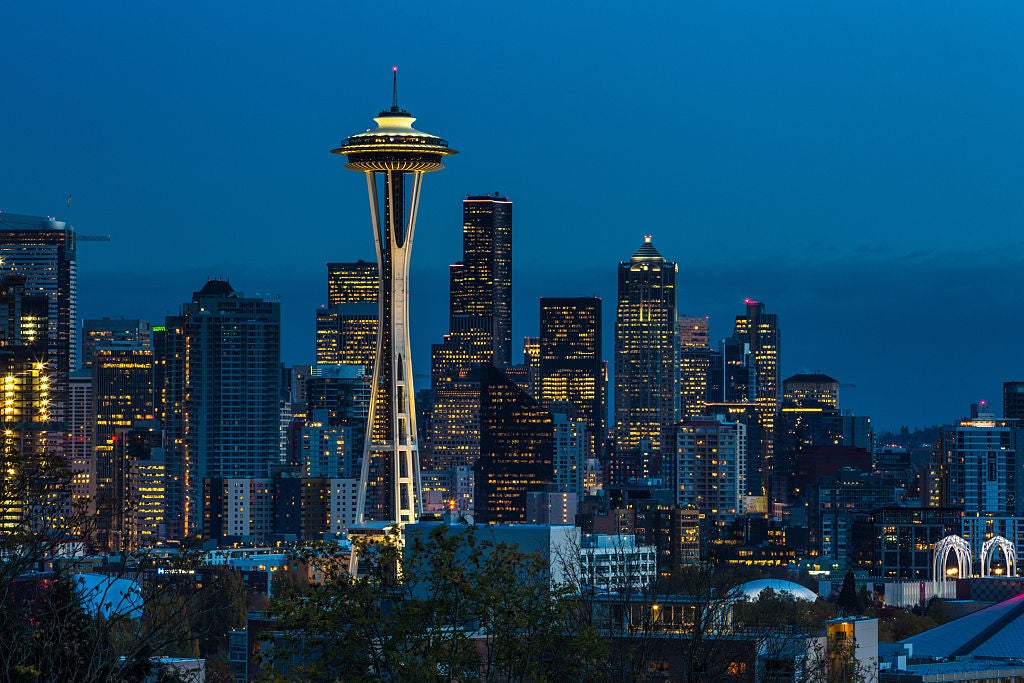 Seattle's most iconic landmark is its Space Needle, a space observation deck erected during the 1962 World's Fair. It stands as both a legacy of the city's futuristic outlook and a symbol of its growing importance as a global centre of innovation. Seattle is the largest city in the US Pacific North-West and Washington State. The seaport city is universally recognised for its natural beauty and is surrounded by water, with Lake Washington on one side and the port of Seattle on the other.
Along with the surrounding cities of Tacoma, Redmond and Bellvue, the greater Seattle region is home to several Fortune 500 companies, from Big Tech companies Microsoft and Amazon, aerospace giant Boeing and coffee retailer Starbucks to wholesaler Costco and the travel industry's Expedia and Alaska Airlines.
Large multinationals headquartered in Seattle are some of the region's key employers, alongside public sector workers. Amazon employs around 80,000 people, Microsoft 58,000 and Boeing 57,000, in addition to the Joint Base Lewis McChord air base, which employs up to 54,000 people, and the University of Washington, which employs around 49,000. The wider prosperity of Washington State means it ranked sixth among US states for gross domestic product at the end of the second quarter of 2022, according to the US Department of Commerce.
How Seattle became a global force
A brief economic history of Seattle from the time it was settled around the 1900s begins with a natural resources economy founded on logging, shipbuilding and trade. With the advent of the Second World War came a growing aerospace industry and the city's long association with Boeing, marking the beginning of Seattle's innovation economy.
The US federal government made significant defence investments in the Seattle region during the Second World War, which helped establish Boeing's status as a leading aerospace company, according to Robert Payne, marketing director at investment promotion agency Greater Seattle Partners. "That rich science and engineering history helped in the creation of companies such as Microsoft, Amazon and the broader tech industry in the region," he says.
Technology companies flocked to the Seattle region from in the 1980s when Microsoft relocated its business from New Mexico to Seattle. The city has since become synonymous with the tech industry, which has brought much economic growth to the region and established Seattle as a global brand. This global brand was further established with cultural exports including Starbucks, which opened its first coffee shop in Seattle in 1971 before becoming globally ubiquitous, the 1993 romantic comedy Sleepless in Seattle starring Tom Hanks and Meg Ryan, and the long-running sitcom Frasier. It was also the city where 'grunge' music emanated from in the 1990s through bands such as Nirvana and Pearl Jam.
How well do you really know your competitors?
Access the most comprehensive Company Profiles on the market, powered by GlobalData. Save hours of research. Gain competitive edge.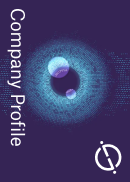 Company Profile – free sample
Thank you!
Your download email will arrive shortly
Not ready to buy yet? Download a free sample
We are confident about the unique quality of our Company Profiles. However, we want you to make the most beneficial decision for your business, so we offer a free sample that you can download by submitting the below form
By GlobalData
Seattle's got talent
Seattle's natural beauty and lifestyle cannot be underestimated as a factor in workforce attraction, says Rachel Smith, CEO of Seattle's Chamber of Commerce. A recent chamber survey of registered voters found that lifestyle and natural beauty were the primary reasons people were attracted to living in Seattle. "I think that is truly worth noting," she adds.
According to the US Census Bureau, between 2016 and 2020, 19.4% of the city's population was foreign born, and the city continues to attract workers, with the bureau finding that Seattle was the fastest-growing big city in the US between 2010 and 2020. The median household income of $97,185 reflects the high-value jobs within the tech ecosystem, and unemployment stood at just 3.3% in September 2022 compared with a national average of 4.6%, according to the US Bureau of Labour Statistics.
Part of this economic growth has been down to Seattle's success at attracting foreign direct investment (FDI). Smith says Seattle is a "no brainer" for inward investment and is buoyant about the city's ability to keep attracting foreign companies. "I think we are poised to outperform prior years in terms of total investment dollars [in 2022], and we see investors are deploying the pent-up capital that was held during the height of the pandemic," she says.
One of the reasons companies love Seattle is that the city's 737,000 population is counted among the most educated in the US, says Smith. According to the US Census Bureau, 65% of Seattle's citizens had a bachelor's degree or higher between 2016 and 2020. The city is served by eight institutions of higher learning, in addition to being the leading city in the US for attracting college graduates from other parts of the US, adds Smith. Indeed, polling company Axis's Generation Lab Next Cities Index found that Seattle to be the most desired post-graduation destination in the US for college students in 2022.
On the question of talent, Greater Seattle Partners president and CEO Brian Surratt believes the city's workforce is key to its economic development. "I think what the pandemic has shown is that the most successful regions are those that have solved the talent question," he says. And unlike Silicon Valley's Bay Area, which has seen the cost of living soar in the past two decades, "Seattle is still an affordable place to live," says Surratt.
Surratt attests to the collaboration between industry and local policymakers during the pandemic as one of the reasons that Seattle's economy held steady against this backdrop. Lawmakers consulted with large employers in the area to address the challenge of business continuity. "The pandemic demonstrated that a lot of these jobs can be done from anywhere and our local companies managed to figure out how to keep everyone working," says Surratt.
This kind of collaborative approach is further demonstrated between regional policymakers in a cross-border business innovation initiative between Vancouver in British Columbia, Seattle and Portland. It is hoped that the Cascadia Innovation Corridor will create opportunities through collaboration to establish a globally recognised innovation ecosystem. Surratt notes that this kind of collaborative mindset and economic initiative are not always found in other regions of the US and greatly help the economic growth of Greater Seattle.
A seaport city with a global outlook: Seattle's industry sectors
Seattle's key industrial sectors include technology, aerospace, healthcare, tourism, manufacturing and maritime. Along with the nearby port of Tacoma, the seaport city of Seattle is the fourth-largest container gateway in the US. Both ports operate under the North-West Seaport Alliance (NWSA), which handled approximately $66bn of shipping trade in 2020. Marine cargo operations within NWSA facilities support more than 58,000 jobs and drive $12.4bn in economic activity in Washington state.
Seattle's maritime sector includes a bustling cruise ship industry, based largely around the Alaska cruise industry. In fact, Alaska Airlines has its national headquarters in Seattle. According to the city's chamber of commerce, Seattle hosted 1.28 million cruise passengers in 2022, representing a 6% increase over pre-pandemic passenger volumes. The cruise industry provides $900m in local economic activity in Seattle and supports 5,500 jobs, according to the chamber.
Overall, tourism is an important sector for Seattle, according to Surratt. "In some ways tourism is the purest form of economic development, because that is literally folks outside of the region bringing their earned dollars into our region," he says. In fact, Time Out ranked Seattle the fourth most beautiful city in the US to visit in January 2022. Surratt notes that Seattle will be one of the host cities for the 2026 FIFA World Cup, which will further benefit its tourism sector.
The technology sector forms the basis for a number of burgeoning associated industries in Seattle, including the green technology, biotech and space sectors. Start-ups in the city received $8bn in venture capital in 2021, according to Pitchbook, and the city is home to a thriving start-up community, ranked ninth in the world, according to Start-up Genome's 2022 Global Start-up Ecosystem report. Indeed, Seattle has 112 active technology start-ups and spin-offs generated by the University of Washington.
Surratt says the city has developed a particular niche for industrial high-end, high-quality precision prototype manufacturing. In life sciences, Seattle is fast becoming a first-tier city, joining the Bay Area, Austin and San Diego, he adds.
"We are seeing a lot of investment in the biotech space, because Seattle is unique in bringing together biological sciences and strong supercomputing expertise," says Surratt. "For example, analysing the human genome requires computing power and cloud technology, which has really aided our ability go further in research and diagnostics."
In green technology, Seattle has some of the cheapest green electricity in the US, according to Surratt. In 2005, electricity company Seattle City Light became the first electric utility in the country to achieve zero net greenhouse gas emissions. "That is very attractive to companies that are looking to have a greener footprint and that is in part because we are blessed with a lot of hydropower," he adds.
Seattle's tech pedigree has led to a burgeoning space industry with the flagship presence of Amazon's Blue Origin, the company's aerospace manufacturing and sub-orbital spaceflight services company. "It is an industry that we are super excited about," says Surratt. It is also an industry that can only help Seattle further build its global brand. Along with Seattle's existing aerospace business, the space industry employs around 95,000 staff in the city. Japanese investment includes the acquisition of Seattle-based Spaceflight by Mitsui and Yamasa in 2020. The original Boeing lunar rovers are still on the moon and Washington State recently declared them historic landmarks. "It is that history that has certainly led us to where we are today," says Surratt.
Seattle FDI snapshot
Our FDI Projects Database shows that inward investment in Seattle held relatively steady during 2020 at the height of the Covid-19 crisis but failed to bounce back to pre-pandemic levels in 2021.
Software and IT services registered the highest number of FDI projects in Seattle between 2019 and 2021, unsurprising considering the city's status as one of the world's leading technology hubs. Foreign tech companies to have invested in Seattle include China's Tencent, Alibaba and Baidu as well as India's Infosys and HCL Technologies. Construction and real estate registered the second-highest number of projects between 2019 and 2021, followed by business and professional services and tourism.
Top source countries for FDI in Seattle are Canada and Japan. Seattle's location, a mere 150km from the Canadian border, lends itself to Canadian investment. Japanese investment in Seattle is equally significant, however. In fact, both Surratt and Smith attended trade missions in Japan in late 2022. Surratt met with representatives from Kawasaki Heavy Industries, a market leader in Japan for large-scale hydrogen plants. "That is something that we are going to be pursuing going forward," he says.
Both Seattle's economic success and innovation-led outlook place it in the top tier of US cities, but it still has a problem when it comes to communicating its strengths, according to Surratt. The city is home to a number of global brands and is perhaps not as strong a global brand as it ought to be.
"We need to do a better job of helping people to recognise all the things that have come out of Seattle," says Surratt. Economic and cultural metrics place Seattle on a global footing, but the city needs to do a better job at telling its story and shedding its trademark humility and down-to-earth outlook – and behave more like the first-tier city that it really is.