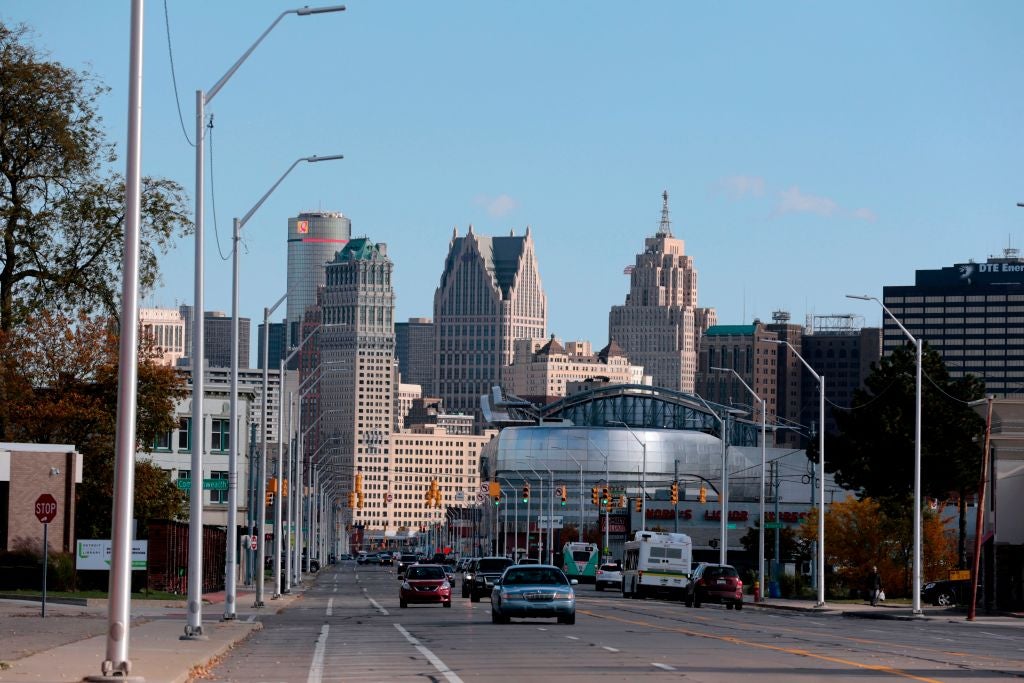 Very few cities in the world are colloquially known by a name that references an industry that they have excelled in, and even when they do the title is often shared. Both Pittsburgh in the US and Sheffield in the UK claim to be the 'Steel City', while Bordeaux is one of many locations that state they are the 'Wine City'. There is only one 'Motor City', however, and that is Detroit in the northern US state of Michigan.
Detroit was for many years a manufacturing hub in the US, specialising in automotives. The US's 'big three' – Ford, General Motors and Chrysler – were all based in Detroit, and the trio still have global headquarters in Michigan. In its heyday of the post-war years, people from all over the world flocked to Detroit to work in these companies, giving the city a cosmopolitan outlook that survives to this day, as the good times looked like they would last forever.
However, the city had little answer to the cheaper cars being manufactured in rising economies in East Asia in particular, and Detroit fell on hard times, becoming the poster child for post-industrial decline in the US. So how did Detroit go from boom to, quite literally, bust, and why is the mood in the city now one of optimism?
Why did Detroit's automotive industry decline?
It could be argued that the automotive industry has been both a blessing and a curse for Detroit. The automotive sector was the main driver behind the city's economic growth and job creation. It turned Detroit from a rural area to a global manufacturing superpower. However, this reliance on automotives meant that the city had further to fall once its car industry stalled.
It was competition from Japanese automotive manufacturers such as Toyota and Nissan in particular that saw Detroit's domestic and global dominance in the car industry decline. In addition, some key manufacturers moved their operations outside of Detroit so that they would have more space to build bigger factories. Others still began to launch operations in foreign countries for cost reasons. Detroit lost more than 140,000 manufacturing jobs between 1947 and 1963.
However, it was not only the loss of automotive companies and manufacturing jobs that drove Detroit's decline. Politics and segregation also played a key role, with the eight-mile Birwood Wall, built to separate white and black communities, causing social discord and racial tension in the city throughout the 20th century.
Detroit's decline resulted in thousands of people, especially the younger demographic, leaving the city in an attempt to find jobs elsewhere. Detroit's tale in the decades either side of the turn of the millennium was one of myriad socioeconomic problems. When the city filed for bankruptcy in 2013, few were surprised.
Fast-forward a decade or so, however, and there is a feeling that Detroit reached its nadir in 2013. Optimism is returning to the city but are foreign investors?
Detroit's investment landscape
Investment in the industrial sector has shaped the history of Detroit, but is this still the case? Investment Monitor's FDI Database shows that Detroit received 29 foreign direct investment (FDI) projects across 2019, 2020 and 2021. Automotive was the most popular sector for FDI in this three-year period.
Detroit also performs well when it comes to attracting investments in business and professional services, electronics, and software and IT services, while construction and real estate and financial services also show great promise in the city.
Among the multinational companies to have invested in Detroit are AImotive, Caisse de Depot et Placement du Quebec, Fiat Chrysler Automobiles, Sasken Technologies, Savills, UBS Group and the World Economic Forum.
Manufacturing was the top business function for FDI projects during the three-year period, followed by business and professional services. There were also projects in functions related to sales, administration and marketing, research and development, headquarters and financial services.
Germany, Switzerland and the UK were the leading countries when it came to investing in Detroit between 2019 and 2021. Other source countries include Italy, Canada, Luxembourg, the Netherlands and Israel.
Detroit has managed to attract some impressive FDI projects over the past few years, despite the challenges brought on by the Covid-19 pandemic. The recent announcement that automotive seat-maker LM Manufacturing will be investing $18.1m to create 390 new jobs at an existing facility in Detroit shows that the city is still a major player in the automotive industry.
Also in 2022, Majorel Group Luxembourg, a service-based company, announced that it is planning to open an office in Detroit that will create up to 500 jobs, while Germany-based sensor technology company Blickfeld also plans to open a new office in Detroit. United Microelectronics Corporation (UMC), a Taiwan-based semiconductor manufacturer, has announced plans to invest $351m to build a semiconductor plant in Detroit, which will have a monthly production capacity of 15,000–20,000 units.
This impressive list of investments shows a new Detroit emerging in the 2020s, one that can still draw on its historic reputation as a automotive manufacturer, but also show it can compete in other areas, with the UMC announcement highlighting its growing reputation as a high-tech hub. No one would pretend that Detroit has experienced lows that few other US cities have encountered in the past few decades, but the city's industrial offering, combined with its thriving arts scene, shows that anyone who had written off Detroit may well have to think again sooner rather than later.