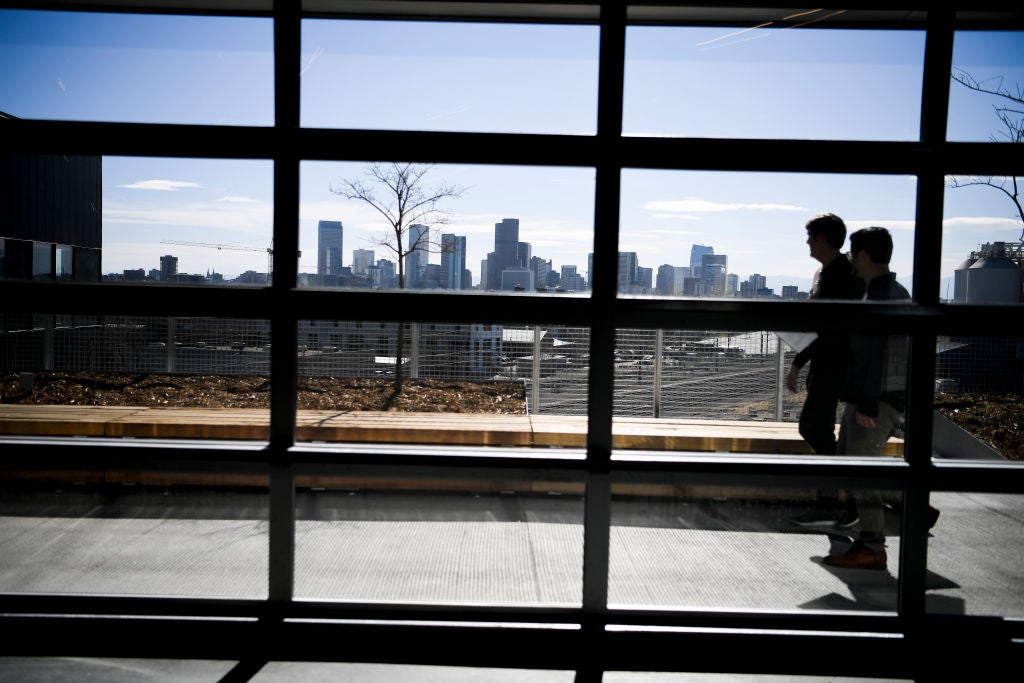 Denver, also known as the Mile High City, owes its existence to the gold rushes of the 1800s, given that it started life as a major frontier town in what is now the Rocky Mountain state of Colorado to house and cater to miners and merchants. Fast-forward more than 160 years and the city is famous for its art, museums, breweries, sports and historical landscapes. Its cultural offerings and pleasant climate have garnered the city a reputation for a high quality of life, all of which means there are riches on offer for investors that are slightly more tangible than those sought by gold prospectors in the 1850s.
Being the largest city within an 800km radius, Denver is a key US hub for distribution, the storage of goods and services and logistics. Yet its reputation goes far beyond that, as the growing appeal of Denver to international start-ups and scaling companies has been increasing over the past few years.
In 2021, Denver saw a total of 98 funding rounds close in the first quarter of the year, up 14% from Q12020. The Denver market saw growth of 264.8% in the venture capital sector with a total of $1.2bn in funding when comparing the first quarter of 2021 with the first quarter of 2020. On top of that, Denver is launching its own equity fund for underrepresented entrepreneurs, which the city expects to grow to $50m over the next several years.
"Denver's competitive advantage for investing is that the citizenry is very educated, the economy is diverse, the weather is fantastic and it has excellent access to nature or city, depending on what the individual or business needs," says Erin Spradlin, founder at Denver Women Invest. "Denver has seen strong demand from remote workers because of the city's lifestyle and fantastic weather."
Denver has a diversified economy with strengths in many sectors including renewable energy, aerospace and defence, manufacturing, healthcare and wellness, bioscience, real estate and tech.
Anne McWhirter, insight analyst at Avison Young, highlights that Denver's strength lies in its emerging industries such as life science, clean energy and cold storage. She adds that developers are building increasingly larger buildings in the city (currently averaging 18,500m2, when two decades ago the average was 14,000m2) and are starting to include taller clear heights to increase capacity within the new buildings.
Denver's foreign direct investment landscape
Investment Monitor's FDI Database shows that Denver received 63 foreign direct investment (FDI) projects across 2019, 2020 and 2021. Software and IT services was the most popular sector for FDI in this three-year period, attracting 21 projects.
Other popular sectors include construction and real estate, and business and professional services. Denver also attracted projects in sectors related to financial services, communications and media, electronics, logistics, space and defence, medical devices, tourism, consumer goods, aerospace and food.
Among the multinational companies to have invested in Denver are SoftBank Group, Cyberhawk Innovations, Astroscale Holdings, Clyde & Co and Jupiter Asset Management Group.
Sales, administration and marketing was the top business function for FDI projects in Denver during the three-year period, followed by headquarters. There were also projects in functions related to business and professional services, construction, financial services and manufacturing, among others.
The UK was the leading source when it came to investing in Denver between 2019 and 2021, followed by Canada and Japan. Other source countries include Switzerland, Germany, Australia, New Zealand and Israel.
"We don't just invite or encourage foreign and domestic companies to look to the Mile High City for expansion – we offer our full and practical support on how to land, get established, build a network and succeed here," says Deborah Cameron, chief business development officer at Denver Economic Development & Opportunity.
"Every year, we offer two instalments of our Global Landing Pad programme, which is a business accelerator for scaling companies interested in entering the US market. The next one will be 17–19 May 2023, and will focus on the Europe region."
Denver has managed to attract a number of key projects in 2022. InterContinental Hotels Group, the UK-based multinational hospitality company, has opened a new property, Atwell Suites Denver Airport, near Denver International Airport in partnership with KJ Hotel Properties, a US-based hospitality company. In addition, Humanitix, an Australia-based non-profit event ticketing platform, has established its US headquarters in Denver, creating up to 350 jobs. On top of that, Preezie, an Australia-based retail software-as-a-service company, has announced plans to establish its US headquarters in Denver.
Denver seeks a sustainable and inclusive future
Like many locations around the world, Denver is looking to a greener and more sustainable future. However, for a city renowned for its proximity to nature and enviable quality of life, the drive towards a carbon-neutral future seems that bit more urgent. "For the city of Denver, not the state of Colorado, our goals include a 65% reduction in greenhouse gas emissions by 2030, 100% use of renewable energy for Denver's community-wide electricity usage, and to divert 70% of all solid waste away from landfill by 2032," says Cameron.
Denver has made a $26m investment in community solar gardens to jump-start the shift to 100% renewable energy use. More than 30% of the power generated by these solar gardens will be allocated to support low-income housing and those who need help in paying their energy bills.
The city of Denver has enough going for it to suggest that its attractiveness as an investment location will continue for years to come. It has a strategic central location, an educated workforce, and a convenient time zone that makes it possible for people to connect around the globe. When it comes to connections, Denver International Airport is the third busiest in the world when it comes to passenger numbers, with flights to 215 destinations. Meanwhile, in terms of education within the tech workforce, Denver ranks second in the US, according to a 2021 US News and World Report. Beyond all of this, it is Denver's focus on equitable and inclusive economic development that makes the city stand out.
Denver may be the Mile High City, but its ambitions go further than that even. Its focus on areas such as inclusivity and sustainability show that it is ahead of the game when it comes to those emerging FDI drivers that investors are increasingly looking towards in a post-pandemic world.