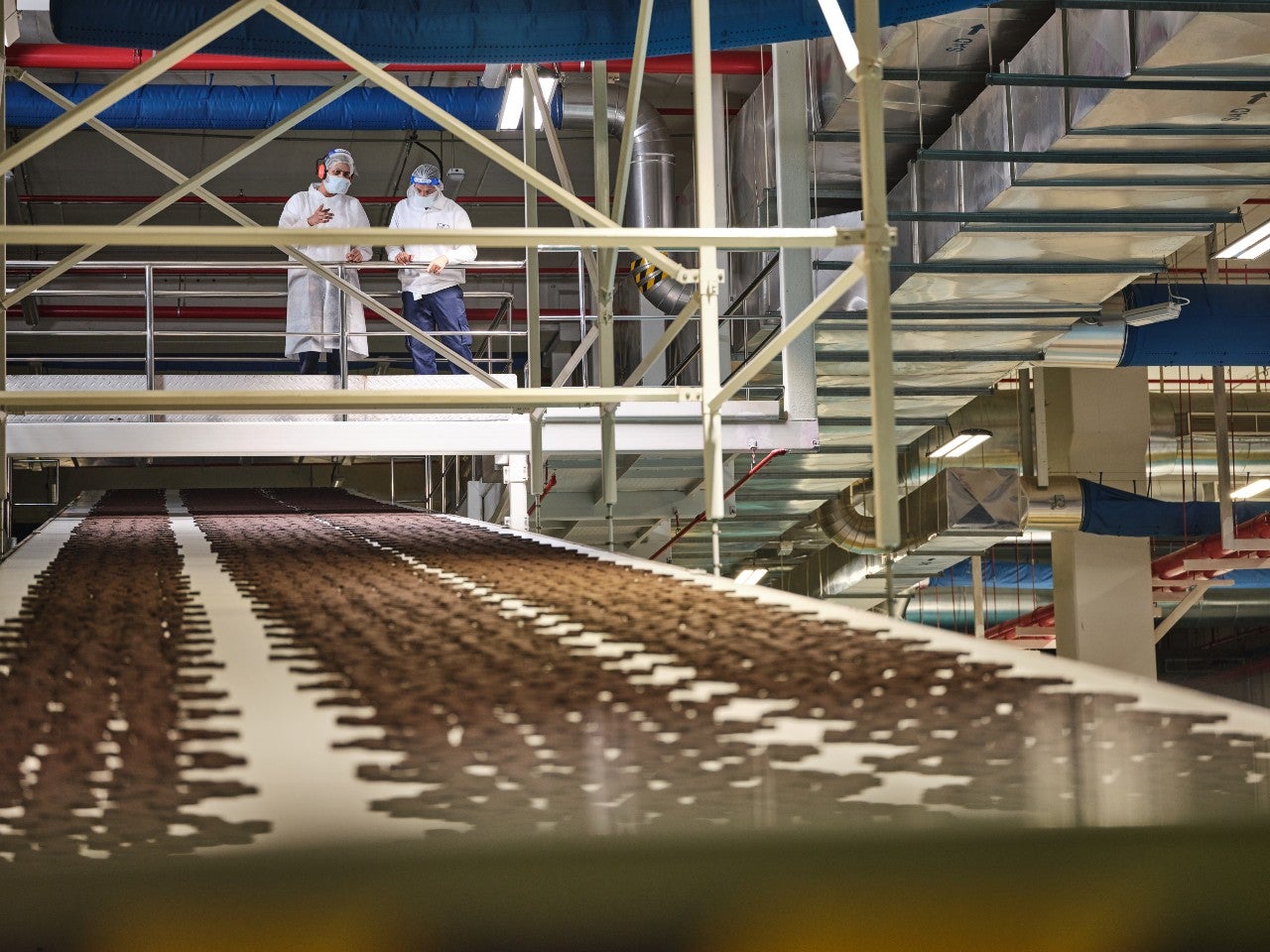 Global snack manufacturer Mondelez has been operating in Bahrain since 2008, when it opened its first factory in the Kingdom producing Kraft cheese and Tang-powdered drinks. In response to growing consumer demand in the region, this was followed by the construction of a state-of-the-art biscuit manufacturing facility ten years later.
The 300,000m2 'Factory of the Future', which launched in 2018, was the company's fastest global deployment thanks to support from 'Team Bahrain', which brings together experts, influencers and decision-makers across the public and private spheres to minimise red tape for new entrants into the country and new projects. 

Today, Mondelez is focused on improving the efficiency and sustainability of its existing operations in Bahrain, as well as accelerating digital innovation, priorities that are supported by the Bahraini government's forward-thinking approach to regulation and commitment to digital transformation.
In 2017, Bahrain launched its 'Cloud First Policy', which has not only improved the efficiency of existing public and private organisations in the country but encouraged the likes of Amazon Web Services to set up its hyper-scale cloud region in Bahrain.
Exploring AI and machine learning
For Mondelez's part, the world-leading digital ecosystem in Bahrain has smoothed the process of migrating its digital operations in the region to the cloud. In 2020, Mondelez moved its enterprise SAP servers to the cloud as well as investing in cloud-based productivity tools from Microsoft, including OneDrive and Office 365. The company is also looking at building up a cloud-based data lake to bring together data sources from the supply chain, finance and HR departments.
"The cloud brings us more flexibility," explains Suraj Nair, director of digital services at Mondelez MENAP. "If there is a sudden spike in demand for data and we need to increase the storage space on a server at short notice, we just make a request and within 24 hours it is done. Previously, this would have required placing an order for additional hardware. Operating on the cloud also reduces our IT hosting costs and makes archiving data much easier, as well as improving security. In addition, our employees can access our systems from anywhere – we are completely connected."
Most importantly, though, shifting systems to the cloud has allowed Mondelez to accelerate digital adoption in the region. "We are now able to explore AI use cases and machine learning capabilities. Scaling up is much faster through the cloud platforms," explains Nair.
In Bahrain, the company is exploring how using AI can improve the efficiency of the sales process. "Currently we receive the data from our distributors, which is often delayed, and then have a manual process whereby our sales operations team slice and dice the data and create Excel dashboards to help management make sense of it. We want to automate the whole process and consolidate all data sets into a single platform on the cloud to reduce some of these inefficiencies."
Creating more sustainable, efficient and innovative organisations
On the factory floor of Mondelez's newest facility, the team is looking into the potential of image recognition and video analytics to improve efficiencies. This is in addition to the recent implementation of state-of-the-art cloud-based software to reduce the operation's carbon footprint.
Through capturing and analysing data from the factory's operations, Schneider Electric's EcoStruxure Resource Advisor gives management a real-time view of energy and water usage, allowing them to compare this data with their sustainability targets and benchmark against other Mondelez factories.
Mondelez is also seeing environmental benefits from moving its administrative functions onto the cloud. "We are able to sustain our operations in a much more eco-friendly way because we have less hardware," Nair explains. "For example, previously, every time we had to do a back-up, we had to load a tape onto the servers and then store it. This all adds up, contributing to a business's carbon footprint."
Since the Cloud First Policy was implemented in 2017, the Bahrain government has migrated more than 70% of its operations across 72 entities to the cloud, resulting in an 82% reduction in expenses and a reduction of 76% in the time it takes to complete transactions. Mondelez is just one example of a private company operating in Bahrain that is set to see similar benefits. While each digital upgrade may appear insignificant, these are already adding up, contributing to the creation of a more efficient, sustainable and innovative organisation.