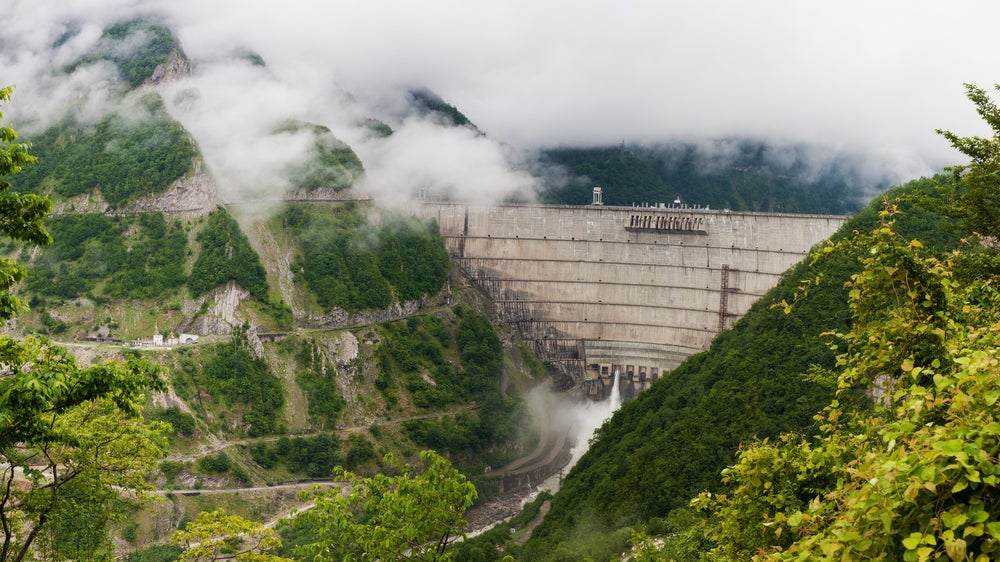 In June, the 32nd meeting of the Energy Efficiency Coordination Group, attended by delegations from countries across south-eastern Europe, gathered in Tbilisi, Georgia. It provided an opportunity to review the Georgian Energy Sector Reform Programme, a multi-million Euro initiative designed to harmonise energy policy across Georgia and the EU. Romeo Mikautadze, Georgia's First Deputy Minister for Economy and Sustainable Development, declared that the scheme was "enhancing energy efficiency across all sectors, promoting renewable energy, and ensuring a sustainable and secure energy supply".
It reflects how seriously Georgian policymakers are taking the energy transition in their country and the great strides already taken to match – and outpace – the progress of their European neighbours. The speed of reform in recent years means Georgia now stands out as a regional renewable powerhouse – and, with no sign of this reforming enthusiasm slowing down, new opportunities are opening up all the time for energy entrepreneurs to stake a claim.
The Georgian landscape
Georgia's status as an energy sector trailblazer is the result of years of planning and hard work. Reforms designed to reorient the country's reliance on fossil fuels began as early as 2004; these included privatisation of state-owned power plants, upgrading of old infrastructure and power purchase agreements to create a ready market at a stable price for green energy. Deregulation in 2008, heralding the "build-own-operate" principle for new renewable projects, turbocharged the industry by empowering investors to negotiate prices and choose buyers on the open market. Since then, more than 100 new renewable projects have been announced, completed or remain in development, highlighting the pace of change.
Georgia is also looking outwards. In June 2014, the country signed an association agreement with the EU, including accession to the Deep and Comprehensive Free Trade Area. This move signalled a redoubled commitment to aligning with international standards and fostering a business-friendly environment. Then, in 2016, the Georgian Ministry of Energy ratified an Accession Protocol to the Energy Community Treaty, underscoring the country's dedication to regional cooperation and integration in the energy sphere. Georgia's membership in the Energy Charter Treaty and the World Trade Organization further solidified its position as a leading player in the global energy landscape.
A raft of legislative changes set the stage for a dynamic and diverse energy market, embracing renewable energy potential and bolstering energy security. Georgia's primary domestic energy sources are hydropower and fuelwood, contributing to the country's impressive energy production. As of 2020, total energy supply (TES) was equivalent to 4.94 megatonnes of oil (Mtoe). The share of renewables in Georgia's electricity mix is among the highest in the world – just over three-quarters of the total in the first half of 2023. Hydroelectric generation has been particularly successful, accounting for nearly all of Georgia's renewable energy in 2023 so far. Remaining electricity generation is derived from thermal power plants and a wind generator that has churned out 43 W·min/kWh (watt minutes per kilowatt-hour) over the same period.
The Georgian energy market's robust foundations have helped the country weather the storm of energy instability following the conflict in Ukraine and ensuing supply chain tensions. In fact, the country has been energy independent for more than a decade; the electricity market is thriving thanks to a combination of domestic hydro generation, sound market structures and strategic import arrangements with other gas and oil partners like Azerbaijan.
Altogether, this has made Georgia an attractive destination for energy investors. By offering support for energy projects through a contract for difference scheme – providing stable revenues for generators – the government is clearing the runway for more power plants, with total capacity potentially topping 1,500MW over the next three years via competitive auctions. Deregulation since 2008 has also helped turbocharge the energy market, and abolishing fees for connecting to the transmission grid, scrapping export license requirements and sweeping VAT exemptions are helping the power market go from strength to strength.
How business fits in
The government's ambitious plans for the energy sector's future suggest big new opportunities are on the horizon in Georgia. In a speech earlier in 2023, Prime Minister Irakli Garibashvili revealed that proposed energy sector projects would be worth $3bn (La7.86bn) in investment over the next three years once completed, and integration with the EU is ramping up.
A standout example is the EU's Global Gateway scheme, an ambitious international infrastructure development programme. It is poised to mobilise more than €300bn ($321.64bn) in the run-up to 2027, including a groundbreaking 3GW high-voltage submarine electricity cable under the Black Sea that will connect the electricity systems of Azerbaijan, Georgia, Romania and Hungary – effectively linking the Caucasus and continental Europe.
With the flow of European capital into Georgia, international energy businesses have followed. Aqualia, a top-five European water management company, acquired Georgian Water and Power in early 2022 – and with it one of the largest hydroelectric power dams in the country. Adjaristqali Georgia, a joint venture involving India's Tata Power, Norway's Clean Energy Invest and the World Bank Group, is developing hydropower resources along the Adjaristqali River. The venture is set to add four power stations generating 400MW of power to the Georgian grid, with a substantial portion already operational.
Another success story lies along the Paravani River, where Georgian Urban Energy, owned by a subsidiary of Turkey's Anadolu Endustri Holding, is producing electricity for both Georgia and Turkey. Dariali Energy – a third of whose shares were acquired in 2020 by TEPCO Renewable Power, one of the world's largest energy companies – has committed nearly $130m over the past decade to harness the hydroelectric potential of the Tergi River. Global energy conglomerates recognise that hydroelectric capacity in Georgia, already substantial, holds tremendous untapped potential. Estimates suggest that more than three-quarters of output are still unexplored, while 76% of Georgia's foreign direct investment now flows into the energy sector, according to the latest figures from Invest in Georgia.
Businesses setting up in Georgia – whether in energy or other industries – have found it to be a country that is open for business. With a flat tax economy boasting corporate profit rates of 15%, plus personal income tax of just 20%, the World Bank scores Georgia as the world's third-least tax-burdened country. It has also been ranked as one of the top two countries globally for ease of starting a business; recent reforms have streamlined the incorporation process to only two required documents and licensing requirements have been significantly reduced from more than 900 to just 150.
Georgia's thriving energy sector is now the beating heart of the region's economy – investing in it is a springboard to the Caucasus and beyond.
For curious companies, Invest in Georgia is on hand to provide all the help they need to start and flourish. Download the whitepaper on this page to find out more.