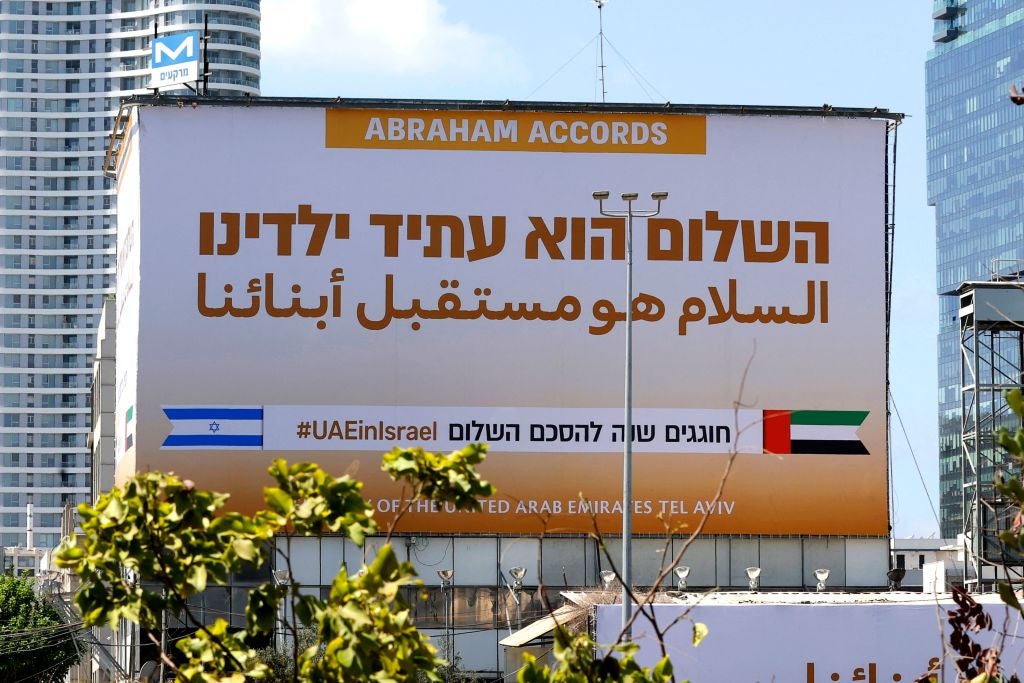 A manmade sand dune rises slowly from the floor, framed by 15 metre-tall, squared arches made of LED panels. Underneath the mound is an auditorium walled by a 250 square-metre wrap-around screen showing glossy promotional videos.
The most striking thing about this structure is not its design but where it is, and what it represents. It is Israel's pavilion at the Dubai Expo 2020, which belatedly opened on 1 October 2021. The pavilion is a symbol of how much relations between Israel and the UAE have fundamentally changed over the last year.
Since its inception, Israel has been isolated in the Middle East through war and religion tensions. When Dubai was selected in 2013 as the host city for this latest iteration of the world's fair, the idea that Israel would have such a visible presence would have seemed impossible.
While historic tensions between these two nations have been cooling for over a decade, there remained a real divide between Israel and the rest of the Gulf region. International companies' regional operations have always been bifurcated between those who covered the Middle East, and those who covered Israel. While near neighbours, citizens of either country were strangers.
This historic barrier that had surrounded Israel has begun to be eroded due to the US-backed Abraham Accords, signed in September 2020.
Previously Israeli businesses had to move around Dubai to access foreign markets. Now they are pitching for business in the middle of one of the largest events that city has ever hosted.
How well do you
really

know your competitors?

Access the most comprehensive Company Profiles on the market, powered by GlobalData. Save hours of research. Gain competitive edge.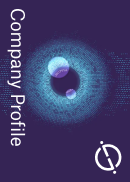 Company Profile – free sample
Thank you!
Your download email will arrive shortly
Not ready to buy yet? Download a free sample
We are confident about the unique quality of our Company Profiles. However, we want you to make the most beneficial decision for your business, so we offer a free sample that you can download by submitting the below form
By GlobalData
Dubai welcomes influx of Israeli businesses
Fahad Al Gergawi, CEO of Dubai FDI, says Dubai Expo has come at the perfect time to build on the foundations set by the first year of the Accords. "Dignitaries, officials, and the private sector from Israelis are all here, so we are very optimistic about what can be achieved"
Al Gergawi describes the first year of the accords as its "exploration stage". Dubai's ability to keep offices and international travel open during much of the pandemic has allowed high volumes of travel from Israel to UAE. Companies from both countries have interacted for the first time, and new offices have been set up to facilitate trade and investment.
Salil Mohan, partner at FDI Business Diplomacy, says "tourism is booming" with over 200,000 Israelis traveling to the UAE in the past year and hundreds of Israeli companies now operating in the country.
Al Gergawi says in the first nine months following the signing of the accords, 12 inbound FDI projects from Israel to Dubai were completed at a total investment of $258 million. These projects span a broad range of sectors including finance, insurance and healthcare.
CHART
Al Gergawi cautions that this initial spike of inbound activity is unlikely to be maintained however, as "Israel is not a large exporter of FDI globally", but says he expects trade volumes to continue growing strongly.
Bilateral trade has already increased by over 1000% by some measurements, and Israel has said that it expects $1 billion in trade with the UAE by the end of 2021 and $3 billion in three years. The UAE economy minister said in September 2021 he predicted more than $1 trillion in economic activity between the two countries by 2031.
Inbound investment into Israel has been much slower due to pandemic-related travel restrictions. "Israel was closed for several months," says Aviad Tamir, head of Israel's economic trade mission to the UAE. "To get to Israel from the UAE you have needed to quarantine for a week, and this has limited business". But with restrictions now being eased Tamir is confident things will accelerate.
"I think the Expo will be a great platform. There are going to be a number of agreements signed and we will see a ripple effect, with numbers really picking up in 2022 and 2023."
Energy and defence deals grab headlines
Some of the most eye-catching bilateral deals since the signing of the accords have been in the most sensitive of sectors for national security. In April, Israeli defence systems company Rafael signed a joint venture with Abu Dhabi tech company Group 42 to work together on AI and big data projects.
Mohan, who advises a number of clients operating in freezones in the UAE, anticipates further deals in the defence sector. "I know a couple of different companies we have talked to that are looking at developing relationships around the defence industry, drones in particular, because the UAE has been very receptive to that."
The normalisation of relations between the two countries has allowed the US, which brokered the deal, to sell arms directly to the UAE without risk of objection from close ally Israel. In April 2021, the Biden administration confirmed it would honour a $23 billion weapons deal with the UAE agreed under President Trump.
The energy sector too has seen a landmark deal, unthinkable before the Abraham Accords, with Abu Dhabi state-owned investor Mubadala acquiring a 22% stake in Israel's strategically important Tamar gas field for $1 billion.
Other touted deals that highlight the breadth of potential cooperation include a joint space programme and a bid from DP World for the privatisation of Haifa Port. The UAE Embassy in Washington DC published a long list of bilateral achievements in September 2021, which ranged from the appointment of ambassadors to each country to an agreement for their respective football federations to work together.
A tax treaty was agreed between the two countries in June 2021 and negotiations over a free trade agreement are ongoing.
Biden presidency slows US activity
While the Biden administration is going ahead with the UAE arms deal, the lack of activity from US investors since the signing of the accords reflects how the administration inherited the accords from President Trump.
At a UN conference in September 2021, Biden reaffirmed his commitment to a two-state solution for Israel and Palestine. Strong support for the accords could be interpreted as favouring Israel and as a continuation of Trump's strongly pro-Israel Middle East policy.
"We haven't seen enough from the US companies taking advantage of the new relationship", says Mohan, though he is confident this activity will ramp up in 2022.
President Trump had promised a $3 billion Abraham Fund to be available to Arab investors doing business in Israel but little has been heard of the fund since he lost re-election. While some reports suggest the fund is no longer active, Al Gergawi is confident it still has a role to play. "The fund is still there, and it will be realised, but perhaps it is better to wait until we are in more normal economic times before making those investments".
Tamir acknowledges the management of the fund has been disrupted by the change in US administration, but he also shares Al Gergawi's confidence that it is still an active vehicle.
Whatever role the promised Abraham Fund plays, Al Gergawi and Tamir agree that other funding pools and joint ventures, involving third party countries, will play an increasingly important role in trade and investment involving the two countries.
The accords have already had a positive impact on trade across the wider region, and Mohan sees this impact extending to Asia also. "UAE has become a platform for getting into East Asia and Southeast Asia for Israeli investors."
Changing perceptions across the Middle East
Perhaps the most significant impact of the accords so far is the way it has integrated Israel into the regional economy. "Israel had been an island in the region," says Tamir.
He says during his first trip to Dubai he met with managers of a local hospital. "We were in conference and there was an Egyptian, next to a Jordanian, and the next guy was an Iraqi and another was Indian. It felt like a new Middle East, in which business and dialogue are more important than politics."
Mohan says he has heard from clients that hotels in the UAE are catering to Israeli visitors with kosher buffets and meals. Some have even transformed part of their hotels into synagogues during religious holidays.
"There are a lot of similarities between the cultures, and they are getting reacquainted again. From the clients we have spoken to, they have found the UAE very inviting".
Reports suggest Oman may be the next state in the region, after the UAE, Bahrain and Morocco, to normalise relations with Israel, and other Arab countries could follow.
Though the Middle East remains riven by religious and political tensions, the Abraham Accords are showing how quickly relationships can be built through shared economic activity.