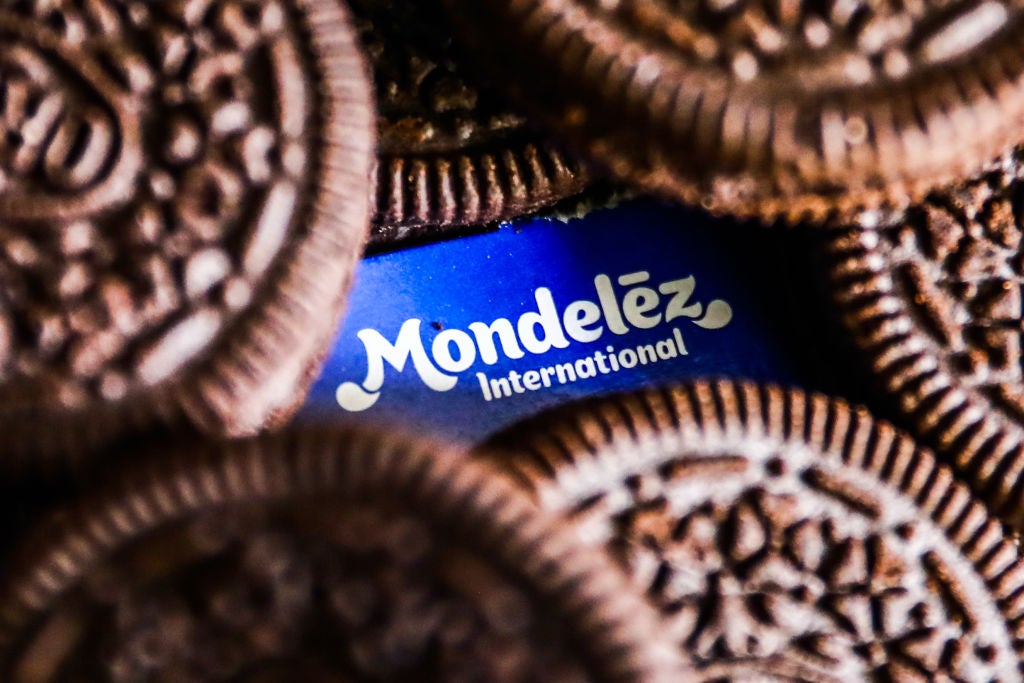 Food companies have experienced the ups and downs of the Covid-19 pandemic, with decreases in sales to restaurants, while retail purchases increased as people cooked and worked from home.
Here, Investment Monitor summarises the top ten food companies by retail product sales around the world, according to GlobalData.
Mondelez International
Maker of Oreo, Cadbury Dairy Milk, Toblerone chocolate and Trident gum, among other well-known brands, Mondelez International sells its goods in more than 150 countries around the world and is headquartered in Chicago, US.
According to Mondelez International, it is the number one seller of biscuits in the world – including cookies and crackers – and the second biggest in chocolates. The company is currently growing its sales of baked goods, while it also makes and sells gum, candy, cheese and powdered beverage products.
Mondelez International has operations in more than 80 countries and employs around 80,000 people in factories, offices, research and development facilities and distribution activities around the world.
PepsiCo
With more than 291,000 employees, PepsiCo products are sold in more than 200 countries and territories around the world.
The company has a beverage and convenience foods portfolio that includes Lay's, Doritos, Cheetos, Gatorade, Pepsi-Cola, Mountain Dew, Quaker and SodaStream.
PepsiCo was created in 1965 when Pepsi-Cola CEO Don Kendall and Frito-Lay CEO Herman Lay agreed on a deal to combine their companies.
Nestlé
Famous for its chocolate products, which include the KitKat chocolate bar, Nestlé's brand portfolio – with more than 200 brands – also includes its coffee pods and makers under the Nespresso brand, and seasoning, instant soup and noodle brand Maggi.
Headquartered in Vevey, Switzerland – where the company was founded in 1866 – Nestlé is currently present in 186 countries worldwide. According to its 2021 annual report, Nestlé has 276,000 employees.
Mars
With more than 50 global brands, Mars Incorporated is a US multinational manufacturer of confectionery, pet food and other food products, as well as a provider of animal care services.
The company's brands include chocolate staples such as Twix, M&Ms and Snickers, as well as ready-made meals brand Ben's Original. Mars Incorporated is headquartered in McLean, Virginia, US.
Unilever
Established more than 100 years ago and headquartered in London, Unilever sells its products – which include Ben and Jerry's ice cream, Hellmann's mayonnaise and handheld ice-cream product Magnum among its food brands – in more than 190 countries.
The company has around148,000 employees working in factories, laboratories, offices and homes around the world.
According to its 2021 annual report, the company receives 58% of its turnover from emerging markets, while its food and refreshment segment brought in a €20bn ($20.35bn) turnover in 2021.
Danone Group
Headquartered in Paris, France, Danone is a manufacturer and producer of dairy and nutritional products, selling fresh dairy products, bottled water, early life nutrition and medical nutrition products.
With products sold in more than 120 markets, Danone's portfolio includes brands present worldwide (Activia, Actimel, Alpro, Danette, Danonino, Danio, Evian, Nutrilon/Aptamil, Nutricia, Volvic) and in local markets (Aqua, Blédina, Bonafont, Cow & Gate, Horizon Organic, Mizone, Oikos, Prostokvashino, Silk).
General Mills
General Mills is a US-headquartered producer of packaged consumer foods, especially flour, breakfast cereals, snacks and prepared mixes. It is also one of the largest food service manufacturers in the world.
Its headquarters are in Minneapolis, Minnesota, US, and its brand portfolio includes Cheerios, Pillsbury and Häagen-Dazs.
Grupo Bimbo
Headquartered in Mexico City, Grupo Bimbo is the largest bakery company in the world, as well as a seller of snacks.
The company manufactures more than 10,000 products in 33 countries and has some 3.1 million points of sale. As of June 2022, 51.4% of sales were in North America, 29.3% in Mexico, 9.5% in Central American countries and South America, and 9.8% in Europe, Asia and Africa.
Grupo Bimbo has more than a 100 brands in its portfolio, including Bimbo, Takis and Donuts.
Groupe Lactalis
Groupe Lactalis is the number one cheese manufacturer in the world, and the European leader within the milk consumption, butter and cream markets.
Groupe Lactalis contributes to promoting French gastronomy beyond its borders by exporting its cheese and the President brand in particular, which is sold in 160 countries. In the same way, its Galbani brand is the leader in Italian cheeses, marketed in 140 countries.
According to the company, its brand development strategy is based on expanding the global presence of three key global brands, Président, Galbani and Parmalat, while continuing to invest in local brands.
Tyson Foods
Headquartered in Arkansas, Tyson Foods is a protein-focused food company producing approximately 20% of the beef, pork and chicken in the US.
The company also has a portfolio of brands including Aidell's, BallPark, Hillshire Farm, Jimmy Dean, State Fair, Tyson and Wright.
Tyson Foods has operations in ten countries and customers on five continents. The company's sales by segment are split into 37% beef, 11% pork, 29% chicken, 19% prepared foods and 4% international/other.