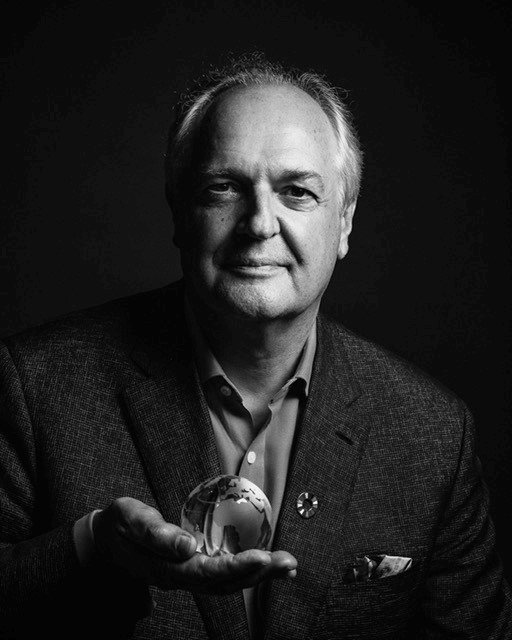 Following a 40 year-career in working in some of the biggest companies in the world, Paul Polman has co-founded Imagine, where he is also the chair, a social venture aiming to accelerate business leadership to tackle climate change and inequality, and deliver the UN's Sustainable Development Goals.
Polman, who also serves as honorary chair at the International Chamber of Commerce, has been passionate in his belief that companies must have a higher purpose than simply maximising their profits. He started his career at Procter & Gamble, where he remained for 27 years, before joining Nestlé as chief financial officer. Later on, he led Unilever for a decade, serving as CEO.
"Procter & Gamble, Nestlé and Unilever are all companies that are built to last," says Polman. "All of them have been around for more than 100 years because they invest in the communities where they operate and they believe in the power of a long-term, multi-stakeholder model that puts people and planet first. In contrast, too many companies myopically focus on shareholder primacy and short-term profit growth. This explains why the average lifetime of a publicly traded company is now only 17 years."
Why Polman launched Imagine
The launch of Imagine was motivated by a desire to help companies create a neutral platform for CEOs to collaborate, so they can move at greater speed and scale and make a bigger impact on the issues that matter.
Too many companies myopically focus on shareholder primacy and short-term profit growth.
"No company alone can solve the issues of regenerative agriculture, or plastics in the oceans, or deforestation," says Polman. "But if you bring CEOs together – working with up to 30% of an industry – they automatically become more courageous and can see the benefits of working on broader system-level changes: tackling social inequality, stemming climate change, and protecting and restoring nature. We won't achieve the SDG targets without this deep level of cooperation and strategic partnership."
[Keep up with Investment Monitor: Subscribe to our weekly newsletter]
The organisation has initially focused on the fashion, food and financial sectors, each of which can make a huge contribution to delivering the SDGs. Polman explains that Imagine was instrumental in helping to launch the 'Fashion Pact' at the 2018 G7 Summit, which has seen more than 65 CEOs representing 250 brands make commitments around climate, oceans and biodiversity on a scale not seen before.
"Progress includes science-based targets on the climate to stay below 1.5°C with regards to warming, the elimination of single-use plastics, and the move to regenerative cotton," he says. "By bringing CEOs together, we get them to move faster, we get the non-governmental organisation community on board, and then, increasingly, we also get governments to put the right policies in place."
All eyes on climate action
Climate change was a burning topic in a Covid-19-dominated 2020, with the wildfires in Australia and California, floods in numerous countries and record temperatures all hitting the headlines.
"I believe 2020 was a turning point, because for many it brought home the realisation that, frankly, human and planetary health are deeply connected," says Polman. "People also now better understand that climate change is not decades away, and that the emergency is already here. The pandemic has been an accelerator, as we can now see more clearly the undeniable links between biodiversity, human health, climate and inequality. Governments and the business community deserve credit for their response so far – especially in these febrile political and economic times – but there is much more we can and must do in 2021 to build back better."
Indeed, the business community and governments around the world have responded, with zero net carbon commitments coming from China, Japan, South Korea, the EU and the UK, among others. On top of that, the US's new president, Joe Biden, has also pledged to rejoin the Paris Agreement.
Will Joe Biden be good for the planet?
Reflecting on the incoming presidency of Biden, Polman is optimistic. He says that the new president's administration is fully committed to delivering on the climate, adding that the US intends to convene a climate summit of leading economies within 100 days of Biden taking office.
"This is the kind of leadership we are used to seeing from the US," he says. "And when you put this alongside the intentions of China, the EU and others, you can begin to see why this can be a super year for climate action. My sincere hope is that energy will continue to build throughout the year and we can make COP26 in Glasgow in November a huge success. In fact, we don't really have an alternative. There is no plan B."
My hope is that… we can make COP26 in Glasgow a huge success. In fact, we don't have an alternative. There is no plan B.
Apart from climate action, Polman explains that focusing upon emerging markets that have fewer resources than their developed world counterparts will be vital in 2021, as these countries will be hit much harder by the Covid-19 crisis.
Indeed, some estimate that the pandemic has set the world back by three decades when it comes to meeting the targets of the SDGs, especially in areas such as inequality. This is because the pandemic has pushed people back into poverty, increased the number of people facing food insecurity, or caused unemployment figures to rise.
"It is important that we design a new social contract to tackle the root causes of inequality," says Polman. "Many people in the world still don't have access to decent healthcare or financial assistance if they lose their jobs. It is a good thing that we already have a blueprint in the SDGs and the Paris Agreement, which we need to urgently deliver through deep collaboration and strategic partnerships. I think many companies are willing to move, and in some cases the private sector is ahead of governments."
The importance of moral leadership
The pandemic has created a challenging environment for senior management teams. This has led many people in senior positions to struggle, which has increased CEO turnover.
"This world is short of leaders, and in a time of crisis, with people feeling frightened and uncertain, that leadership is more important than ever," says Polman. "Leaders need intelligence, strong communication skills and a high level of ethics. But, increasingly, I hope that we see leaders putting the wisdom of humanity at the centre of their actions, rather than looking only at cost efficiencies or profits. Instead, they need to consider the integrity of their supply chains and human rights, for example, which can help to build resilience. This is a moral crisis – climate change and gross inequality are issues of morality – so it requires moral leadership".
Polman passionately believes business should be a force for good. "Why should citizens otherwise accept businesses in society?" he asks.
Indeed, with the pandemic heavily impacting most people and businesses, there appears to be a growing feeling that it is key to direct funds towards a green recovery – restoring biodiversity, protecting nature and making buildings more energy efficient, for example – as well as addressing social issues and inequality, such as investing in education and training.